Bishop Gorman football coach faces domestic battery charge
Updated April 6, 2017 - 8:36 pm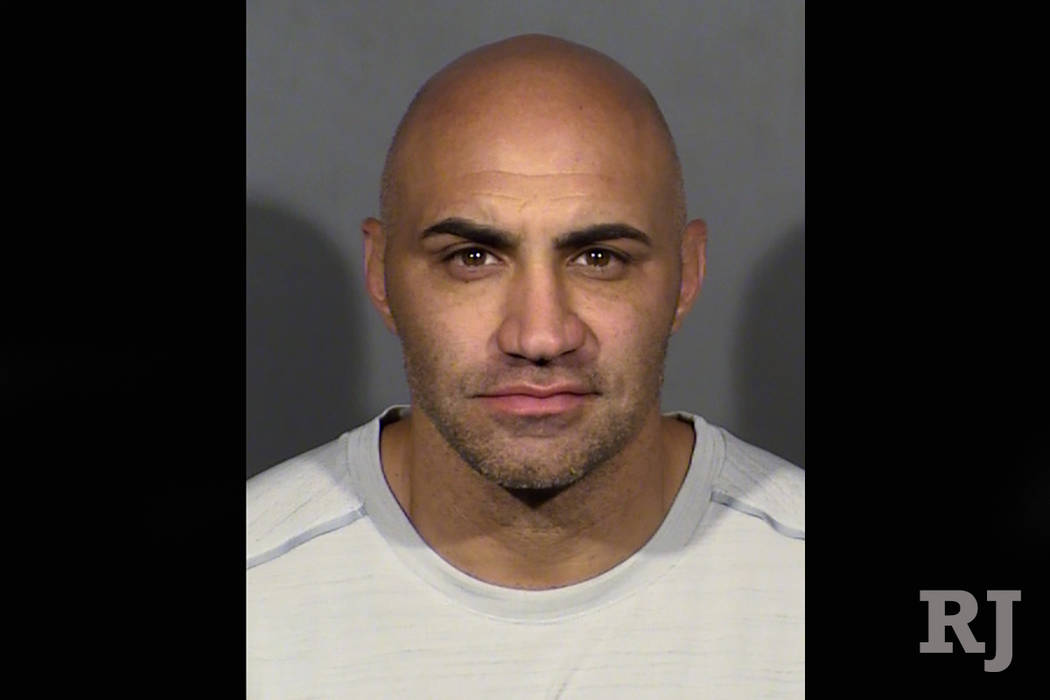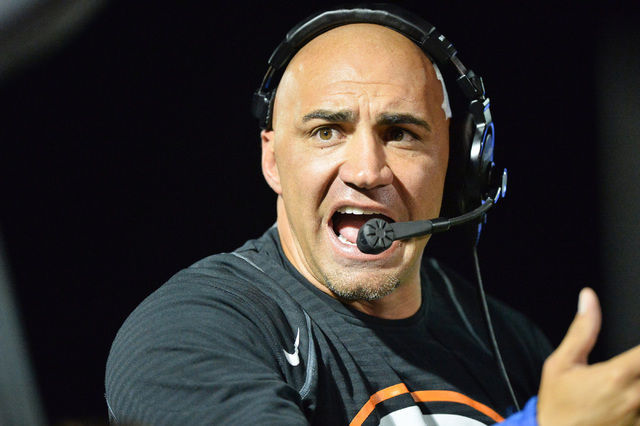 Kenny Sanchez, the head coach of Bishop Gorman High School's state champion football team, was arrested this week on a domestic battery charge, the Las Vegas Review-Journal has learned.
Court records show that Sanchez, 36, was arrested Tuesday on a warrant.
When reached by phone Thursday, Sanchez hung up after a reporter asked to talk to him about the criminal case.
His attorney, Ross Goodman, said Sanchez was unaware that he had a warrant for his arrest.
The charge stems from an incident on Christmas Day at the home of Sanchez's former girlfriend, Brooke Jade Stewart. Sanchez went to the woman's residence in the southeast valley that day to pick up their son under a custody agreement.
A Las Vegas police report states that Sanchez was "very upset for picking up son."
"I went to say goodbye to my son in the driveway," the woman wrote in a voluntary statement. "Kenny came behind me and pulled my hair out of my head, punched me in the eye. As I was going down, he punched me on the side of my face and put his hands around my neck. He held me on the ground and ran to his car and drove away."
Stewart "suffered swollen/bruise right cheek and scratches in the neck area," according to the report. She also told police that on the morning of Dec. 17, she went to pick up her son from Sanchez's apartment, and "Kenneth was angry and punched her in the left eye." She showed an officer a picture of the injury she had taken on her phone.
Goodman appeared Thursday on his client's behalf for an arraignment in Las Vegas Justice Court on one count of domestic battery, a misdemeanor. Sanchez was arrested after he called police to report a separate incident, the attorney said.
"Mr. Sanchez has been an incredible father, coach and leader in the Las Vegas community," Goodman told the Review-Journal. "I've known Mr. Sanchez for a long time, and rest assured, there is absolutely no truth to any of the allegations."
Bishop Gorman released the following statement Thursday: "Today's court proceeding involving allegations against Kenny Sanchez is a pending legal matter, and as such, it is inappropriate for us to comment publicly. We are closely monitoring the situation."
A trial date has been set for May 30.
Sanchez has been the head coach for two years, in which time the Gaels have gone 30-0, won two state titles and two mythical national championships. They are on a 54-game winning streak, which began in 2013.
Before taking the head position, Sanchez was the defensive coordinator from 2009 to 2014. Since he has arrived at the school, the Gaels have become a national power, going 115-5, winning eight state titles and three mythical national titles.
Sanchez is the brother of UNLV football coach Tony Sanchez, who preceded him as Bishop Gorman's head coach. Kenny Sanchez was rumored to join his brother on the Rebels' staff if the NCAA passed legislation to allow a 10th assistant coach.
Liz Ortenburger, executive director at Safe Nest, a shelter for victims of domestic violence, pointed to the importance of role models for children.
"When someone who is a trusted adviser to children and teens, and presented as a role model, and something like this happens — there is a negative charge or a domestic violence case — the folks around those teens need to help provide them the right information so that the cycle doesn't repeat itself or that these teens think this is behavior that's OK," she said Thursday. "Let's rally around the young men who will be affected by this to make sure that they have a very clear perspective of what domestic violence is, and it is not OK. What's important is that we as a society think about the victims and the role models we want for the kids, and we don't ignore the behavior because they are athletes or coaches."
Review-Journal writer Justin Emerson contributed to this report. Contact David Ferrara at dferrara@reviewjournal.com or 702-380-1039. Follow @randompoker on Twitter.
Timeline of events
Kenny Sanchez, Bishop Gorman's head football coach, faces a misdemeanor domestic battery charge.
Dec. 25: Sanchez's ex-girlfriend reports attack, says she also was struck Dec. 17.
Jan. 23: Criminal complaint filed, summons issued.
Feb. 21: Las Vegas judge issues bench warrant after Sanchez fails to appear in court.
April 4: Sanchez is arrested.
April 6: Sanchez's attorney appears in Las Vegas Justice Court on his behalf.
May 30: Bench trial to be held before Justice of the Peace Melanie Tobiasson.