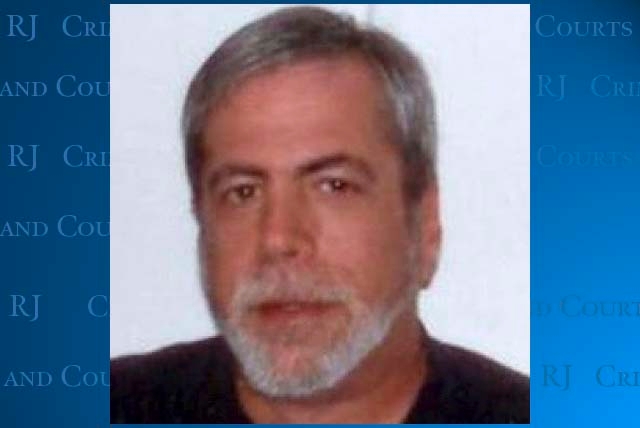 The search for a suspected murder victim started hot with the discovery of a pair of mysterious glasses and then was delayed by miles of bureaucratic red tape. But it's finally over, and Keith Goldberg has been found.
Searchers discovered Goldberg's body April 14 at the Lake Mead National Recreation Area after more than a year's search. On Friday, authorities confirmed it was him through DNA testing.
Jodi Goldberg, Keith's sister, credited Red Rock Search and Rescue, a volunteer but professionally trained group that formed in the wake of a hiker's disappearance a few years ago. She said Keith's family forever is indebted to the searchers who logged countless hours searching the desert for a man they never knew.
"Our family cannot say enough, because if it wasn't for them, we would never have known what happened to Keith," she said. "They never gave up."
Keith Goldberg, 54, vanished from his apartment on Jan. 31, 2012.
The Metropolitan Police Department said a contentious love triangle had developed between Goldberg, his ex-girlfriend Georgene "Cookie" Ross and her estranged husband, Christopher Ross, in the months before his disappearance.
Georgene and Christopher Ross were charged with murder in April 2012. Police suspected his body had been dumped in the desert, but were unable to find it.
Keith's family didn't have closure.
"The police did a great job making a case, but their resources were thin," Jodi Goldberg said. "They closed the case. They weren't going to search forever for a needle in a haystack."
Goldberg said a woman contacted her via Facebook several months ago and claimed she found clothes wrapped in a shower curtain and a pair of eyeglasses in the desert near Lake Mead. She knew of Keith's disappearance, and thought the glasses might be a clue.
There had been plenty of tips, but this one was credible. Jodi Goldberg, who lives on the East Coast and has been organizing her brother's search from afar, confirmed that the glasses were identical to a pair her brother owned.
She contacted Dave Cummings, who founded Red Rock Search and Rescue and had been working with the family since the beginning.
Cummings already suspected the Lake Mead area as a likely spot. According to a police report, cell tower pings from one of the suspects' phones pointed in that direction.
The only thing stopping the search team were administrators at Lake Mead. The National Park Service refused to allow volunteers to search the area without a permit and a million-dollar insurance policy.
It took six months to find someone willing to insure the team and to raise the money to pay for the policy. The Goldbergs had a fundraiser.
When Cummings' team finally gained access to the park on April 14, they found Keith's remains in about two hours.
"If we'd been able to go in six months ago, we could have solved it six months ago," Cummings said.
The discovery is the second instance this month where public servants at the Park Service hindered a successful search.
Earlier this month, divers with Earth Resource Group, another Las Vegas-based search organization, recovered the body of Air Force Staff Sgt. Antonio Tucker, 28. Tucker, stationed at Creech Air Force Base, had been missing and presumed drowned since June 23.
Although the organization had offered to look for Tucker's body, the Park Service also made it apply for a special use permit and provide proof of liability insurance.
The divers, who were better equipped than government divers, found Tucker in less than two days.
Cummings said Rep. Joe Heck, R-Nev., has heard about both search groups' issues and offered his support.
"He's attempting to have the laws changed to alleviate the nonprofit, good Samaritans to cough up this huge insurance when we want to do some good."
Cummings said their discovery shows citizens can put together a successful, professional team.
He hopes that authorities in the valley, including Las Vegas police, will take notice and start calling him.
"I wish (Sheriff Doug) Gillespie would look at us as a serious tool in their toolbox," he said. "We would save a big amount of money; we're trained and we're free."
Jodi Goldberg said the final step for her family's recovery is the conviction of Georgene and Christopher Ross. Both remain in Clark County jail pending trial. Their next court date is in June.
Contact reporter Mike Blasky at
mblasky@reviewjournal.com or 702-383-0283.