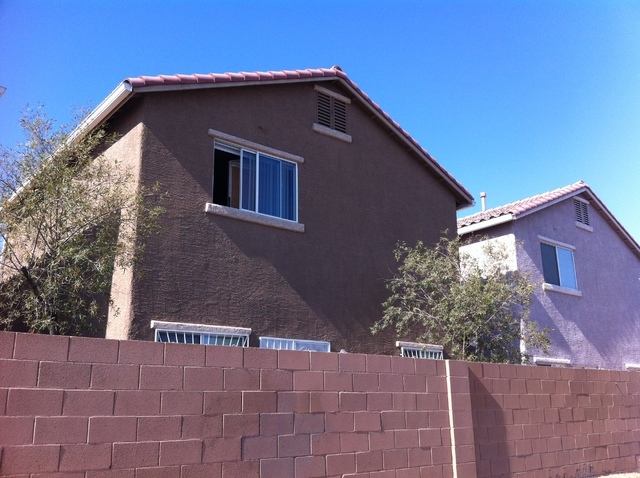 Two children were in critical condition after their mother threw them from a second-story window of a house, then jumped herself, Las Vegas police said Thursday.
The call initially came in to the Las Vegas fire department as a medical emergency shortly before 6 a.m. At a residence in the 3700 block of Spiritual Way, near Lake Mead Boulevard and Walnut Road, police said they found a 6-month-old boy, a 2-year-old girl and their mother, in her 30s, on the ground in the backyard with injuries.
Police said the children appeared to have suffered head injuries and the mother suffered a possible spinal injury. All three were taken to University Medical Center. Metro Lt. Dan McGrath said they were in critical but stable condition. There was no update Thursday evening on their conditions.
There were no witnesses and detectives are investigating attempted murder by child abuse, McGrath said.
The woman's motives are still unknown, police said, but her family said she had recently been depressed.
The quiet community where it happened is made up of similar-looking two-story homes. Blinds of a second-floor window of the house where the family lived remained open late Thursday morning. Trophies could be seen through another window. By evening, the blinds were closed.
Neighbor Carmen Nolan said the woman seemed "normal" when Nolan once borrowed her phone.
"It's hard to figure out why people would do something like this, but there is help available for anyone that's feeling depressed or upset or suicidal," McGrath said. "It never has to come to something like this."
Neighbor Maria, who declined to give her last name, was shocked when she heard what happened. Police have not identified the woman involved yet, but Maria said she was Luz Chavez, a happy, good mother who took her son to sports practice, invited neighbors over for dinner and had a baby shower in November.
"I can't say any bad things about her because there's none," said Maria, who was Chavez's friend. They often walked together and their children played together.
Chavez was married, Maria said, and also has a 13-year-old son.
Review-Journal writer Annalise Porter contributed to this report.
Contact Ricardo Torres at rtorres@reviewjournal.com and 702-383-0381. Find him on Twitter: @rickytwrites.