Dangerous objects banned from Strip sidewalks
October 16, 2012 - 11:24 am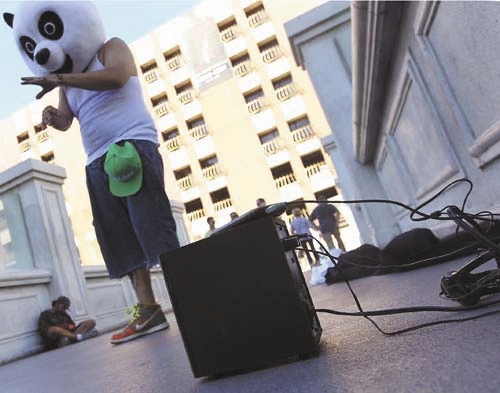 A word to Strip street performers: If your act includes juggling knives or blowing fire, you might want to find a new schtick.
County commissioners on Tuesday passed a new ordinance banning "dangerous objects" from Strip sidewalks, with an eye on hazardous street performances.
The ordinance, the latest new code aimed at cleaning up the state's most popular tourist destination, bans the use of fireworks, sharp objects, electrical cords and other items.
County officials over the past year have been looking at ways of ridding the Strip of litter, unlicensed vendors and street performers, and they've approved new ordinances targeting those groups. They already have created new laws banning pets and people who sell water and other items without a license, and they have placed restrictions on pamphleteers.
"I think this is just one more tool in our toolbox," Commissioner Chris Giunchigliani said Tuesday.
The new code bans from Strip sidewalks the use of devices capable of shooting flames or other projectiles, toy guns, blades longer than 3 inches, electrical generators, skateboards and roller blades. Electric scooters, such as those used by the disabled, are not banned.
The ban does not apply to firearms.
Capt. Todd Fasulo with the Metropolitan Police Department said officers will not look to ticket people for merely possessing the items. They will be looking for situations that pose a danger to the public.
"The goal is to curb dangerous items that are in the public right of way that are used or displayed in a way that could be dangerous to the public," Fasulo said.
Officers recently saw a performer with a gas-powered generator next to a 5-gallon drum of gasoline, Fasulo said. That is the kind of dangerous situation the ordinance is targeting, he said.
"We had people juggling fire. We've had people with fireworks and firecrackers," he said. "We've already had Batman beat up because they didn't like him. So what happens when Batman gets a sword?"
A Batman impersonator was involved in a fight on the Strip last year that was captured on camera and uploaded to YouTube, where the video went viral.
Violating the ordinance, which won't take effect for about two weeks, is a misdemeanor punishable by up to six months in jail and a fine of up to $1,000. The code defines the Strip as roughly the area of Las Vegas Boulevard between Sahara Avenue and Russell Road, and about 200 feet east and west of the boulevard.
But Fasulo said he doesn't want to solve the problem by arresting people. His officers will be handing out warnings for several weeks, then, eventually, issuing tickets for violations. Repeat violators could be arrested.
Commissioners passed the item unanimously, and nobody spoke against it. But Commissioner Lawrence Weekly said some hotels have expressed concern that their employees could be cited for using machines to polish parts of the sidewalks.
The county's lawyer said the properties could contact her with their concerns, but construction and cleaning crews would largely be exempt from the ordinance.
The American Civil Liberties Union of Nevada, which has been critical of other Strip ordinances passed by commissioners, did not have complaints about the new code, general counsel Allen Lichtenstein said last week.
Contact reporter Lawrence Mower at lmower@reviewjournal.com or 702-405-9781.