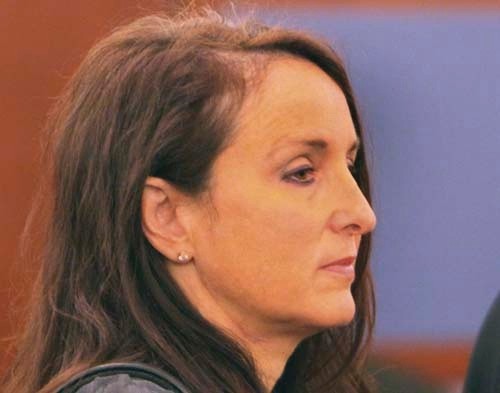 Nancy Quon's life got more complicated Monday when a judge appointed an independent receiver to oversee what's left of her once-thriving construction defects law practice.
The receiver was sought by SMS Financial, an Arizona debt collection agency trying to recover the remaining
$7.5 million plus interest of some $12.5 million in defaulted loans from Quon.
She obtained the loans to pay the cost of pursing potentially lucrative construction defect litigation on behalf of 17 homeowners associations. The FBI has been scrutinizing several of those HOA cases.
Quon, 51, has been on a downward spiral since FBI agents raided her law office in September 2008 during a massive investigation into HOA fraud and corruption.
The veteran attorney is not only a target of that probe but also has been indicted, with her ex-cop boyfriend William Ronald Webb, in a separate police investigation into a bizarre suicide scheme detectives allege she carried out to escape the pressure of the HOA probe.
Quon is fighting her insurance company in court over its failure to pay some $250,000 in damages caused by a suspicious Oct. 28 fire at her Rhodes Ranch home. Las Vegas police say they suspect Quon might have set the fire in another botched suicide attempt.
She is seeking a court order to bar State Farm Insurance from questioning her further under oath, contending it is putting her in a position of having to assert her Fifth Amendment rights against self-incrimination. A hearing has been set Wednesday before District Judge Ronald Israel.
In the wake of the federal HOA investigation, Quon no longer is practicing law full time, and her Quon Bruce Christensen Law Firm exists only to collect remaining attorneys fees and costs from millions of dollars in construction defect settlements.
Last week, SMS Financial filed a lawsuit against Quon in District Court, alleging she violated agreements to pay back the loans and has been slow to help the company pursue the outstanding legal fees.
One HOA has been waiting since March to pay Quon's law firm its share of a $5 million-plus settlement, but Quon has done little to help SMS Financial collect the money, attorney Erika Pike Turner said in court papers.
Turner said the receiver was necessary to ensure that SMS Financial is able to acquire the assets of Quon's firm to fulfill the firm's financial obligations. She contends Quon owes her client a total of $9.5 million with interest.
Turner said SMS also was within its rights to seek a receiver because Quon had agreed that it would be needed if she were indicted.
At a brief hearing Monday, Turner told District Judge Mark Denton that Quon was not opposing a receiver. And Quon did not have a lawyer at the hearing to voice any opposition.
Quon wanted her sister, Patricia Arnott, who did her law firm's books, to serve as receiver, but Denton decided to go with Turner's recommendation of attorney James Adams, who has been a receiver in several court cases over the years.
The law firm's financial troubles have also attracted the attention of police investigating Quon's motives in the suicide scheme. The lead detective in the investigation, Aaron Stanton, attended Monday's hearing.
Quon repeatedly has denied setting the fire and scheming to end her life.
Contact Jeff German at jgerman@reviewjournal.com or 702-380-8135.