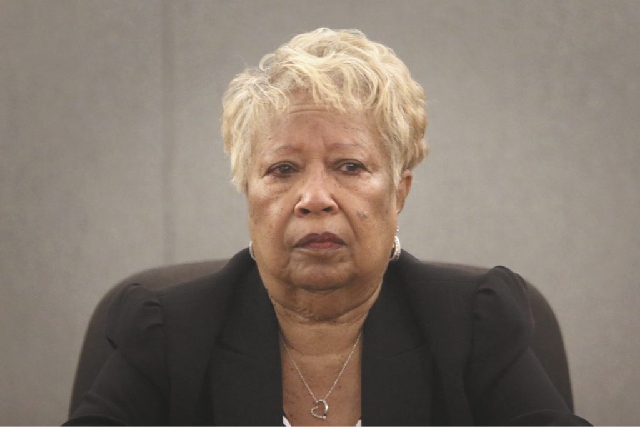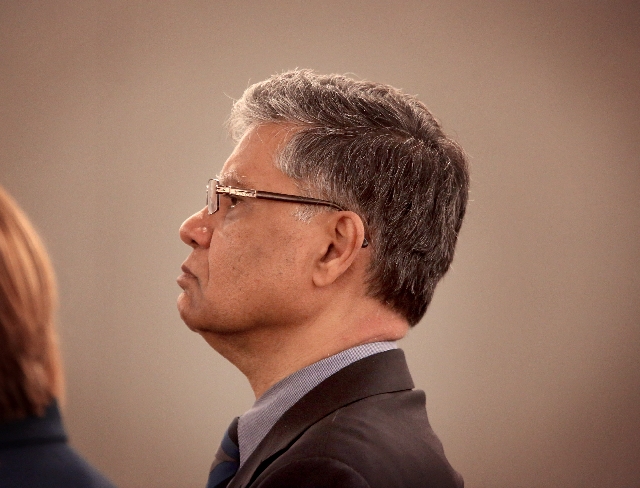 The wife of hepatitis outbreak victim Michael Washington broke down on the witness stand Tuesday, accusing Dr. Dipak Desai of ruining her husband's life.
Josephine Washington erupted into tears after a prosecutor asked what she and her husband were doing with a $25.4 million settlement they received in a civil lawsuit over her husband's 2007 hepatitis C infection at Desai's clinic.
She told Chief Deputy District Attorney Pam Weckerly that her husband has given up bowling, which he loves, and spends most of his time seeing specialists for a long list of ailments, including liver and stomach problems tied to the deadly hepatitis C virus.
"He destroyed my husband's life," said Washington, a nurse, as she looked at a motionless Desai sitting at the defense table.
She began weeping as Desai looked straight ahead, not acknowledging her presence on the witness stand.
The $25.4 million figure was disclosed during the cross-examination by defense lawyers of both Washington and her husband, who testified earlier in a weakened voice.
When Weckerly asked Washington in earlier testimony how her husband was doing, she replied, "He's not the man that he was before this happened."
Washington acknowledged on cross-examination, however, that her husband had other health issues before the infection, including diabetes and heart problems.
The testimony came on the second day of the high-profile trial of Desai and nurse anesthetist Ronald Lakeman stemming from the 2007 hepatitis outbreak.
The trial, in the courtroom of District Judge Valerie Adair, could last up to two months.
Michael Washington, 72, told the jury how he developed symptoms of hepatitis C — yellowing in his eyes, loss of weight, abdominal pain and dark urine — a few weeks after Desai performed a July 2007 colonoscopy on him at the Endoscopy Center of Southern Nevada.
Washington said he now has trouble eating and walking and has to have fluid drained from his bloated abdomen every week because of a malfunctioning liver.
But in his opening statement, Desai's lead defense lawyer, Richard Wright, told the jury that he was confident it would not find criminal wrongdoing at the endoscopy center.
Wright said testimony in the trial will show that the physicians and nurses who worked at the now-closed clinic did not believe they were engaging in "risky practices" that endangered patients.
To convict Desai and Lakeman, the jury must find that the defendants knew their conduct could cause harm to their patients, Wright said.
"You will see that there is not a criminal case here," Wright told the jury.
Lakeman's lawyer, Rick Santacroce, said in his opening statement that prosecutors will have a hard time proving patients were infected because of unsafe injection practices at the clinic.
He said testimony will show the infections could have been transmitted through a variety of other ways, such as poorly cleaned endoscopy scopes or saline contamination.
Santacroce also questioned why the five other nurse anesthetists and other physicians at the clinic weren't charged in the outbreak.
Desai, 63, who gave up his Nevada medical license after health officials disclosed the outbreak in 2008, and Lakeman, 65, face a series of charges, including second-degree murder, criminal neglect of patients, theft, and insurance fraud.
Another nurse charged in the case, Keith Mathahs, 76, pleaded guilty and agreed to testify against Desai and Lakeman.
The murder charge stems from last year's death of Rodolfo Meana, 77, another victim of the hepatitis outbreak.
Health officials concluded Meana and five other patients contracted hepatitis C at the endoscopy center through unsafe injection practices on Sept. 21, 2007. Washington was infected on July 25, 2007.
The outbreak was blamed on nurse anesthetists reusing vials of the sedative propofol between patients after the vials had become contaminated by patients with hepatitis C.
Prosecutors earlier told the jury that Desai ran the endoscopy center like an "assembly line," pinching pennies and risking the health and safety of his patients on a daily basis.
Desai violated the intimate doctor-patient relationship in his never-ending desire to make money, prosecutors alleged.
Contact Jeff German at jgerman@reviewjournal.com or 702-380-8135. Follow @JGermanRJ on Twitter.