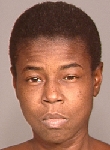 Vilisia Coleman, the former office manager of an unlicensed process serving company, pleaded guilty Monday in a courthouse scheme to file false affidavits.
Coleman, a 46-year-old felon, was to stand trial next week on a total of nine felony charges, including perjury and filing false court documents and a false notary public application with the state.
In an agreement announced in District Court, Coleman pleaded guilty to one count of filing a false court document and two counts of perjury. The six other charges will be dismissed.
"This situation was very unfortunate for my client," attorney Dan Winder said afterward. "She really was just following orders."
Winder contended earlier in the case that Coleman was a "pawn" in the scheme, run by Maurice Carroll, the owner of the process serving company, On Scene Mediations.
Authorities alleged that both Carroll and Coleman had filed false affidavits that allowed debt collector Richland Holdings to obtain default judgments.
They were accused of not serving court documents in those cases, but certifying that they had. The defendants were hit with default judgments after failing to show up for hearings they knew nothing about.
A jury convicted Carroll in October of 35 felony charges — 17 counts of perjury, 17 counts of filing false documents and one count of obtaining money under false pretenses.
Carroll, a 42-year-old former Las Vegas police officer, is free on $35,000 bail while he awaits his Feb. 16 sentencing.
As part of her plea agreement, Coleman, who is also free on bail, will provide prosecutors with a sworn affidavit detailing the illegal acts that both she and Carroll committed during her employment at On Scene Mediations. Prosecutors agreed not to charge her with any other crimes of perjury or filing false documents during that time.
District Judge Elissa Cadish set her sentencing for April 11. She faces up to five years in prison and a $10,000 fine on the charge of filing a false court document and up to four years behind bars and a $5,000 fine on each of the two perjury charges.
Winder said he will seek probation, but Chief Deputy District Attorney Mike Staudaher said he expects to ask for prison time. Coleman previously has been convicted of grand larceny and possessing cocaine.
Las Vegas Justice Court officials believe the actions of On Scene Mediations, which is no longer serving documents, might have harmed the court system over a period of years, and Las Vegas police are continuing to investigate.
Court officials have been considering hiring a special hearing master to determine whether the rights of any of the defendants were harmed in some 25,000 default cases involving On Scene Mediations dating back to 2004.
The Legal Aid Center of Southern Nevada has filed a class-action lawsuit against Carroll, Coleman and another one of their former clients, payday loan company Rapid Cash, alleging false affidavits also were submitted in default cases brought by the company.
Contact reporter Jeff German at jgerman@reviewjournal.com or 702-380-8135 or read more courts coverage at lvlegalnews.com.