Ex-wife of poker star Ivey got millions in divorce settlement
December 19, 2011 - 1:59 am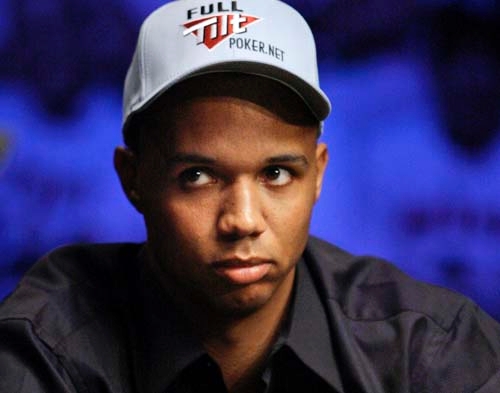 Phil Ivey's ex-wife received a purse collection worth more than $1.2 million, jewelry valued at more than $1 million and $180,000 a month in alimony as part of her divorce settlement with the poker star, according to a document filed earlier this month with the Nevada Supreme Court.
Ivey included the information in his answer to a petition that his former wife, Luciaetta, filed with the high court in late September.
"Luciaetta ended up with no debt, with millions of dollars worth of property, and with specific unambiguous alimony provisions," according to the answer.
In Luciaetta Ivey's petition, she asked the Supreme Court to disqualify the Clark County Family Court judge assigned to the sealed divorce case, Bill Gonzalez.
The document raises questions about campaign contributions Phil Ivey and his lawyers had made to Gonzalez. The divorce was granted in December 2009, and the contributions were made in early 2010.
"The public is entitled to know that impartiality is the rule for the judiciary," according to Luciaetta Ivey's petition. "Further, Luciaetta is entitled to fairness and the appearance of fairness before this court and recusal is the only way that she can be sure to receive both."
The petition challenges the decision of Chief District Judge Jennifer Togliatti, who denied Luciaetta Ivey's motion to disqualify Gonzalez.
In November, the Supreme Court ruled that Luciaetta Ivey had raised issues of "arguable merit" in the case and gave Phil Ivey 30 days to answer her petition.
Luciaetta Ivey and her lawyer, Bruce Shapiro, declined to comment on the information in Phil Ivey's answer. Shapiro said he plans to file a reply soon.
According to the answer, submitted by attorneys David Chesnoff and Richard Schonfeld, Luciaetta Ivey received her car, her life insurance policy, 40 percent of a stock account, a down payment for a new residence, half of the proceeds from the sale of the couple's home, and 40 percent of all business interests "with the exception of Tiltware, LLC," the parent company of Phil Ivey's online sponsor, FullTilt Poker.
As part of the divorce settlement, according to the answer, Phil Ivey accepted more than $170,000 in credit card debt and more than $15.1 million "in gambling and other debt."
The divorce agreement included alimony for Luciaetta Ivey from money Phil Ivey receives from Tiltware. According to the agreement, if Phil Ivey stops receiving funds from Tiltware, Luciaetta Ivey's alimony "will cease."
During a telephone interview in early November, Luciaetta Ivey told the Las Vegas Review-Journal she received monthly alimony payments from January 2010 until April 2011. She declined to disclose the amount.
The couple's "total community income" for 2008 was nearly $8 million, according to Luciaetta Ivey's Supreme Court petition, which cites the Iveys' joint tax returns.
Phil Ivey, who has won eight World Series of Poker gold championship bracelets since 2000, is tied for fifth place on the tournament's all-time list. But he opted not to participate in the 2011 tournament, which was held at the Rio.
In a statement posted on his website, Phil Ivey said he was "embarrassed" that FullTilt Poker had not paid players owed money after the Justice Department shut down the operation in April.
"I am not playing in the World Series of Poker as I do not believe it is fair that I compete when others cannot," according to Ivey's statement. "I am doing everything I can to seek a solution to the problem as quickly as possible."
He also filed a lawsuit in Clark County District Court in June, saying allegations of illegal activity surrounding Tiltware, a California-based company, damaged the poker player's reputation within the gambling community because of his association with the FullTilt website.
In the lawsuit, Ivey alleged FullTilt, whose founders were indicted in April, owes American players about $150 million.
Ivey has won almost $5.3 million in his World Series of Poker career, and he has earned more than $13.8 million in tournament poker. He returned to tournament poker in late November when he played at the PokerStars.net Asia Pacific Poker Tour Main Event in Macau.
Several poker websites reported that he was going to make his return to tournament poker in Macau, which fueled speculation throughout the poker community. The event was sponsored by PokerStars, a rival to FullTilt.
Phil Ivey arrived after the tournament began but still played well enough to complete the first day of the five-day event. He was eliminated on the second day.
According to Luciaetta Ivey's Supreme Court petition, Shapiro requested documentation that Phil Ivey had stopped receiving income from Tiltware, but Chesnoff refused to provide it.
The answer to the petition said Phil Ivey was ordered to produce certain documents at a Nov. 15 hearing in Family Court. Gonzalez was satisfied with the information provided, recognized that Phil Ivey had complied with the divorce settlement "and closed the case" on that date, according to the answer.
Phil and Luciaetta Ivey were married in Las Vegas on May 19, 2002.
Luciaetta Ivey now lives in Tampa, Fla. She said she hired Shapiro in March, after she began to question the fairness of her divorce settlement. The lawyer brought Phil Ivey's campaign contributions to Gonzalez to her attention.
"I was blindsided," Luciaetta Ivey said in November. "I was very upset. I was very disgusted."
In June, Luciaetta Ivey filed a motion in Clark County Family Court that raised new issues in the divorce case. She went to the Supreme Court after she failed to get Gonzalez off the case.
According to the answer to her Supreme Court petition, Luciaetta Ivey "sought to reopen the divorce case because she wasted all her money."
"At the time of the contributions, Judge Gonzalez no longer had jurisdiction over the case because it was closed," Phil Ivey's lawyers wrote.
Gonzalez was appointed by then-Gov. Jim Gibbons in March 2009 to fill a vacant seat. Voters elected Gonzalez to the seat in November 2010.
Luciaetta Ivey's petition said she has learned that her ex-husband contributed $5,000 to Gonzalez's campaign on April 17, 2010. Phil Ivey, considered one of the world's best poker players, did not contribute to any other Family Court judge.
The petition further alleges that Chesnoff was active in the judge's campaign and contributed $1,000 on Feb. 9, 2010; that Chesnoff's wife contributed $2,500 on April 21, 2010; that Chesnoff's partner contributed $1,000 on April 21, 2010; and that Chesnoff made an in-kind contribution of about $3,500 on April 8, 2010.
"Mr. Ivey and his attorneys exercised their constitutional First Amendment rights to donate money to the campaign of a judge they believed should be re-elected," Phil Ivey's lawyers wrote in their answer.
Ivey's contribution alone amounted to 7 percent of the $71,000 in cash contributions Gonzalez raised in 2010.
According to Luciaetta Ivey's petition, the campaign contributions by Phil Ivey and his lawyers occurred after an uncontested divorce decree was entered "but before the six-month mark after which Luciaetta could no longer bring a motion … to have the decree set aside based upon a mistake, newly discovered evidence or fraud."
During the November interview, Luciaetta Ivey said she hoped that by speaking up in her divorce case, her voice could help other women who find themselves in similar situations.
"A lot of times women don't really defend themselves," she said. "They just take what's given to them."
Review-Journal writer Howard Stutz contributed to this report. Contact reporter Carri Geer Thevenot at cgeer@reviewjournal.com or 702-384-8710.