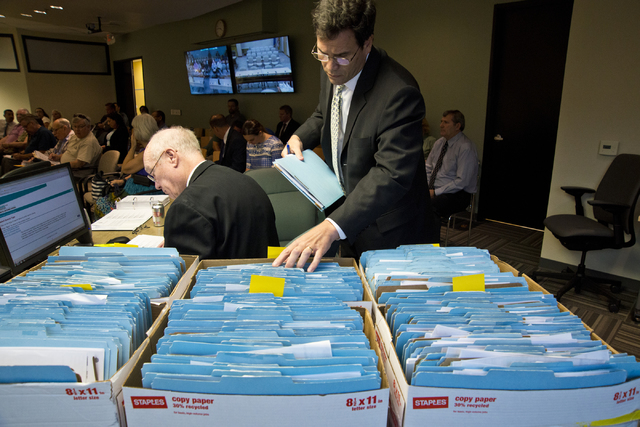 An executive of the now-bankrupt Summerlin Energy solar company was indicted Thursday on theft-related charges after more than 100 homeowners lost a total of more than $1 million.
The executive, Drew Dean Levy, owned 30 percent of the company and was in charge of day-to-day operations, according to the indictment. He also served as an executive vice president and director of "sustainable construction."
Levy, 33, faces nine counts of theft and nine counts of diversion of funds. Chief Deputy District Attorney J.P. Raman said Thursday more charges are likely.
The indictment alleges that Levy and his business partner, Henry Bankey, directed staff to keep issuing new contracts for solar panel installation and to keep collecting fees from customers despite the fact that the company was swimming in debt and could not afford to finish the installations.
No solar panels were installed, and no customers got their money back.
Instead, according to the indictment, the money collected from unsuspecting customers in late 2015 and early 2016 was dropped into the company's growing debt and spent on salaries and "other expenses," including the company's nonsensical expansion.
The company went bankrupt in February 2016 — the same month the Nevada State Contractors Board suspended the company's licenses amid a mountain of customer complaints. A month later, the company's licenses were revoked.
At the time of the bankruptcy, the contractors board offered relief funds to more than 100 Summerlin Energy customers, many of whom had liens placed on their homes after the company failed to pay solar panel suppliers. But in many instances, those funds did not cover the cost of the installation fees, leaving many homeowners battling their own debt.
As of Thursday afternoon, Levy was not in custody, and a warrant had been issued for his arrest. Attempts to reach him by phone were not successful.
Levy's business partner, Bankey, who had served as Summerlin Energy's president and CEO, was killed in November 2015. Police said Bankey's ex-wife, Michelle Young, shot him in the chest after an argument.
In August, Young pleaded guilty to second-degree murder.
Before he worked at Summerlin Energy, Bankey faced criminal charges in 2007 linked to another company in Utah, where he also served as an executive. He was one of seven people federally indicted on 34 counts, including racketeering, bank fraud and money laundering charges.
In 2012, Bankey pleaded guilty to one misdemeanor and received no prison time, court records show.
Contact Rachel Crosby at rcrosby@reviewjournal.com or 702-380-8135. Follow @rachelacrosby on Twitter.