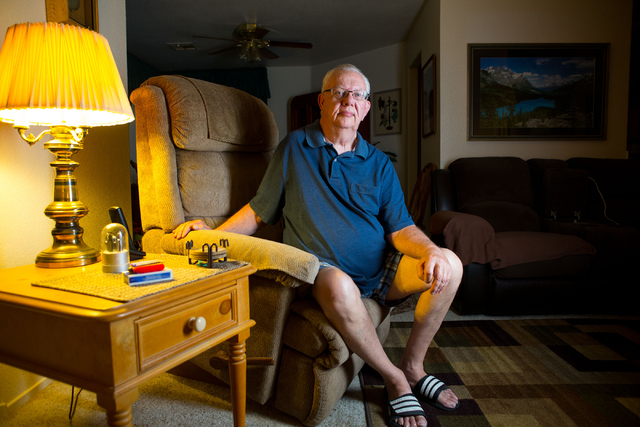 A stranger changed Leon Springer's life in a single moment in April 2011.
Springer was on his way to work at the MGM Grand about 2:15 a.m., turning left onto West Lake Mead Drive near Fiesta Henderson when another car slammed into his, head on.
The other driver was drunk.
The impact broke Springer's neck, and he spent nearly six weeks in intensive care and as much time in rehab. He can move about now, but he's not as agile as he once was.
Springer hasn't been able to work since.
"That's all it took was a second," the 65-year-old Henderson resident said.
Medical costs piled up in the three months after the crash, though Springer and wife, Carol, had insurance. Bankruptcy would have been the only way out from under what would have become crushing debt, they said, without help from the Crime Victims Fund.
That's a pot of money the federal government collects from criminal fines then divvies up among the states. The states then get money or services to residents, generally where the crimes occurred.
Last week, Nevada got its annual share, totaling $6 million. About $4 million will end up with nonprofits and local government offices that provide services including counseling, sheltering or transportation for victims of violent crime.
The other $2 million goes to paying funeral costs, medical bills or replacing lost wages, like in Springer's case.
A state Division of Child and Family Services program doles out the money that goes to nonprofits and local governments. Only 5 percent of that cash, known as victim assistance funds, can be spent on administration or oversight, said Jill Marano, division deputy administrator.
"The rest of the money has to go directly to services," Marano said. "It's money we try to put to good use and try to get back to the people who need it."
The $2 million of victim compensation funds, goes through the state Victims of Crime program. Administrators try to cover "everything related to making them whole after they've been injured in a crime," program director Bryan Nix said.
That program paid nearly $6 million in claims during fiscal year 2013. That came out to more than 1,900 victims, who filed police reports, personal testimony and other financial paperwork to demonstrate need.
Nevada crime victims have received more than $80 million in services and financial help since the Crime Victims Fund was established in 1986, according to U.S. Attorney Daniel Bogden.
Springer is grateful to be among those boosted by the funds. He estimates his household got about $15,000. That's more than he expects to receive in court-ordered restitution from Michael Mercado, the man who caused the wreck. He was sentenced to at least three years in prison in July after pleading guilty to drunken driving. The judge also said he will have to pay more than $20,000.
Now receiving disability payments, Springer doesn't expect to return to his job as a pool technician. His body feels numb, and now a metal plate holds his neck together. He's thankful for his life, and for the assistance fund.
"They helped us pay our house payment. They paid all of our copays for us," Springer said. "We would've been in deep water if they didn't."
Contact reporter Adam Kealoha Causey at acausey @reviewjournal.com or 702-383-0361.
WHERE TO FIND HELP
Victims of Crimes Program application
▶ http://voc.nv.gov/VOC/Application/
State Victims of Crimes Program
▶ 702-486-2740
State Division of Child and Family Services
▶ 775-684-4400