Gillespie: Homeland security should focus more on prevention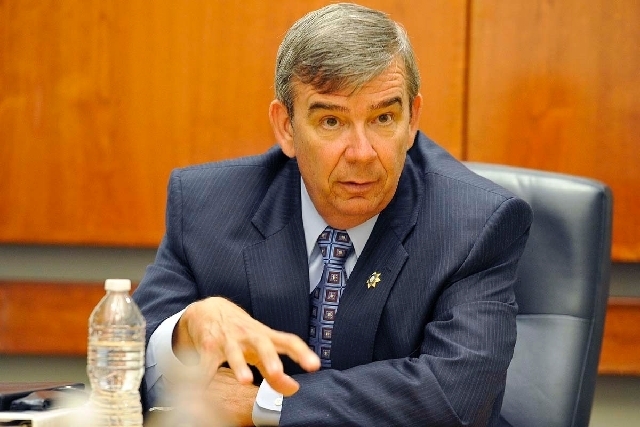 CARSON CITY — Clark County Sheriff Doug Gillespie said Friday that the U.S. Department of Homeland Security needs to do more to help local agencies work on preventing potential terrorist attacks.
The grant process that has brought $3.46 million to Nevada for homeland security efforts for the coming year continues to focus on response rather than prevention, he said.
Gillespie made his comments as the Nevada Commission on Homeland Security, including Chairman Gov. Brian Sandoval, voted unanimously to approve funding recommendations totaling $3.3 million for 18 programs for the 2013 federal fiscal year Homeland Security Grant Program.
Statewide homeland security efforts were awarded $1.36 million, Southern Nevada agencies received $1.61 million and rural and Northern Nevada received $316,000.
Requests totaled nearly $5.7 million.
Seven projects, including proposals from the city of Mesquite, North Las Vegas and the Clark County School District, received no funding at all although they could potentially receive some support in the future.
Gillespie noted that the first six of 18 Nevada projects and programs recommended for funding with the grant money are response-related. It isn't until item seven, a nearly $750,000 grant to the Metropolitan Police Department for intelligence information and sharing, that prevention is part of the mix .
"The Department of Homeland Security continues to place law enforcement in a difficult position," Gillespie said. "They continue to require, each and every year, more and more a percentage of these funds go to response and mitigation and not to a prevention component."
Gillespie cited the bombings at the Boston Marathon as an example of the importance of prevention efforts, noting that the response to the attacks was handled well.
"But many of us in the law enforcement community are looking at the events that led up to the placing of those devices as we did not do a good enough job," he said.
Federal financial help for prevention efforts is needed because it is very expensive, Gillespie said.
"The system is broken in my opinion and it needs to be fixed," he said.
Nevada did get about $700,000 more in statewide grant funding for the coming year than in 2012. But it only offset a portion of the funding lost when the Las Vegas metropolitan area did not make the cut to receive counterterrorism funding from the federal government. That funding totaled $1.8 million this year.
The U.S. Department of Homeland Security had downgraded the region's risk ranking, putting Las Vegas at 33rd nation­wide. Only 25 metropolitan areas will receive funding through the Department of Homeland Security's Urban Areas Security Initiatives Program.
Gillespie said the Department of Homeland Security will not disclose its threat matrix that shows why some urban areas get funding and others do not.
Contact Capital Bureau reporter Sean Whaley at swhaley@reviewjournal.com or 775-687-3900.