Homicide spurs rally against violence
September 14, 2013 - 7:48 am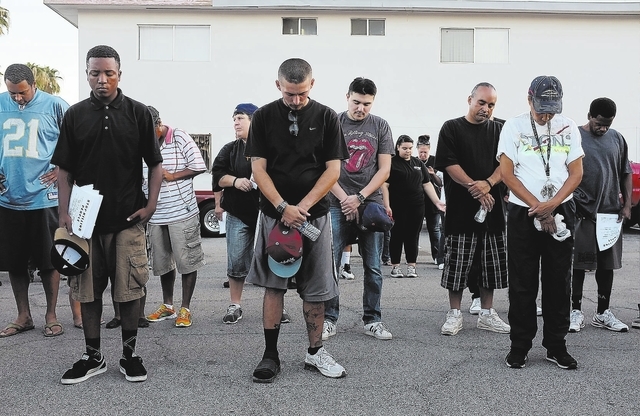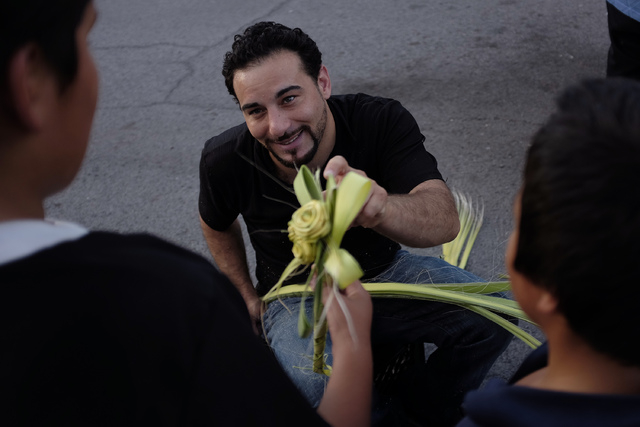 More than 100 people rallied against violence Friday night, spurred by the death of Jeffrey Craig Hand, a 46-year-old man who was shot Tuesday night in what Las Vegas police say was an argument during a drug deal.
Part rally and part religious gathering, the anti-violence rally was sponsored by the Shield of Hope, a year-old Metropolitan Police Department program whose mottoes include "Stop the Killing," and "If you see something, say something."
It was the latest in a half-dozen rallies held this year to bring the community together. They are often held near the scene of the crime. Several uniformed officers were at Friday's rally to meet with neighborhood residents.
At Friday's event, family members and friends of Hand described the last days of Hand's life as Christian hip-hop music blared in the background and hot dogs were served to all those who attended.
"He looked at me, and he told me, "I love you, Red," said Andrea Stall, 43, the girlfriend of Hand, who was fatally shot at 10:20 p.m. in the 2500 block of Lynnwood Street, just a few blocks southeast of the intersection of Sahara Avenue and Las Vegas Boulevard. "That's what he called me: Red, because of my hair."
Stall said she witnessed the shooting and helped Hand into their nearby apartment, where he eventually died on the floor as she desperately tried to stop the bleeding from his chest. She said Hand was a security guard and handyman at their apartment complex and had been trying to help a struggling woman break free from a man in the back alley just before he was shot.
But Las Vegas police reports say that Hand had given the woman, identified as Angela Killen, money to buy meth. Police said something went wrong between her and the drug dealer, whom authorities later identified as 29-year-old shooting suspect Elias Ramirez Lopez.
Ramirez-Lopez was arrested Thursday night in connection with Hand's death and the attempted murder of Javier Rodriguez, 41, who was shot but survived after collapsing in a convenience store parking lot in the 500 block of East Sahara Avenue.
Hand's daughter, Mercedes Hand, 26, who is studying at College of Southern Nevada to become a social worker, said she last spoke to her father on Sunday when she visited his apartment complex to have dinner with him and Stall. She said her father had moved to Las Vegas from Fresno, Calif., in April so that he could be with her.
"I was 110 percent the apple of his eye," Mercedes Hand said.
Stall described Hand as "a miniature angel," somebody who would "never let anybody go hungry" and though he made very little, was very generous, lending money to anybody who needed it during tough times.
Las Vegas police Sgt. Redell Moore, who is in charge of the department's community-oriented police unit in south central Las Vegas, believes the rallies are successful.
"Little by little, residents are beginning to trust us and confide in us, the more we hold these rallies and talk to them," said Moore, a 21-year veteran of the force.
John Parks, who is a member of My Father's Church, said the faith-based rallies are "slowly but surely" starting to have an effect.
"Eventually, we're going to take back Las Vegas," he said. "But it's going to take time."
Willie R. Cherry, a pastor at Pleasant Grove Missionary Baptist Church in Las Vegas, urged the crowd via microphone to dance.
"You too, officers!" he said.
They didn't dance.
Contact reporter Tom Ragan at tragan@reviewjournal.com or 702-224-5512.