Judge grants families' wishes at Halloween adoption event in Las Vegas
October 31, 2016 - 3:48 pm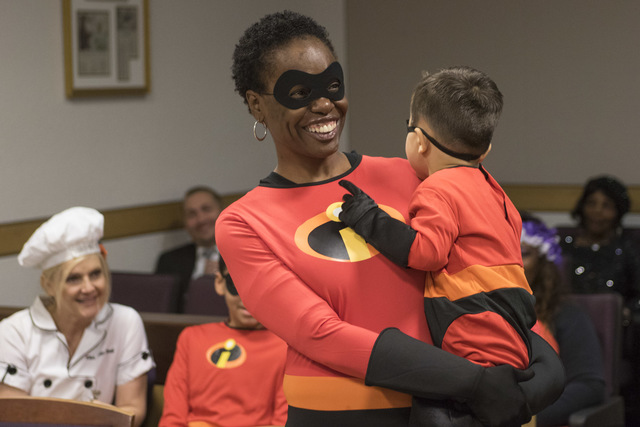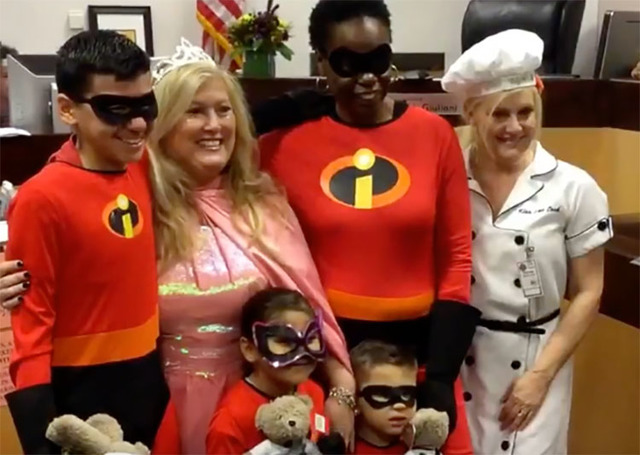 On Halloween, some children received much more than tricks and treats — they were given a family.
In the waiting room of the Clark County Family Courts and Services Center, 601 N. Pecos Road, a woman and three children, all dressed in costumes from "The Incredibles," waited for their wish to come true.
North Las Vegas resident Cassandra Jones, 47, anxiously waited Monday to finalize the adoption process and officially become the children's mother.
"I'm relieved. It's been a long, 17-month process," said Jones, who has a biological son who is 27.
Jones originally joined in the process while supporting her partner, who was fostering the three children. A short while later, her partner had a change of heart and wanted to give up the children. Subsequently, Jones stepped forward and decided to adopt them.
The youngest child, Xion, tested his speedy powers as he raced through the waiting area with his arms at his sides and hands behind his back, his cape ruffling in the air.
Family Court Judge Cynthia Giuliani, dressed as a fairy godmother, granted their wish in court with a magic wand. She declared the three children to be adopted by Jones, "otherwise known as Mommy."
The courtroom filled with cheers, claps and screams for Jones and her newly adopted children: 12-year-old Xander, 5-year-old Xenia and 2-year-old Xion.
Giuliani came down from the bench and gave out hugs. She also passed out candy and teddy bears to the children.
The children smiled as they accepted their bears. They all said "abracadabra," "trick or treat" and "happy Halloween" as they stood and posed for pictures with the judge, their mother and other relatives.
"A total of 22 children will be adopted today. This is a life-changing experience for these families," Giuliani said. "Making adoptions special and memorable is the best part of my job."
This was the fifth time the judge has dressed as a fairy godmother for a special Halloween adoption event. She said she hoped the event would encourage others to adopt or consider foster care.
As the ceremony concluded and the Jones family made its way out of the courtroom, little Xion jumped for joy.
"It's official, and I'm happy," Jones said. "We're going to go grab lunch and hang out for the rest of the day."
A previous version of this story incorrectly described how Cassandra Jones became involved in the adoption of three children.
Contact Raven Jackson at rjackson@reviewjournal.com or 702-383-0381. Follow @ravenmjackson on Twitter.