Judging the Judges: Nevada Supreme Court Justices say they take criticism, comments to heart
January 1, 2012 - 1:59 am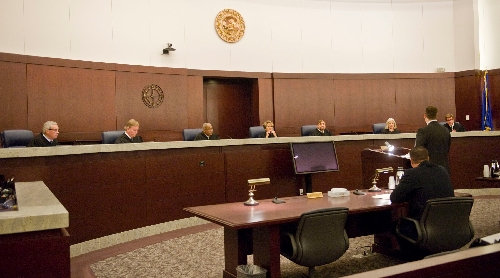 CARSON CITY — In professional sports, any team that wins 70 percent or more of its games usually is a champion, or a close runner-up. Even teams successful about 55 percent of the time frequently gain a spot in the first round of playoffs.
If this guideline applies to the judiciary, Nevada Supreme Court justices — particularly Nancy Saitta, Michael Douglas and Michael Cherry, who are up for re-election this November — should be happy with results of the 2011 Judicial Performance Evaluation, a survey of Clark County lawyers by the Review-Journal.
A majority of the attorneys who rated the seven current justices said each should be retained by voters. The judges serve staggered six-year terms and take turns as chief justice.
Nearly 900 attorneys, or 19 percent of active, licensed lawyers in the Las Vegas area, voluntarily responded to the survey of all Southern Nevada and statewide judges. They were asked, however, to rate only those judges with whom they had sufficient and fairly recent experience. From 281 to 397 attorneys evaluated the justices individually. The lawyers again gave their top rating to Mark Gibbons, with 83 percent saying he should be returned to office. Three others were not far behind: Ron Parraguirre had 81 percent approval, while Douglas and Cherry both scored 79 percent.
James Hardesty also had strong favorable support at 71 percent.
Further behind were the two female justices. Kristina Pickering had 63 percent support, while current Chief Justice Saitta fared poorest at 56 percent.
If past examples are any indicator, the survey's retention scores clearly are important to the justices.
Thomas Steffen and Charles Springer didn't run for re-election when their retention scores in the 1990s dropped into the 30s.
And while Deborah Agosti cited health reasons when she chose not to run for re-election in 2004, her announcement came two weeks after her retention score had dropped to 44 percent.
That drop came in the wake of a public furor over the court allowing the Legislature to pass tax increases without the constitutionally required two-thirds majority.
All seven current justices agreed to comment about their survey evaluations.
NANCY SAITTA
Although her retention approval was the lowest of the seven sitting justices, Saitta's score marked an improvement over surveys in 2008 (45 percent) and 2010 (50 percent).
"I think constructive criticism is helpful," Saitta said. "All of us take what is said about us seriously. I am very happy I have improved."
Even when she was a district judge, however, Saitta received relatively low retention scores in surveys and still won elections.
Saitta pulled the biggest upset in the 2006 state Supreme Court elections when she defeated incumbent Nancy Becker by almost 9 percentage points.
"I work hard and I am a committed justice," said Saitta, who intends to file for re-election Tuesday . "I am grateful for the support I received, even though the number is less than I would like it to be."
In general, lawyers made flattering comments about Saitta. One called her compassionate, another a good activist for children, and still another said she was the "soul of the court."
But about a third of the rating lawyers called her less than adequate on three traits closely related to knowing the law and using it well — being prepared for specific cases, applying law and rules properly, and explaining decisions. Hers were the court's worst scores on those qualities.
MIKE CHERRY
Cherry said he believes the survey bodes well for his re-election hopes.
"I am happy with the results," he said, noting his retention score has increased each year. "I work hard. I try to be fair. I try to do my best for the voters of Nevada."
He quipped that lawyers who offered negative comments about him "must be people I ruled against sometime."
In anonymous comments about the justices, most lawyers surveyed called Cherry an excellent judge, a nice guy and even a "lovely person."
But about 20 percent said he is insufficiently free of bias toward parties or attorneys. Written comments elaborated:
"Easily swayed by high powered attorneys and clients. Way too plaintiff-oriented," one lawyer wrote.
Another charged Cherry had a "taxpayer funded gastric bypass operation to reduce his girth."
Cherry said that he's never had such surgery and starts each morning with exercise.
Cherry did not face opposition when he first ran for the state Supreme Court in 2006 and does not know if he will in his re-election bid next November.
MICHAEL DOUGLAS
While Douglas would like to get a 100 percent retention score, he realizes his 79 percent is very respectable. He noted that it has improved during his years on the court.
The lawyers also give him good scores on specific judicial traits, especially courtesy and freedom from bias.
"I guess if you throw out 10 percent of the scores at the top and 10 percent at the bottom, you will find what people really think about you," Douglas said.
Still, he said that the scores are more of a perception by lawyers on how justices are doing, because few lawyers actually appear in person before the court, yet 325 weighed in with opinions on him.
Douglas said he takes the criticism more to heart than the positive comments lawyers expressed in the survey: "You look at what they say and wonder, 'How can I be better in what I am doing?' "
But most lawyers seem to consider Douglas a gentleman — polite, fair and balanced. One called him "the class of the court."
He received a few negative comments, including one that Douglas "believes he is now above the human race."
Douglas, the court's first African-American justice, retained his seat in 2006 by a 12-point margin over Clark County Family Court Judge Dianne Steel. He said that he doesn't know if he'll have an opponent this year .
MARK GIBBONS
Gibbons has received the top retention score among justices in past surveys as well, and received high marks when he was a District Court judge, too.
"I thank the lawyers and the Review-Journal," he said. "I try to work hard and be fair."
Like other justices, Gibbons said he listens more to criticisms leveled by lawyers in the survey than to their compliments.
He is the only member of the court remaining from the 2003 panel that voted to suspend the state constitution and allow tax increases by a legislative majority vote of less than two-thirds.
Unlike Agosti and Becker, Gibbons was not hurt by his vote, and he won re-election in 2008 by more than a 2-to-1 margin over Frank Christensen.
Lawyers in the survey called Gibbons a solid judge, some even applying the adjectives of phenomenal or stellar. Only 4 percent said he lacks courtesy.
Few made negative comments, although one said Gibbons had to "suck up to the RJ" to win re-election after voting to suspend the two-thirds requirement.
KRISTINA PICKERING
Though pleased by positive survey comments, Pickering said that she'll take the negative ones to heart and see if she can improve.
"All I can do is the best job I can," said Pickering, the only justice without a background as a District Court judge. "I try to treat everyone with respect and base decisions on the legal issues as I see them."
A longtime Clark County lawyer, Pickering was elected to the court in 2008 after a contested primary and a narrow 3 percentage point win over District Judge Deborah Schumacher of Washoe County.
While emphasizing she was "not making excuses," Pickering said some lawyers who backed her opponent might not support her remaining on the court because of lingering resentments over that election.
But, she added, "I don't think it is fair to expect people to give up loyalty until I earn their trust."
Other critics, Pickering said, could be lawyers she sparred with as an attorney.
Several lawyers surveyed called her the best justice, and others remarked about her intelligence.
The primary criticism from a few lawyers was that Pickering takes pro-business positions. One lawyer called her a "corporate shill and a defense bar favorite," and another said she favors corporations.
RON PARRAGUIRRE
Parraguirre was unopposed in his November 2010 election bid, and in an email response to a question about his scores, called the survey a "helpful evaluative tool for the public" in looking at judges.
He was pleased with his high scores and most of the comments made by lawyers.
"Certainly in our profession, we cannot nor should we expect to please everyone," he wrote. "Fifty percent of those who appear before us are not success­ful in their litigation matters."
Parraguirre said he and other justices should try to properly apply the law, listen carefully and clearly explain their rulings. Even if litigants are not successful, they should have a sense their case was "fairly considered and given the time and attention it deserved."
Lawyers responding to the survey said Parraguirre was a fine man, a great judge, a true professional and extremely courteous.
Few offered any negatives. One called him a "lousy politician," which might have been intended as a compliment, considering that judges are supposed to be apolitical on the bench.
A couple of lawyers said his decisions favor insurance companies, with one lawyer calling him a "foot soldier of the insurance defense industry."
JAMES HARDESTY
Hardesty is the only justice from Reno, and was unopposed in 2010 for his second term.
He said he'd have liked a higher score than his 71 percent retention rating, which was slightly lower than the 2010 survey: "I learn a lot from the comments. Having an adequate score means a great deal for me."
Perhaps more than any other judge, Hardesty is well-known for challenging arguments advanced by lawyers before the court.
He worked closely with legislators in 2009 to establish the Foreclosure Mediation Program, a step praised by some, but criticized by others as a violation of the state constitution's separation of powers clause.
One surveyed lawyer praised Hardesty's work in establishing the program, saying it has helped keep homeowners in their homes.
Other lawyers' comments mostly praised him, especially for intellect and work ethic.
Because he is from Northern Nevada, Hardesty said many Clark County attorneys do not know him as well as they do the other justices. He plans to "reach out to them" and interact more with the Southern Nevada legal community.
Contact reporter Ed Vogel at
evogel@reviewjournal.com or 775-687-3901.
Judging the Judges – 2011