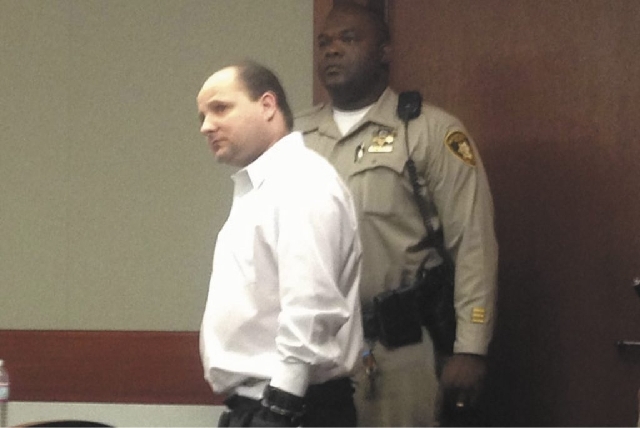 Jurors heard from several witnesses Tuesday as they prepared to answer the one remaining question in the murder case of Gregory Hover: Should he live or die?
The same jury convicted Hover last week of multiple crimes, including two counts of first-degree murder and one count of attempted murder.
Prosecutors are seeking the death penalty, but defense attorneys plan to argue for a life sentence without the possibility of parole.
Defense attorney Christopher Oram said Hover, who has attempted suicide twice since his arrest, should be forced to live with the horrors he has inflicted on others.
"He wasn't very frightened of death," Oram told the jury during his opening statement. "He was frightened of living."
The lawyer also promised to show that Hover, 41, "has some redeeming value."
Oram said Hover, who was married with two children, had lived a normal life until he and another man went on a crime spree that left two people dead in January 2010.
One of their victims was 21-year-old Prisma Contreras.
Authorities said Hover and his accomplice, Richard Freeman Jr., kidnapped the woman from a parking lot on East Tropicana Avenue before taking her to a remote area where they raped her, strangled her and cut her throat.
The victim's body was found in a burned-out car south of Boulder City on Jan. 15, 2010.
Hover also was convicted of fatally shooting 64-year-old Julio Romero on Jan. 25, 2010.
Authorities said Hover, who worked as a process server for Junes Legal Service, had visited Romero's home to serve legal papers. Early the next morning, Hover broke into the house, killed Romero and shot Romero's wife, Roberta, who survived.
Roberta Romero, speaking in Spanish through an interpreter, testified Tuesday and described her husband as a good person who was affectionate and "always happy."
"He used to say I was the love of his life," she told the jury. "We got along really well. We loved each other."
The woman cried as she described the loneliness she feels without him. She also said a bullet remains lodged in her head, and she can no longer work.
"It is my children that are now taking care of me," she said. "I used to be independent before."
Jurors also heard from Hover's brother and sister, who said all three siblings suffered abuse during their childhood in Oklahoma.
Hover's 19-year-old daughter, Destini, sobbed throughout her testimony Tuesday. The woman, who expects to give birth soon to a baby boy, said her father "was always there" for her during her childhood.
"He was at every softball game," she said. "He was the coach to my softball teams."
If her father is allowed to live, the woman said, she knows he will continue to be there for her, even if he can no longer "be physically there."
The penalty hearing is scheduled to resume this afternoon in District Judge Carolyn Ellsworth's courtroom.
Freeman, 22, escaped the possibility of a death sentence by pleading guilty last month to two counts of first-degree murder with a deadly weapon for his roles in the Contreras and Romero killings.
Contact reporter Carri Geer Thevenot at cgeer@reviewjournal.com or 702-384-8710.