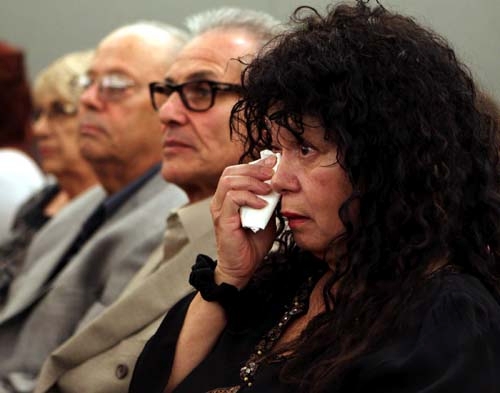 Lawyers for three people infected in Southern Nevada's hepatitis C outbreak wanted the jury to send a message.
The drug companies who made and sold the sedative linked to the outbreak had put profits over safety, and they had to pay, they argued.
After deliberating about six hours over two days, the jury's message totaled $162.5 million.
"I think that sends a very loud message," lawyer Robert Eglet said in his office after the second multi-million verdict against Teva Parenteral Medicines Inc., Baxter Healthcare Corp. and McKesson Medical-Surgical.
The jury awarded the punitive damages on top of the $20.1 million in compensatory damages for Anne Arnold, Richard Sacks and Tony Devito and two spouses. The patients were infected with hepatitis C in the outbreak at the Endoscopy Center of Southern Nevada and its sister clinic. The outbreak was made public in 2008.
Their lawsuit, like dozens of others heading toward trial, involved product liability claims against the drug companies.
While the verdict was coming in, a jury in another courtroom awarded $14 million in compensatory damages to hepatitis C patient Michael Washington and his wife, Josephine. That jury will determine punitive damages against Teva and Baxter later this week.
Lawyers for infected patients have hoped to win enough verdicts to motivate Israel-based Teva, the world's largest generic drug maker, to reach a global settlement and avoid going to trial on hundreds of pending lawsuits.
"Hopefully that will be enough for the drug companies to realize they need to come to this community, and they need to make this right and resolve this case with everyone," Eglet said. "But if not, we're prepared to take you on."
Arnold said the case wasn't about the money but about ensuring that others don't suffer as she has suffered.
Her life will be cut short by the liver disease, and "you can't put a price tag on that," she said.
Eglet and Will Kemp said they offered to settle the case for $4.9 million, but they never got a response.
The same thing happened with the first outbreak-related trial last year, when a jury awarded Henry Chanin and his wife $500 million in punitive damages after they had offered to settle for $1.7 million.
That case remains on appeal before the Nevada Supreme Court.
The $162.5 million punitive-damage verdict breaks down to $89.4 million from Teva, $55.3 million from Baxter and $17.9 million from McKesson.
As the courtroom emptied, Teva lawyer Mark Tully waded through the crowd to shake hands with Sacks, Devito and his wife, Donna.
He did not comment on the verdict.
TEVA PROMISES APPEAL
In a statement promising to appeal the verdict, Teva said that the legal system in Las Vegas was broken and that the jury wasn't allowed to hear all the facts.
"We believe that if we had been able to present our full defense, this verdict and the following decision would have had a different outcome," the statement said. "Teva should not be held liable for the blatant disregard for patient safety by medical professionals at their facility. While the mistreatment of patients is unacceptable, it was not Teva's fault."
The jury disagreed.
Jurors did not think that the 50-milliliter vials of propofol were defective, but they thought the drug companies didn't do enough to prevent their product from being misused, two jurors said.
Martin, a 38-year-old graphic designer, and Roger, a 29-year-old sheet metal worker, said jurors thought the companies should have sent "Dear Doctor" letters to the clinics warning them of the dangers of reusing large vials of propofol among multiple patients.
Neither juror wanted to give his full name because of publicity surrounding the case.
Company lawyers had argued that such a letter would have done little good in the clinics run by Dr. Dipak Desai.
LACK OF WARNINGS RAISED CONCERN
Jurors agreed and believed the clinics shared between 60 percent to 80 percent of the blame for the hepatitis outbreak. But the drug companies never bothered to send any warnings despite a history of red flags and worldwide hepatitis outbreaks linked to large vials of propofol, they said.
"The big thing was their not even trying to stop it," Roger said.
When it came to punitive damages, jurors wanted to set an amount large enough to be a deterrent, but they quickly moved off the $739 million suggested by the patients' lawyers because that number represented company revenues from all of their products.
The jury focused on propofol sales, then whittled that number down based on how much responsibility the drug companies shared with the clinics.
Both Roger and Martin said they thought the lawsuit sounded frivolous when they filled out their juror questionnaires. But after sitting through almost two months of trial, they believed the drug companies shared in the blame.
If the drug companies had taken some preventive steps, the verdict might have been different, they said.
"It just seems like they didn't even try," Roger said. "The fact is they knew these things, but they didn't do anything."
Contact reporter Brian Haynes at bhaynes@reviewjournal.com or 702-383-0281.