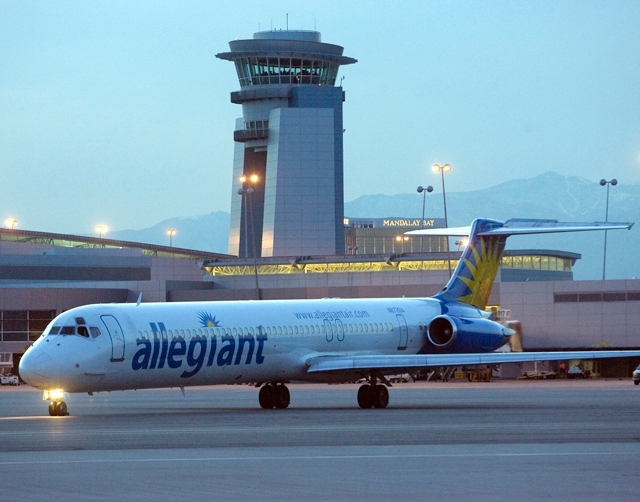 A Clark County District Court jury found on Tuesday that Allegiant Travel Co. had unjustly profited from a small consulting company's marketing plan and ordered the airline to pay $800,000.
The verdict came after a two-week trial in a case brought by Airline Alternative Marketing Group, which worked with Las Vegas-based Allegiant. As depicted by the company and its CEO Al Hill, the promotion started as a one-month test in October 2009 where people who bought Allegiant tickets online were given the option of picking a free gift if they attended a sales pitch for what was then the Westgate Planet Hollywood tower just off the Strip.
After the initial test, Hill said that Allegiant promised a five-year deal, so he signed a long-term pact with Westgate. Subsequently, Allegiant dropped Airline Alternative and entered into a similar arrangement with Wyndham Vacation Resorts.
Wyndham settled shortly before the trial began for an undisclosed sum. Hill had worked at Wyndham for seven years before going on his own in 2008.
Allegiant argued unsuccessfully that it had grown disappointed with the meager results by February 2010 and joined forces with Wyndham the following August.
Contact reporter Tim O'Reiley at
toreiley@reviewjournal.com or 702-387-5290.
Allegiant Travel to relocate headquarters to western Summerlin
Allegiant Travel Co. plans to move its headquarters about 15 miles to the north following an agreement to purchase five empty office buildings in western Summerlin for $12.3 million.
Included in the deal are 10 acres and 130,000 square feet. Allegiant hopes to close the deal by the end of June.
The airline is now housed in 80,000 square feet in two buildings on South Durango Drive, with 70,000 square feet taken up by the staff and the rest devoted to training and other purposes. It is owned by a limited partnership in which three directors, including Chairman and CEO Maurice Gallagher Jr., hold more than a 50 percent interest.