Las Vegas judge accused of improper involvement in murder probe
Updated September 2, 2020 - 7:06 pm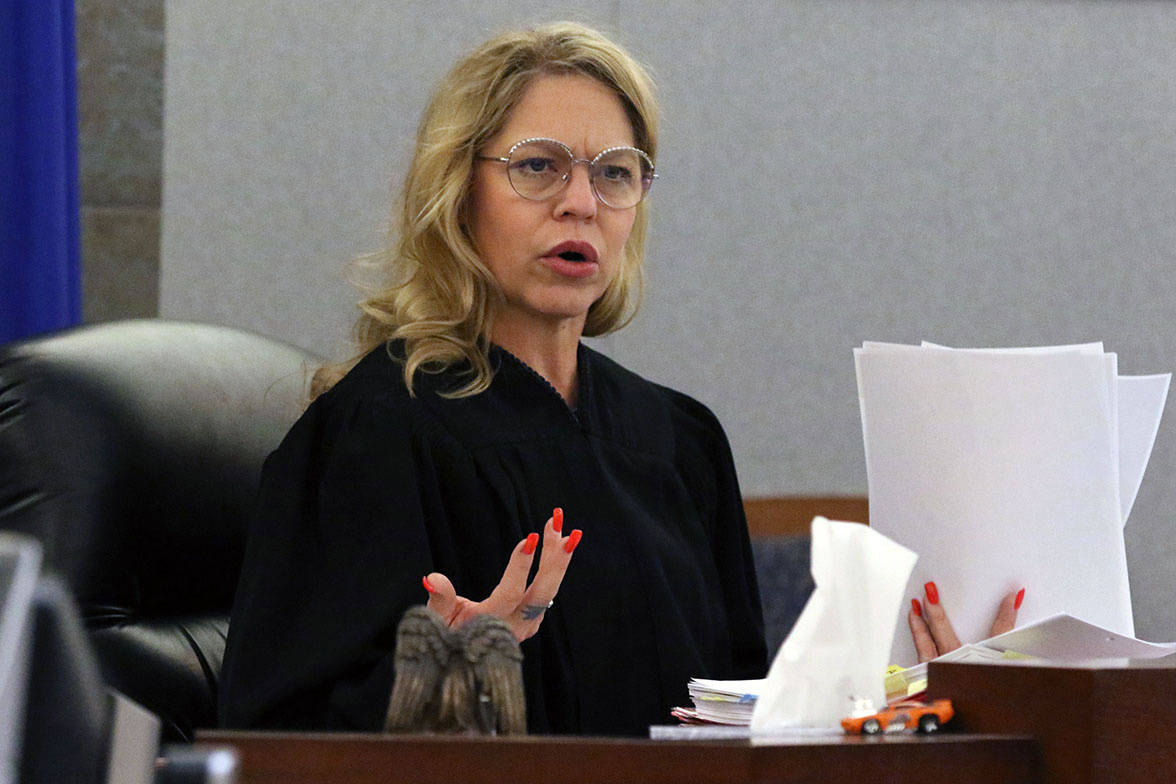 The Nevada Commission on Judicial Discipline has leveled serious charges against Las Vegas Justice of the Peace Melanie Tobiasson, alleging that she became improperly involved in a double murder investigation and was affiliated with an organized crime figure.
Tobiasson is facing a long list of allegations after the commission said she urged Metropolitan Police Department detectives to investigate a clothing store where her daughter worked, which Tobiasson believed was a front for an unlicensed club where teens drank, used drugs and engaged in prostitution.
In a complaint filed this week, the commission alleges that Tobiasson failed to comply with and uphold the law, and allowed family interests and relations to influence her conduct.
Attorney Marc Cook, who represents the judge, said he planned to address "a multitude of inaccuracies" in the commission's allegations, which he referred to as "mudslinging," with "information they already have." The judge and her attorney have 20 days to respond to the charges.
After Tobiasson's daughter told her that a man named Shane Valentine tried to lure her into prostitution, Tobiasson reached out to detectives and asked them to investigate Valentine.
Cook said the judge was trying to protect her daughter by calling police and "demanding police take action." He declined to specify which portions of the allegations against Tobiasson were inaccurate but said his response would cite the commission's own investigation.
"If you look at this from the fact that this is a mother, I wonder who they are trying to protect when they write this complaint," Cook said. "I hope nobody's judging this judge, this mother, before we get all the facts."
Fatal shooting
In late 2016, authorities linked Valentine to a shooting at a woman's home after her son and his girlfriend were found dead inside a southwest valley apartment.
But prosecutors stopped short of identifying Valentine as a suspect in the killing of Sydney Land, 21, and Nehemiah "Neo" Kauffman, 20.
Tobiasson, however, reached out to Land's mother and "began to personally investigate the case, in part, because she believed that Valentine had committed the murders," according to the commission.
The commission alleges that Tobiasson used "burner" cellphones to communicate with Land's mother and send "inappropriate text messages to a woman she believed was involved in the Land murder."
In addition, the commission alleges that Tobiasson stated publicly that she reached out to Valentine's lawyer at the time and "told him to tell Valentine that if he called her daughter again she would 'take care of it herself' and that on one occasion she 'went to Shane Valentine's house and kicked in the door.'"
Tobiasson later contacted investigators in an effort to retrieve confidential information about the murder investigation, according to the commission.
Detectives learned of Tobiasson's activity, according to the charges, and launched an investigation into the judge, going as far as tracking her phone records.
'Organized crime figure'
The detectives discovered that between July 2017 and December 2017, Tobiasson communicated, or tried to communicate, with a man identified as Anthony Danna, a "known and documented organized crime figure," according to the commission.
Earlier that year, the commission alleges, Tobiasson dismissed domestic battery charges against Danna, who later exchanged text messages with the judge while he was fleeing from police in a separate case.
But online court records suggest that prosecutors dropped the charges against Danna. The court's website indicates that the case was dismissed as "state not proceeding."
The commission did not indicate what documentation linked Danna to organized crime.
The allegations against Tobiasson also reference an interview she gave to an online publication known as the Baltimore Post Examiner in which Tobiasson said that Metro detectives protected pimps in exchange for sex and that Sheriff Joe Lombardo had falsely accused her of drug trafficking in an effort to intimidate her.
Tobiasson is accused of violating several canons under the state's Code of Judicial Conduct. The commission claims she abused "the prestige of judicial office to advance" her personal interests.
Late last year, the commission decided against suspending Tobiasson and Las Vegas Justice of the Peace Amy Chelini after a hearing about concerns over profanity used off the bench and administrative complaints involving court clerks.
Contact David Ferrara at dferrara@reviewjournal.com or 702-380-1039. Follow @randompoker on Twitter.