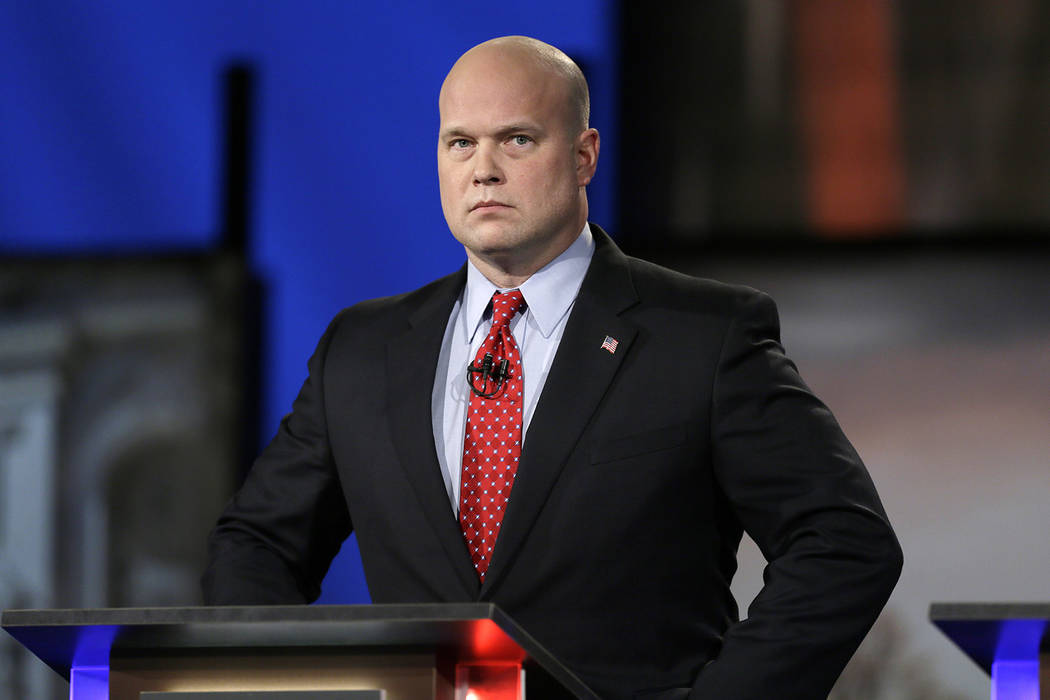 A pair of Las Vegas lawyers asked a federal judge Tuesday to throw out drug conspiracy charges against their client, arguing that President Donald Trump's appointment of Matthew Whitaker as acting U.S. attorney general was unconstitutional.
"The defense finds itself in uncharted territory," attorneys Gabriel Grasso and Michael Pariente wrote. "The historical events currently taking place within the United States Federal Government, with a President under investigatory fire clearly seeking to somehow turn the controversy towards his own advantage, has resulted in a never before seen manipulation of the (Federal Vacancies Reform Act). These presidential battle plans have consequences. One of those consequences has landed squarely in the lap of the accused."
Whitaker was appointed last year as chief of staff to then-Attorney General Jeff Sessions. He became acting attorney general last week after Sessions resigned.
The defendant, Oliver "Sonny" Maupin, is a 61-year-old Las Vegas businessman, according to his lawyers. He was indicted in Iowa last year on a federal charge of conspiracy with intent to distribute 100 kilograms or more of marijuana.
Grasso said in a phone interview that Whitaker being named acting attorney general after charges came down against Maupin should have no bearing on the motion to throw out the case.
"What the defense alleges in this motion as a violation of federal law is not window dressing," the filing from the Las Vegas attorneys states. "It goes to the core of the validity of the Department of Justice and how that arm of the Executive Branch receives and exercises its constitutional permission to act in the interest of the people of the United States."
In appointing Whitaker, the Trump administration pointed to a section of the Vacancies Reform Act that states the president may temporarily appoint a senior official to a position that typically requires Senate confirmation, as long as the person has worked 90 days in the department.
But Grasso and Pariente argued that the attorney general's position does not fall under that provision.
"The new acting Attorney General has been appointed in violation of federal law and without prior confirmation by the United States Senate," the filing states. "The idea that Mr. Whitaker being confirmed in 2004 to become the U.S. Attorney in Iowa allows him to serve as the attorney general today lacks merit."
In Maryland, the state's attorney general asked a federal judge to block Whitaker's appointment, saying he should be replaced by Deputy Attorney General Rod Rosenstein.
A Justice Department spokeswoman could not immediately be reached for comment regarding the Las Vegas lawyers' motion, but later this week the department is expected to release an opinion on Whitaker's appointment.
Contact David Ferrara at dferrara@reviewjournal.com or 702-380-1039. Follow @randompoker on Twitter. The Associated Press contributed to this report.