Las Vegas massage parlor sex ring revealed in court
Updated November 15, 2018 - 5:26 pm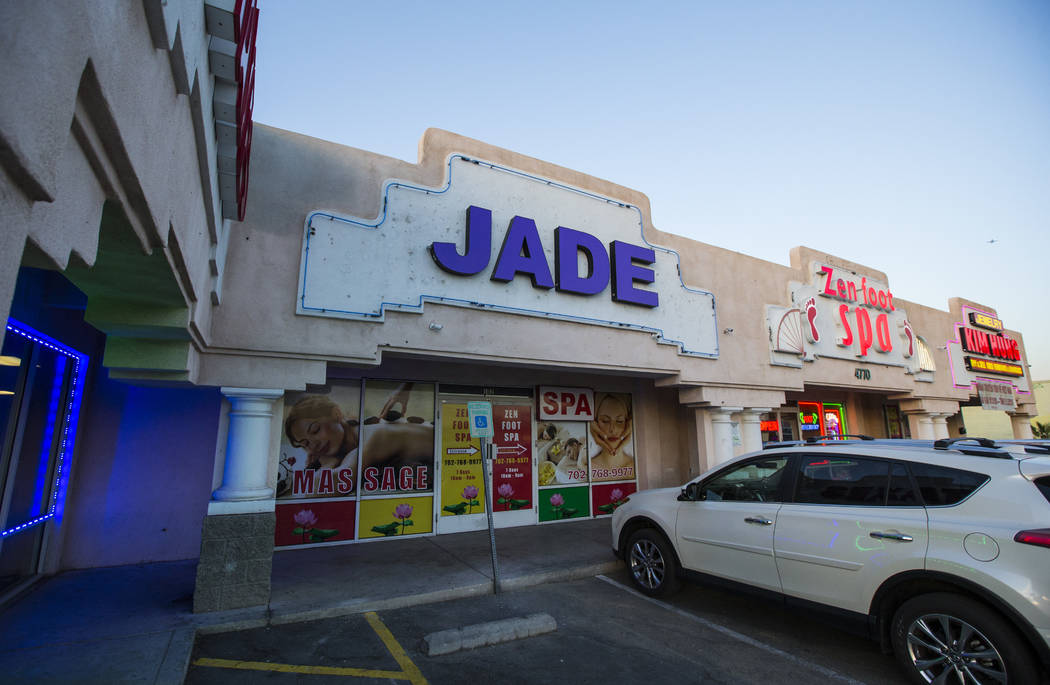 Five men were indicted Thursday in connection with a lucrative Las Vegas Valley sex-trafficking ring.
Their names are Jeff Yu-Kuang Lin, Thomas Burnett Leitzen Jr., Tony Matthews, Stan Li and Alan Christopher Russell. Deputy Attorney General Alissa Engler accused them of running two massage parlors as a front for prostitution for more than four years.
Through the operation, the men earned more than $3 million, mostly from credit cards, Engler said in court Thursday morning.
"Members of the enterprises would induce women to engage in acts of prostitution with paying customers, accept the earnings from known prostitutes and live off the earnings of these acts of prostitution," according to a statement from the Nevada attorney general's office. "Additionally, the defendants counseled the prostitutes on how to avoid and detect law enforcement."
When customers stopped by, either Lin, Leitzen, Matthews or Li lined the women up, allowing customers to choose who they wanted to have sex with, the indictment alleges. The men also recruited women to work for them as prostitutes, negotiated services with customers and scheduled prostitution shifts.
Both Li and Russell are accused of transporting customers to the spas for the purpose of paid sex. Li also paid taxi and ride-share drivers "a cut of the proceeds from prostitution" for transporting customers to the spas, according to the indictment.
Chief District Judge Linda Bell issued warrants for all five men Thursday.
The ring was operating between January 2014 and July out of two locations: 3141 Sammy Davis Jr. Drive and 4770 Spring Mountain Road, Suite #102.
The first address is in a strip mall just west of the Las Vegas Strip. The second address, located in Chinatown, is listed as "Jade Spa" on Google Maps and is permanently closed.
Jade Spa customer reviews from about a year ago on Google Maps included, "Believe me your in good hands (sic)," "hits the spot," and, "Thanks for the amazing shower massages."
Six women were cited in the indictment as prostitutes from whom the men accepted earnings. It remains unclear if they will face prostitution charges.
"My office is proud to work with our local law enforcement partners to obtain this indictment in an effort to protect women from being exploited for profit and to hold these defendants accountable for their actions," Attorney General Adam Laxalt said in a statement Thursday.
Collectively, the men face 76 counts of charges that include money laundering, placing a person in a house of prostitution, living off the earnings of a prostitute, pandering, racketeering and racketeering conspiracy.
Lin faces 36 counts, and his bail was set at $250,000. Leitzen faces 19 counts, and his bail was set at $150,000.
Matthews faces eight counts, Li faces five counts, and Russell faces eight counts. Bail was set at $50,000 for Matthews, and $25,000 each for Li and Russell.
As of Thursday afternoon, the men were free. An intial appearance was scheduled for Nov. 26.
Contact Rachel Crosby at rcrosby@reviewjournal.com or 702-477-3801. Follow @rachelacrosby on Twitter.