Las Vegas police reveal DNA error put wrong man in prison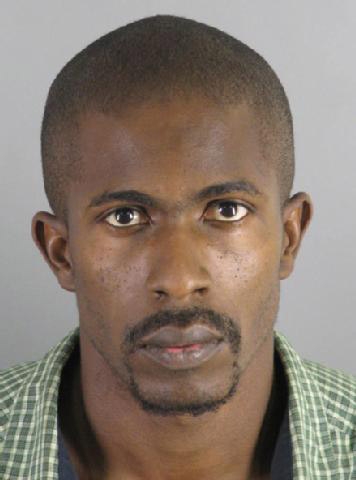 On Jan. 28, 2008, Howard Dupree Grissom walked into High Desert State Prison, just north of Las Vegas, after being convicted of robbery and conspiracy to commit a violent crime.
An employee there, as was required, took a swab of DNA from inside Grissom's mouth, and within a week sent the sample to the Metropolitan Police Department's crime lab.
Had the lab's technicians run the sample against all other DNA evidence in the system, police would have discovered that Grissom also was linked to a 2001 robbery — and that the mistake had sent the wrong person to prison for that crime.
But they didn't.
Because the lab had a policy to scan Nevada inmate DNA only against evidence in the department's open cases — a policy changed four weeks ago — Grissom was never caught.
He would spend more than two years in Nevada's prison system for that 2008 charge, and within three months of being released, he was arrested in California for kidnapping, raping, robbing and trying to stab a woman to death.
Las Vegas police on Thursday revealed, in an unusually candid and thorough explanation that was praised by a national organization, that it had bungled the DNA evidence in that 2001 robbery and caused an innocent man to go to prison for four years.
"We sent an innocent man to prison," Clark County Sheriff Doug Gillespie said. "To say this error is regrettable would be an understatement."
The mistake wasn't the first for the lab, and the department is now reviewing hundreds of cases in which DNA evidence was handled by veteran technician Terry Cook, who has been suspended with pay since May. The department has also tentatively agreed to a settlement with the man wrongfully imprisoned.
But the department did not admit until Thursday night that it had the chance to catch Grissom more than two years ago. Assistant Sheriff Ray Flynn said the practice of scanning the DNA of the state's inmates with all of the evidence in its possession — not just those in open cases — was not required by federal authorities.
"That is one of the things that we have changed because of this," he said.
MISTAKE SENT WRONG PERSON TO PRISON
The case provides a look into the complicated system of when and how DNA is linked to evidence found in crimes.
In November 2001, Grissom was one of two suspects in the robbery of a woman at her southeast valley home.
A masked man in a blue hooded sweat shirt, armed with a baseball bat, burst into her home. The woman had with her two small children, ATM cards and $23 in cash.
The suspect forced her to drive to an ATM to withdraw more money but ran away when the woman's husband spotted them.
Las Vegas police were called and later spotted Grissom, then 15, and his cousin, Dwayne Jackson, then 18, as they rode bicycles past the woman's house.
Officers followed them to a nearby home and discovered a blue hooded sweat shirt and ski mask inside a car in the driveway.
Both Grissom and Jackson denied involvement in the robbery, and both submitted to DNA tests. Police also were able to recover DNA evidence from the clothing.
But at the department's lab, technician Cook mistakenly placed Jackson's DNA in Grissom's vial — and Grissom's DNA in Jackson's vial, Flynn said. The swap caused the DNA in Jackson's vial to match that of the clothing.
Jackson was charged with the crime. He maintained his innocence to his attorney in the case, David Chesnoff, the lawyer said Thursday. But faced with the DNA evidence against him and the potential for a life sentence in prison, Jackson took a plea deal. He was released from prison in 2006.
He would not be vindicated for five more years.
SYSTEM DID NOT CHECK ALL OF EVIDENCE
Grissom would be arrested by Las Vegas police in 2007 and plead guilty to robbery and conspiracy to commit a crime, the details of which weren't available Thursday. He received a sentence of two to five years in prison.
Had Grissom been sentenced to prison in another state, the DNA taken from him upon entering that prison probably would have been entered into a federal database known as the Combined DNA Index System, or CODIS, Flynn said.
That database would have matched Grissom's DNA against all DNA in any open or closed case in any state, as required by federal law, Flynn said. It would have realized that Grissom's DNA matched the evidence found on the clothing in the 2001 robbery.
But Grissom was arrested in Nevada and sent to a Nevada prison. A spokesman for the Nevada Department of Corrections said Grissom's DNA was not sent to CODIS at the time, although it now sends all inmate samples to the federal database. The sample was sent to the Metropolitan Police Department's crime lab, as was, and still is, routine, the prisons spokesman said.
Flynn said the department's policy at the time was to match samples from Nevada inmates in open cases in which DNA evidence was taken, such as unsolved murders or rapes. Because they thought the 2001 robbery had been solved, they didn't bother to check Grissom's DNA against the evidence in that case.
In light of the recent mistake at the crime lab, Flynn said it instituted a policy to run prisoner swabs against DNA evidence in all cases, solved or unsolved.
NOT THE FIRST MISTAKE
The technician's mistake was not the first involving DNA evidence at the crime lab. A technician mistakenly labeled a DNA vial in 2001, and the error almost sent an innocent man to prison for life.
Lazaro Sotolusson was an inmate at the North Las Vegas jail when cellmate Joseph Coppola accused him of sexual assault. To investigate the charge, police collected DNA samples from both men.
But at the crime lab, the label on Sotolusson's vial was mistakenly switched with his accuser. When investigators ran the two samples in a computer database, they discovered that his mislabeled DNA matched evidence recovered from two unsolved rapes in the valley.
Prosecutors, unaware of the labeling mistake, charged Sotolusson with the two rapes as well as the sexual assault on Coppola. The charges were later dropped after an expert hired by the man's public defender uncovered the clerical error.
The case prompted a review of every DNA sample in the lab for similar clerical errors, and today the system is automated to prevent such human mistakes, Flynn said.
It did not catch the mistake in Jackson's case, however, because the mistake was not merely a mislabel — it was the wrong DNA in the wrong vial.
INNOCENT MAN EXONERATED
Jackson's vindication would not come until after his cousin would be arrested for attacking a woman in an alley behind a Moreno Valley service station in 2007.
Media reports from the Southern California area said Moreno Valley detectives uncovered that the woman had been kidnapped from a nearby apartment, raped in an alley, then robbed and stabbed several times. She suffered nonlife-threatening injuries.
He pleaded not guilty, and a California jury convicted him of attempted manslaughter, according to records. He was sentenced to between 41 years and life in prison.
When he entered the California Department of Corrections and Rehabilitation, an employee took a required sample of his DNA and sent it to CODIS.
Because the system scans evidence in solved and unsolved crimes, authorities in California discovered in October that his DNA matched that of the 2001 robbery in Las Vegas. They notified Las Vegas police.
The department's lab officials, however, discovered that the DNA did not match the name they had on file for the 2001 case — unbeknownst to them, the vials had been swapped.
A review of the case discovered the mistake. In May, Clark County District Attorney David Roger was asked by police to notify Jackson's attorney . Police said the review of the evidence took months and prevented them from telling Jackson sooner.
Chesnoff on Thursday called his client "a remarkable young man."
"He's not bitter," he added. "He's forward-thinking. He's handling it a lot better than I would."
Chesnoff said Jackson did not want to speak to the media, but that the man was satisfied with the settlement with the department. The amount will be disclosed once the department's Fiscal Affairs Committee approves the settlement, Gillespie said.
Roger said Jackson's record is sealed and his slate wiped clean.
"He can truthfully say he has never been convicted of a crime," Roger said. "From the FBI on down, his wrongful conviction has been erased from every law enforcement database."
NEW PROCESS AND PROCEDURES
The sheriff said the mistake was unacceptable.
"There are no words I could say that will give back the time Mr. Jackson spent incarcerated," Gillespie said.
The department is now reviewing more than 200 cases in which DNA evidence was handled by Cook, who has been with the department since 1983. He stopped handling DNA in 2004, when he transferred to another section at the lab.
Department officials said the department has sent DNA samples from more than 44,000 offenders in Southern Nevada to CODIS since it started using the system in 2000.
Flynn said the department is confident that they haven't made other mistakes.
Linda Krueger, who oversees the department's crime lab, said that in 2001, DNA analysis was only 4 years old and the equipment was primitive.
Krueger said the vials that contained DNA samples were much smaller back then — about as tall as a penny — and therefore more difficult to label.
Human hands also had to load the samples in 2001, a process that is automated now.
Las Vegas police said they reported the mistake to a national crime laboratory accrediting agency. On Thursday the Rocky Mountain Innocence Center, a nonprofit that works to correct and prevent the convictions of innocent people in Utah, Nevada and Wyoming, praised the department for its admission.
"Taking active measures to identify these mistakes and free innocent prisoners serves the entire public," Elizabeth Fasse, a staff attorney for the organization, said in a statement. "No one wins when the wrong person is in prison."
Review-Journal reporter Brian Haynes contributed to this report. Contact reporter Lawrence Mower at lmower@reviewjournal.com or 702-383-0440. Contact reporter Doug McMurdo at dmcmurdo@reviewjournal.com or 702-224-5512.