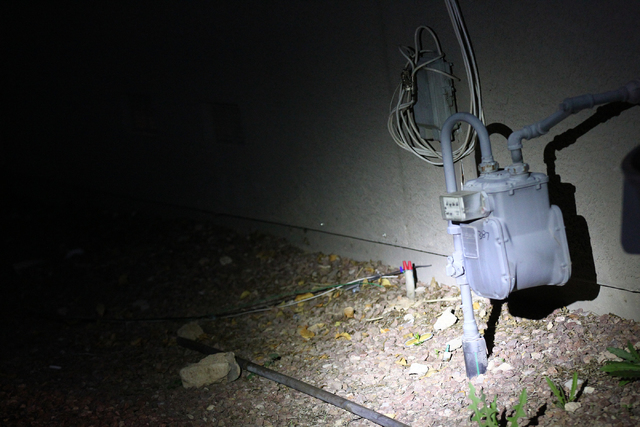 Federal prosecutors began presenting their case Monday against a father-son duo accused of growing hundreds of marijuana plants inside a Las Vegas residence.
Bing Han and his father, Jianguo Han, were arrested in 2015 after a concerned neighbor told police that he suspected the occupants of the house next door to him were growing marijuana. The Hans' case was one of only two marijuana cases the Nevada U.S. attorney's office pursued in fiscal 2015 — the same year that medical marijuana dispensaries started operating in the state.
In fiscal 2016, which ended Sept. 30, federal prosecutors in Nevada opened only one marijuana case. Since then, they have yet to arrest anyone on federal marijuana charges.
The Hans' case, which falls just weeks after the July 1 arrival of recreational sales in Nevada, highlights the notable differences in state and federal marijuana statutes.
The scale of their alleged growing operation also is illegal under state law, which limits home projects to six plants. But in federal court, cannabis is a Schedule I drug, in the same category as heroin. Federal statutes expose the men to several years in prison if they are convicted of the two drug counts on which they are being tried.
"There's a great divide between federal law and state law," said defense attorney Brian Smith, who represents Jianguo Han. "Medical marijuana and recreational marijuana are legal in the state of Nevada, in certain amounts."
Meanwhile, Smith said, "The federal government considers marijuana to have no medical use whatsoever." He added that "most people would agree that thinking is likely erroneous."
The results of ballot referendums in several states across the country have supported that assertion. As states have loosened marijuana regulations, either through ballot measures or legislative action, the federal government has grappled with how best to balance the statutes on the books against changing laws in numerous states.
U.S. Attorney General Jeff Sessions said in March that he intends to adhere to marijuana prosecution policies established by the administration of former President Barack Obama. The policies, outlined in a 2013 Justice Department memo, included guidelines and priorities for federal prosecution of marijuana as states started to approve legalized possession.
"I may have some different ideas myself in addition to that, but essentially, we're not able to go into a state and pick up the work that police and sheriffs have been doing for decades," Sessions said during a question-and-answer session after a March speech in Richmond, Virginia.
Assistant U.S. Attorney Robert Knief called three witnesses Monday to testify against the Hans. One of them was Joseph Gleason, the neighbor who first alerted law enforcement of the growing operation. He told police he noticed two Asian males unloading large plastic grow trays, large reflective lamp hoods, and oscillating fans and ballasts out of a U-Haul and into the house.
When police searched the residence, they seized over 500 marijuana plants.
Two Metropolitan Police Department detectives testified Monday, and a third is expected to testify Tuesday before the prosecution rests its case.
Each man faces one count of conspiracy to manufacture more than 100 marijuana plants and one count of possession with intent to manufacture more than 100 marijuana plants.
Contact Jenny Wilson at jenwilson@reviewjournal.com or 702-384-8710. Follow @jennydwilson on Twitter.