Lawyer: Las Vegas officer accused of misconduct to fight charges
Updated March 14, 2019 - 9:48 pm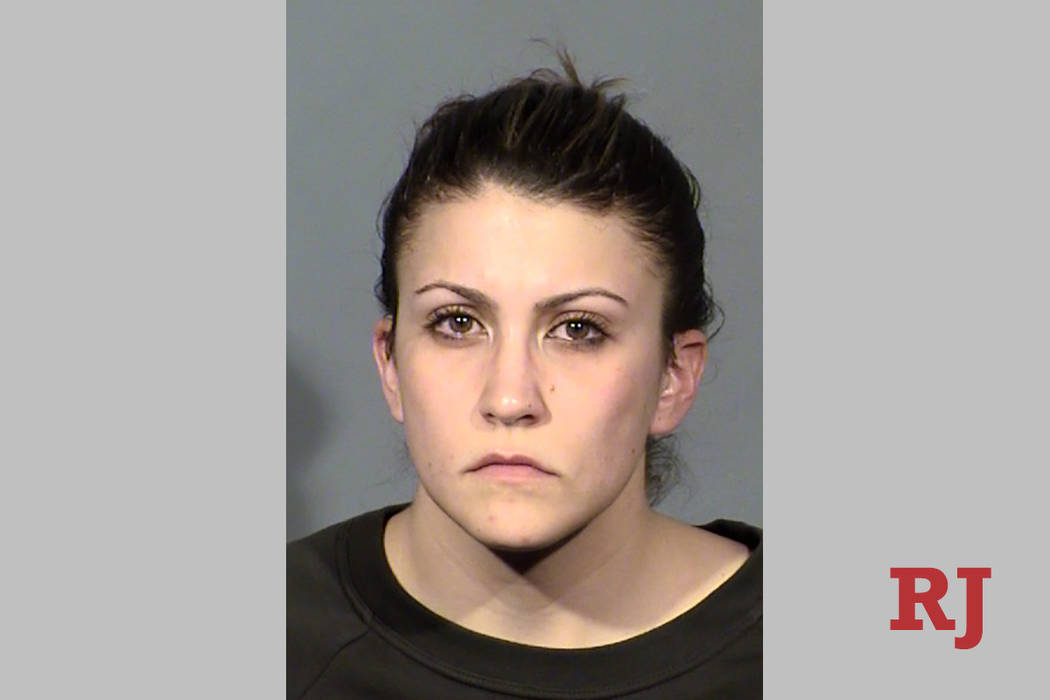 A Metropolitan Police Department officer appeared in court Thursday after she was accused of misconduct and indecent exposure in connection with allegations that she searched for others' information and took unauthorized videos of people, an arrest report shows.
Officer Rachel Sorkow made her first court appearance after being booked Tuesday on five counts of misconduct of a police officer and one count each of indecent exposure and capturing an image of another person's private area.
Sorkow's attorney, Tony Sgro, indicated in court that Sorkow would plead not guilty to the charges.
"We intend to vigorously defend the allegations and look forward to vetting this out in the courtroom," he said.
Sorkow was accused of sharing private information from "criminal justice informational systems" and using a personal phone to record interactions with people, a violation of department policy, police said after an internal investigation. One of the videos, authorities alleged, included a recording of a person's genital area filmed without consent.
"She took her job as a police officer seriously, and it's important to not make any judgments until people have heard both sides," Sgro said.
He said that Sorkow's defense team was doing its own investigation into the allegations and that it was too early to comment on the circumstances that led to the charges.
Sorkow, who was released on bail, was accompanied at her status hearing Thursday by family and friends who showed up in support.
According to Sorkow's arrest report, released Thursday, detectives began investigating Sorkow in September after a "cooperating individual" in a separate case told police he witnessed a man calling someone from law enforcement to conduct a records check on a car the man believed was a police vehicle.
Through police and phone records, detectives determined Sorkow performed multiple records checks for the man, the report said.
While searching Sorkow's phone, detectives found seven videos of four different people Sorkow recorded while on duty, and in at least two videos she recorded while with another officer, the report said.
"Sorkow would order these individuals, some of which were handcuffed, all of which were in her control, to perform a wide variety of acts while video records them with her personal cellular phone," the report said.
At least two of the people recorded were noticeably impaired, and Sorkow sent the videos to multiple friends and family members, including other Metro officers, the report said.
In a video taken in April 2017, she ordered a person who appeared to be a "mentally ill" man wearing a dress to dance for her, the report said. In a text message to another officer about the video, she called the person "shim," a transphobic slur, the report said. The other officer had recorded the person walking and sent that video to Sorkow, the report said.
In a video from November 2017, she told a male officer to force gummy bears into a handcuffed man's mouth, the report said. In the video, Sorkow was heard saying, "Partners with the community, feeding criminals gummy bears," a reference to Metro's slogan, the report said.
In an interview with detectives, Sorkow said the man wasn't under arrest, and that she didn't put him in handcuffs, the report said.
After Sorkow was dispatched to a "potential domestic violence incident" in January 2018, she recorded a woman who appeared "heavily intoxicated," and she commented on the woman's weight and told her to expose her stomach, the report said.
Sorkow and a male officer were dispatched in May after a report of a man exposing himself. At the scene, Sorkow recorded the man, who was handcuffed and appeared intoxicated, telling him to kick a patrol vehicle and expose his genitals through a rip in his pants, the report said. At one point in the video she yells, "Do it again!" while "zooming in" on the man's crotch, the report said.
She also recorded a conversation with him and used a racial slur, the report said.
"The only thing I remember is we thought that was funny, you know?" the male officer, whose name was redacted in the report, told investigators.
Sorkow admitted to investigators that she recorded the videos without "malice intent" because she "thought it was funny," the report said. She said the people in the video were OK with her recording and sharing the videos.
"Was it right of me? No. But I'm not gonna sit here and tell you I didn't laugh," Sorkow told detectives in a Feb. 19 interview, according to the report.
Detectives noted "19 different instances" of Sorkow performing a criminal history inquiry on people for personal reasons, the report said. She sent the information to friends inquiring about data including their own criminal history, romantic partners, roommates and family members.
In one instance, a female Metro officer asked Sorkow to search for information about the officer's ex-boyfriend, which she used to "confront" the man at his home, the report said.
A preliminary hearing in the case is scheduled for June 10.
Contact Max Michor at mmichor@reviewjournal.com or 702-383-0365. Follow @MaxMichor on Twitter. Contact Katelyn Newberg at knewberg@reviewjournal.com or 702-383-0240. Follow @k_newberg on Twitter.