Man arrested in shooting deaths of woman, child, wounding of another child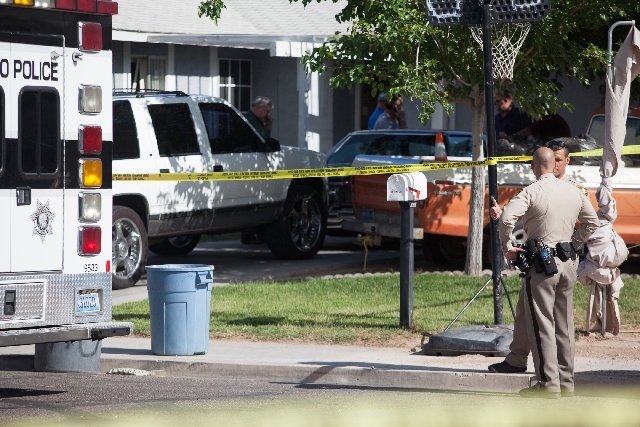 Homicide detectives worked late into Saturday night, piecing together a crime scene that left a woman and a child dead and another child in critical condition.
They said the shooting spree on the east side of the Las Vegas Valley was the result of a domestic dispute that sent the 38-year-old suspect to University Medical Center in what police say could be a murder-suicide attempt.
The bodies of a woman and a child were carried out of the house in the 5500 block of Cotton Street on Saturday afternoon after police responded to reports of gunshots at 6:20 a.m. near Charleston and Nellis boulevards, said Sgt. Mathew Sanford of the Metropolitan Police Department.
The suspect, identified as Manuel Mata III, has since been charged with two counts of murder with a weapon and one count of attempted murder with a weapon, police said. He was found lying injured inside the house with a gun in his hand.
Mata and a child, whose gender and age were not released, were both rushed to the hospital, police said. Both were expected to survive.
The identity of the homicide victims and their causes of deaths will be released by the Clark County coroner's office.
Yellow tape separated the crime scene from the rest of the neighborhood all day long Saturday as a half-dozen homicide investigators worked from a mobile crime lab. Eventually, one of the windows to the one-story house at 5563 Cotton St. was boarded up as neighbors observed from their yards.
According to police, Mata had been living with the victim and was "having a domestic relationship" with her.
Gwen Duran, a neighbor, said she had just recently spoken to "Manny" on Friday night and the two were talking about keeping the neighborhood children safe from speeding motorists.
She said he was drinking a beer and was talking about setting up construction cones in the street so motorists would have to weave in and out and would not be able to race through the neighborhood.
"I never heard anything, but then again I'm a heavy sleeper," she said. "I just woke up and saw the police outside. He was so mellow and laid back. I can't believe it. I hope this isn't one of those cases where it's your neighbor and he just ends up losing it overnight."
Mata worked as a sound technician at a local casino, according to Gwen's best friend, Ellie Beatey, whose daughter often played with Mata's children.
According to Duran, Mata was raised in Las Vegas, went to Las Vegas High School and was close to his father.
She said the name of the woman who lived with him was "Maria" and looked to be in her late 30s as well. But she said she didn't know her all that well. Duran said Mata had been dating Maria for at least six months, and that the couple each had their own set of children before the relation­ship.
Contact reporter Caitlyn Belcher at cbelcher@review
journal.com or 702-383-0264. Contact reporter Tom Ragan at tragan@reviewjournal.com or 702-224-5512.