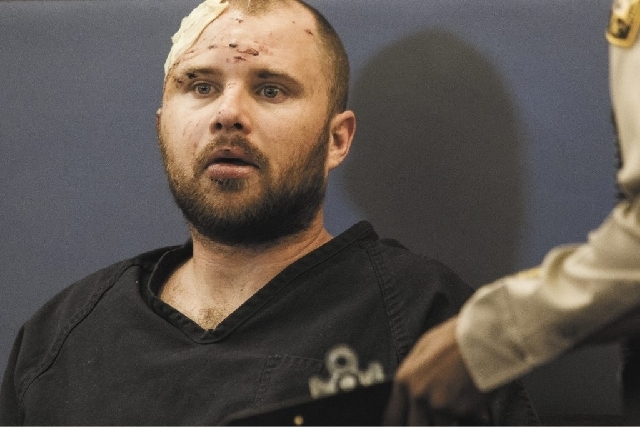 A 29-year-old man charged with killing a California highway patrolman and another man after a carjacking at the Flamingo Las Vegas valet area appeared in court Wednesday.
James Montgomery appeared bruised and battered, with numerous cuts on his face and a white bandage strapped to his forehead.
Montgomery, who faces murder, robbery and kidnapping charges, was dressed in navy blue jail uniform with his hands and legs shackled.
During a three-minute hearing, he told Las Vegas Justice of the Peace Cynthia Cruz he understood the charges against him.
Defense lawyer Michael Becker said he has received "very little discovery" in the case.
Members of Montgomery's family attended the hearing. Montgomery hails from Tustin, Calif., where he works as a team leader at the Whole Foods market. He was visiting Las Vegas with his girlfriend.
Orange County court records show a couple of minor traffic violations.
On Sunday morning, Felix Brandon Cruz III, 31, and his brother-in-law, Jesus Magdaleno Jr., 33, were loading luggage in the bed of a white Ford F-150 pickup at the east valet area of the Flamingo when Montgomery stole it, Las Vegas police said.
Authorities on Wednesday released a photo of the pickup as it sped on Flamingo Road at the intersection of Las Vegas Boulevard.
The photo shows one of the men with his hands in the air.
Montgomery ran through three red lights on Flamingo before crashing into an SUV near Valley View Boulevard, outside the Rio, detectives said.
Magdaleno and Cruz were thrown from the bed of the truck.
Magdaleno, an officer with the California Highway Patrol, died at the scene. Cruz died Monday at University Medical Center.
The residents of Visalia, Calif., were in Las Vegas to celebrate Magdaleno's bachelor party before his September wedding.
Police asked anyone with information, including photographs or video, to contact homicide detectives at 702-828-3521.
Contact reporter Francis McCabe at fmccabe@review journal.com or 702-380-1039.