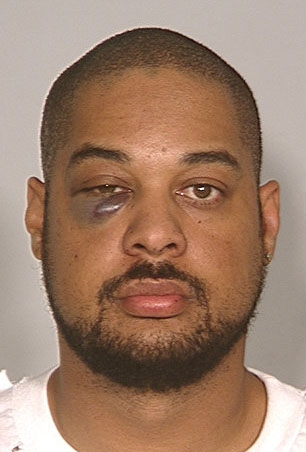 Emmanuel Dozier told a district judge Tuesday it pained his heart knowing he had shot three police SWAT officers three days after Christmas in 2008.
Dozier offered his "deepest and most sincere apologies to the officers and their families" and then asked Judge Valorie Vega to sentence him to probation for two counts of distributing drugs and one count of resisting arrest.
Vega, however, would have none of it. After a lengthy sentencing hearing, which included a statement by one of the wounded officers, she slapped Dozier with a four- to 10-year prison term as the defendant's family wailed in the courtroom.
Dozier was being investigated by the Metropolitan Police Department for weeks leading up to the Dec. 28, 2008, shooting. Undercover narcotics detectives had bought small amounts of cocaine from him at his Seven Hills home in Henderson three times that month.
After obtaining a search warrant, SWAT officers were called to serve it because Dozier had a criminal history, including a 1996 arrest for second-degree robbery, though he had no felony convictions.
The SWAT officers announced that they were officers serving a search warrant, police said. When there was no response from inside the house, the officers tried to breach the metal security door using a battering ram and a shotgun that was fired several times.
The officers were shot from inside the house, and each was struck in the thigh. One also was struck in the hand and chest. That officer was wearing a bullet-resistant vest. They did not fire back.
Dozier then surrendered to police.
At the time, his girlfriend, her 13-year-old daughter and the couple's 3-month-old son were in the home.
Dozier suffered a black eye around his right eye while he was being arrested. Police said that while an officer was trying to put him in handcuffs, Dozier began to resist arrest, and another officer struck him in the face with his forearm while trying to force him to the ground.
The officers have returned to duty.
On the eve of trial in May, Dozier took a deal from prosecutors and pleaded guilty to the three counts. He had faced 10 felony counts, including three counts of attempted murder. As part of the agreement, the other charges were dropped.
On Tuesday, Dozier told Vega that since the incident he has found legitimate work and has been volunteering with children in hopes to teach them to make "better life choices" than he has.
Dozier reiterated what he has maintained from the beginning: "It felt to me to be a break-in. It felt like shots were being fired into the home. If I would have known it was the police I would have come out with my hands up," he said.
His girlfriend also called 911 to report that their home was being broken into.
Deputy Public Defender Joe Abood said Dozier was asleep when he was awakened by his girlfriend's daughter telling him someone was trying to break in.
Dozier never heard the officers announce they were the police and executing a warrant. And after firing his gun — which he owned legally — he found out it was the police and surrendered, Abood said.
After Dozier was arrested, "He got roughed up. And we understand. Cops were injured," Abood said.
And the defense lawyer said all that happened over about $60 in drug sales.
Abood also read the names into the court record of three neighbors who were questioned about the incident, none of whom said they heard the officers announce themselves as police. Abood said they all heard multiple gunshots.
Abood said his client doesn't wear the incident as a badge of honor. "He surrendered peacefully and then took his beating," Abood said.
"He's shown nothing but contrition. He deserves a chance at probation," Abood said.
One of the officers who was shot, 28-year veteran Sgt. James Causey, testified at the hearing that SWAT considered other arrest scenarios than breaching the home. One scenario was to draw Dozier out of the home and arrest him away from the two children. But Dozier only made deals at his home and wouldn't deliver drugs to another location.
Causey said his team's priority while serving the warrant was to protect innocent people in the home, something he believed Dozier did not care about.
Causey said he took exception to Abood suggesting the SWAT officers did not perform their duty completely. The emotional distress that caused "stings more than any bullet," Causey said.
The sergeant said his team "did exactly the right thing" and was completely professional when they did not fire back at Dozier because it could endanger innocent people in the home. So "we soaked up bullets," Causey said.
Dozier "brought violence to himself," by selling drugs, the sergeant said.
As Causey wrapped up his statement, Abood showed him the mug shot of Dozier's swollen face. "Is this part of your duty?" Abood asked.
Causey snapped back that he wasn't there when that happened.
"I was in the hospital," he said.
Contact reporter Francis McCabe at fmccabe@reviewjournal.com or 702-380-1039.
911 call
Part 1
AC_FL_RunContent( 'type','application/x-shockwave-flash','data','https://www.reviewjournal.com/media/audio/mp3small','FlashVars','MFILE=https://www.reviewjournal.com/media/audio/911_dozier1.mp3&MSTART=no','width','131′,'height','30','movie','https://www.reviewjournal.com/media/audio/mp3small','classid','clsid: D27CDB6E-AE6D-11cf-96B8-444553540000′,'codebase','http://download.macromedia.com/pub/shockwave/cabs/flash/swflash.cab#version=8,0,0,0′ ); //end AC code
Part 2
AC_FL_RunContent( 'type','application/x-shockwave-flash','data','https://www.reviewjournal.com/media/audio/mp3small','FlashVars','MFILE=https://www.reviewjournal.com/media/audio/911_dozier2.mp3&MSTART=no','width','131′,'height','30','movie','https://www.reviewjournal.com/media/audio/mp3small','classid','clsid: D27CDB6E-AE6D-11cf-96B8-444553540000′,'codebase','http://download.macromedia.com/pub/shockwave/cabs/flash/swflash.cab#version=8,0,0,0′ ); //end AC code
Part 3
AC_FL_RunContent( 'type','application/x-shockwave-flash','data','https://www.reviewjournal.com/media/audio/mp3small','FlashVars','MFILE=https://www.reviewjournal.com/media/audio/911_dozier3.mp3&MSTART=no','width','131′,'height','30','movie','https://www.reviewjournal.com/media/audio/mp3small','classid','clsid: D27CDB6E-AE6D-11cf-96B8-444553540000′,'codebase','http://download.macromedia.com/pub/shockwave/cabs/flash/swflash.cab#version=8,0,0,0′ ); //end AC code
Part 4
AC_FL_RunContent( 'type','application/x-shockwave-flash','data','https://www.reviewjournal.com/media/audio/mp3small','FlashVars','MFILE=https://www.reviewjournal.com/media/audio/911_dozier4.mp3&MSTART=no','width','131′,'height','30','movie','https://www.reviewjournal.com/media/audio/mp3small','classid','clsid: D27CDB6E-AE6D-11cf-96B8-444553540000′,'codebase','http://download.macromedia.com/pub/shockwave/cabs/flash/swflash.cab#version=8,0,0,0′ ); //end AC code