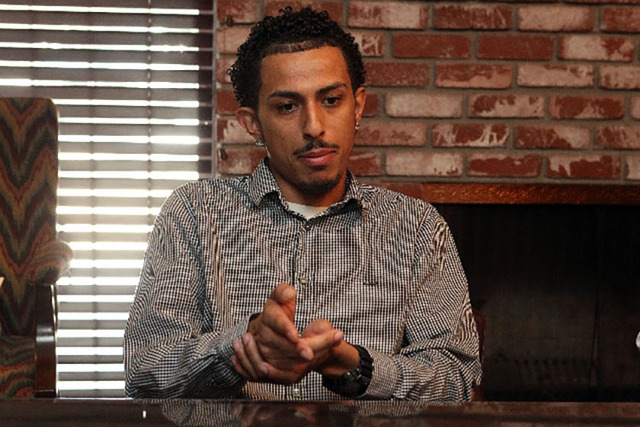 The police officer who shot Lawrence Gordon soon could lose his job. Gordon is just thankful he didn't lose his life.
Gordon, 22, was shot by Las Vegas police officer Jacquar Roston in November. The department's Use of Force Board, in an unheard-of move, recently recommended Roston's termination for his actions in the Nov. 11 shooting.
Gordon was sitting in the passenger seat of a parked car when Roston shot him in the leg. Gordon was unarmed.
The officer apparently mistook the shine from a label on Gordon's hat for a weapon.
Clark County Sheriff Doug Gillespie signed off on the board's decision this week, and Roston could be fired in a few weeks after a termination hearing. Gillespie, who on Monday said he could not recall an officer dismissed for a shooting, has the final say in Roston's punishment.
Gordon, who speaks softly and walks slowly, said he hopes Roston is held accountable. But that isn't his biggest concern. He survived the shooting but lost his livelihood.
The shot missed his femoral artery, but the thigh bone in his right leg was shattered. The injury required emergency surgery and insertion of a metal rod and eight bolts in his leg.
Gordon also needed a blood transfusion. He spent more than a week recovering at University Medical Center.
He did not have health insurance, and the hospital has filed an $82,500 lien against him.
Gordon has little chance of paying back the money without financial help. He was working part-time retail jobs at Planet Hollywood and Caesars Palace and delivering pizzas before the shooting, but the injury took away his mobility.
He said the state-sponsored Victims of Crime aid program offered to pay some of his medical bills, but has been unable to process his case without a police report.
Because Gordon was never arrested or charged with a crime, no public report was taken. Moreover, police have provided no documentation about the shooting, he said.
Gordon said his family paid out of pocket for post-surgery pain medicine. They can't afford physical therapy, so he is rehabbing his leg by himself.
The family also retained Cal Potter, a lawyer known for taking on police departments. Potter said he has tried for months to get a report from the department so Gordon can pay his bills. So far, he has been ignored.
"Lawrence is living with this on a daily basis, and they don't even give him the courtesy of telling him what's going on," Potter said.
Police have said little to anyone about Gordon's shooting. A news release just after the shooting described it this way:
Roston was investigating a family disturbance — a woman claimed her ex-boyfriend battered her and damaged her car — about 10:22 p.m. Nov. 11 at 1600 S. Hollywood Blvd.
When Roston arrived, the woman and Gordon were in the car. The woman left the car to speak with Roston. After the officer approached Gordon a few minutes later, he fired at least one shot. The release didn't say what prompted the decision to shoot.
Gordon's account differs:
He and his girlfriend had been arguing in the parking lot of a recreation center when a police car pulled into the lot.
He told his girlfriend to drive away. She started to leave but circled back to speak to the officer, who was digging through his patrol car's trunk, apparently unaware of the couple.
His girlfriend got out of the car and spoke to Roston for several minutes as Gordon waited in the passenger seat.
Roston eventually approached and said, "Why you moving?" Gordon said. Within five seconds of confronting Gordon, the officer drew his weapon and fired a shot, all in a single motion.
"He gave me no other commands," Gordon said. "The only words he said to me were, 'Why you moving?' And then he shot me."
Gordon said he doesn't know what Roston thought he saw. His red Los Angeles Angels baseball cap was sitting on the center console, near his knee. He never reached under the car seat, he said, as police union officials on Monday indicated.
Gordon said Roston was panicked after the shooting and first called for backup, then for an ambulance.
More officers soon swarmed the parking lot. They told Gordon to remain calm and stop screaming, he said.
Paramedics arrived about 10 minutes later and took him to UMC, where Gordon said hospital staff treated him like a criminal because he had been shot by police. He received no pain medication until hours after he was admitted, and then only after a police officer who had ridden with him in the ambulance told a nurse to give it.
Months later, Gordon is still in pain. His leg often feels like it is being pierced with tiny needles, he said.
"I hate taking showers now because my whole body is cold for like an hour after," he said.
Gordon just started another job, one that allows him to sit for an extended time; but it pays less than he previously made. And while his girlfriend supported him in the aftermath of the shooting, their relationship has ended.
Potter said he soon will file a lawsuit against the Police Department. It's the only way for the family to get answers, he said.
"Their son hadn't been in trouble. He hadn't committed a crime. He hadn't done anything, and it's hard to understand," Potter said.
Gordon's father, an Army retiree also named Lawrence Gordon, said his family needs compensation for their son, who will forever deal with the incident.
"His life is trauma. The pain he's going to go through for the rest of his life is going to be here. Years from now he'll be suffering," the elder Gordon said. "He's got eight bolts in his leg and a long rod. He's skinny. He's got no meat down there. If one of those bolts comes loose years from now, who's gonna pay for that?"
Contact reporter Mike Blasky at mblasky@reviewjournal.com or 702-383-0283.