Man who sold ammo to Las Vegas shooter will have jury trial
Updated July 10, 2019 - 1:59 pm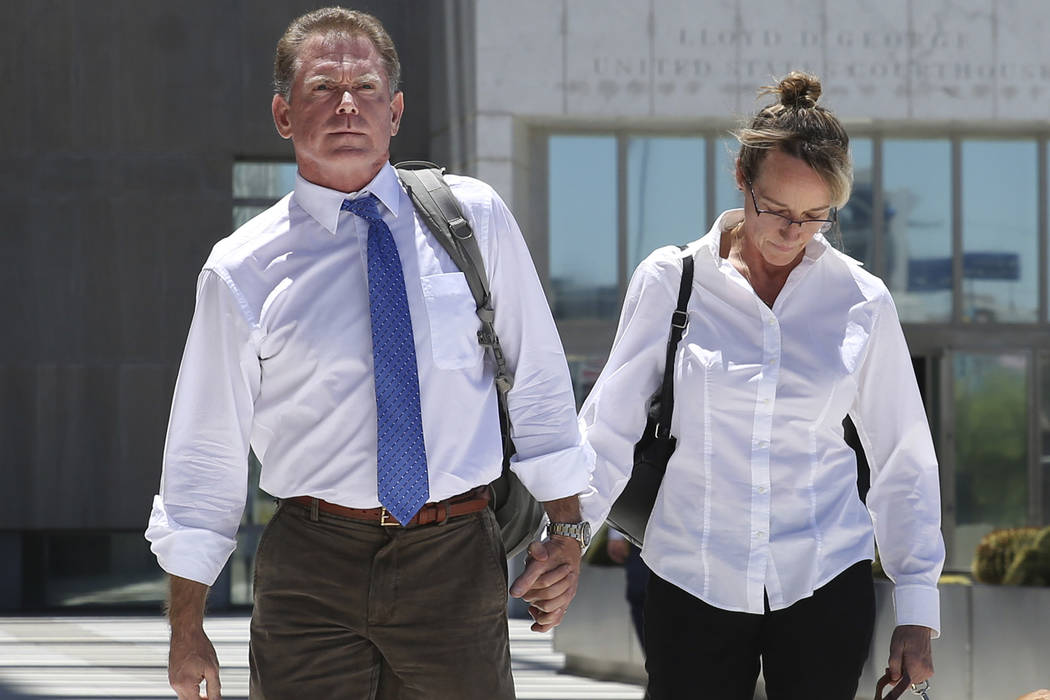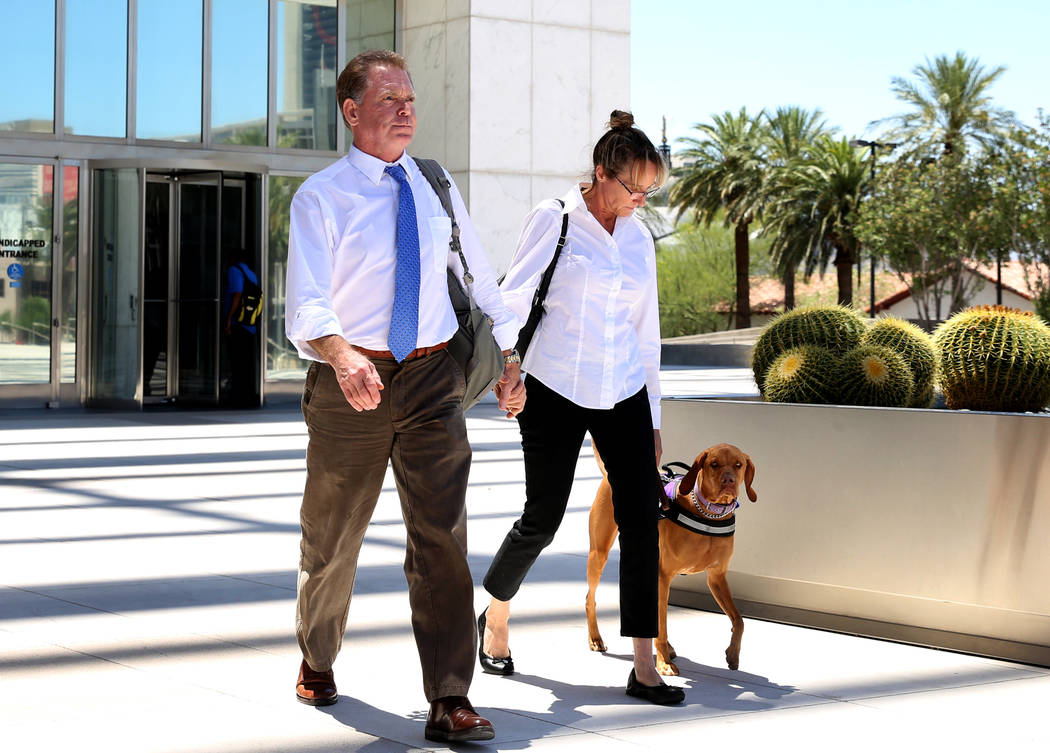 A Las Vegas jury will decide the fate of the Arizona man who sold ammunition to the Route 91 Harvest festival gunman.
U.S. District Judge James Mahan made the ruling Wednesday in Las Vegas after hearing arguments from Douglas Haig's lawyer and federal prosecutors. It marked the first time Haig has appeared in federal court in Las Vegas.
His wife, Dori, listened from the gallery, quietly petting her service dog throughout the hearing.
Haig in June requested a bench trial, fearing bias from potential jurors. A bench trial allows a judge, not a jury, to determine guilt and set a sentence. A U.S. magistrate judge had recommended that Mahan deny Haig's request.
"Though the trial will present challenges, the trial judge will ensure the Defendant an impartial trial," U.S. Magistrate Judge Cam Ferenbach wrote in his report to Mahan.
Haig was concerned that his connection to the Route 91 shooting in Las Vegas would have a "prejudicial effect"on jurors, according to court records. He is accused of selling reloaded rounds to the gunman ahead of the Oct. 1, 2017, attack, and he faces one count of manufacturing ammunition without a license.
"Unlike a judge, jurors may simply be unable to set aside their passion and prejudice to render a fair and impartial verdict in this case," Haig's attorney, Marc Victor, wrote.
In court Wednesday, Victor argued that the U.S. is experiencing an "epidemic of gun violence" that has created a highly charged and divisive political climate. He stressed that Haig's connection to the "deadliest mass shooting ever in the history of our country" may cloud jurors' judgment.
Victor also argued that the type of ammunition Haig sold the gunman — armor-piercing and tracer rounds — could be considered inflammatory to people who are not familiar with weapons.
"There's a very real possibility they might hold the type of ammunition against my client," he said.
The judge said he understood Victor's position and admitted that while discussing the case in his chambers, he himself considered excluding any jurors who attended Route 91.
"But I don't think we can exclude people like that — a whole class of people," Mahan said.
More than 22,000 people attended the country music festival.
Jury questionnaire
Mahan presented prosecutors and Haig's attorney with two questions he thought up in an attempt to weed out the juror bias that Haig fears. Displayed on a projector, the questions read:
■ "Did you or any of your close friends or relatives attend the October 1, 2017, Route 91 Harvest music festival?"
■ "Would you be able to serve as a totally fair and impartial juror in a case involving a defendant who allegedly manufactured some or all of the ammunition that the shooter used that night?"
Mahan said the questions were only suggestions and clarified that prosecutors and Haig's attorney were welcome to edit or add to them. But he recommended that any juror questionnaire remain "short and to the point."
"This is the heart of jury selection right here," Mahan said.
Lawyers on both sides of the case agreed to the idea of a juror questionnaire about Route 91, though the questions weren't finalized Wednesday.
Still, Haig's attorney said he and his client intend to explore the possibility of a statewide jury or a move to Reno for trial.
"I'd prefer to keep it in this community," Mahan said.
Haig twice has tried to change the circumstances of his court case because of bias concerns.
Minimizing prejudice
First, he asked to be tried in Arizona instead of Nevada, arguing that the mass shooting happened in Las Vegas and would make it hard to find an impartial jury. Mahan denied his request.
Then, he asked that government prosecutors not be allowed to mention the Route 91 attack. Mahan excluded some evidence pertaining to Route 91 but noted that procedural safeguards, including jury instructions, would help "minimize the risk of prejudice."
Haig also asked that his case be dismissed, arguing that the statute he is accused of violating is "unconstitutionally vague." Mahan denied his motion.
Two days later, Haig asked to waive his right to a jury trial, which the judge denied Wednesday.
Mahan issued a separate ruling Monday, granting two requests from prosecutors that Haig's team did not oppose — the exclusion of any argument based on the Second Amendment, and the exclusion of any argument as to why Haig was being prosecuted in the first place, which stood to question the government's motivations.
The judge on Monday also denied a request from Haig that asked that the type of ammunition he sold to the gunman not be mentioned during trial.
In the same ruling, Mahan denied a request from Haig to exclude any testimony related to toolmark evidence from Haig's ammunition reloading press, though the judge agreed that the testimony could not be described as "scientific certainty."
The Route 91 attack killed 58 concertgoers and injured hundreds more. The gunman, Stephen Paddock, opened fire on the crowd from a Mandalay Bay suite across the street before fatally shooting himself.
Inside the suite, investigators found ammunition that Haig sold to Paddock loaded into five rifles and one magazine.
They also found it inside an Amazon shipping box that listed Haig's address.
Federal investigators interviewed Haig shortly after the attack, and prosecutors later charged him in connection with the sales. A trial is set to start in August in Las Vegas.
NOTE: An earlier version incorrectly stated the charge Haig faces.
Contact Rachel Crosby at rcrosby@reviewjournal.com or 702-477-3801. Follow @rachelacrosby on Twitter.