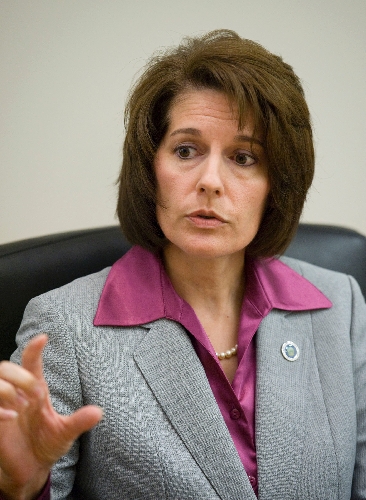 Nevada Attorney General Catherine Cortez Masto on Monday expressed concern over a possible settlement with some of the country's top mortgage servicers.
Masto told the Las Vegas Review-Journal's editorial board that she wouldn't sign any settlement that would grant the banks broad relief from continuing mortgage investigations, especially if it could affect the state's own civil and criminal investigations.
Attorneys general from all 50 states last year launched an investigation into bank foreclosure practices after reports that faulty documents were behind banks' decisions to seize homes.
Since then, an executive committee of 13 attorneys general has been negotiating a reported $20 billion settlement with the five largest U.S. mortgage servicers: Bank of America Corp., JP Morgan Chase & Co., Citigroup Inc., Wells Fargo & Co. and Ally Financial Inc.
The banks want protection from additional claims stemming from their mortgage practices.
Masto said her office has filed an appeal with the U.S. 9th Circuit Court of Appeals to have its lawsuit against Bank of America moved back to state court. The lawsuit, first filed in December, accused Bank of America of harming Nevada homeowners by failing to help them modify their mortgages.
Masto had filed the case in state court in Las Vegas, but Bank of America succeeded in having it moved to federal court in Reno. Masto argued the case was a complaint filed by the state of Nevada and belonged in state court.
Earlier this month, she amended her original complaint to allege that the bank violated the state's deceptive trade practices act by falsely assuring customers that their homes would not be foreclosed on while requests for modifications were pending.
She is seeking to revoke a 2009 settlement with Bank of America over loan abuses involving its Countrywide Financial Corp. unit, charging that the bank broke the settlement terms. For example, the complaint says Bank of America increased Countrywide customers' interest rate and monthly payments even though the settlement allows only modifications that decrease consumers' interest rates.
Masto, who attended the meeting with Assembly Majority Floor Leader Marcus Conklin, D-Las Vegas, argued that "servicing" and "robosigning" of foreclosure documents were at the center of the problems that plague Nevada's real estate market.
Conklin said because of faulty documentation banks are "not sure who owns the property. He said efforts by Masto and others aim to streamline the foreclosure and loan servicing processes, not let
homeowners get away without paying their mortgages.
Conklin said Assembly Bill 284, which Gov. Brian Sandoval signed into law, is a response to robosignings, in which low-level employees of loan servicers signed affidavits that made incorrect claims about complicated matters. As a result, some homeowners in Las Vegas have been wrongly foreclosed upon.
The new law requires a home mortgage lender to file documents when the lender sells a mortgage loan. The documents must be filed within 60 days in the county where the property is located.
Conklin said homeowners struggling to avoid foreclosure have been unable to determine who owned their loans because the documents were filed electronically in a national database and weren't maintained as public records
"It's about the rightful ownership of a piece of property," he said.
On the servicing side, Masto said there was no reason a decision on whether to approve a loan modification or foreclosure couldn't be reached in 60 to 90 days, instead of the current six to 18 months.
Contact reporter Chris Sieroty at
csieroty@reviewjournal.com or 702-477-3893.