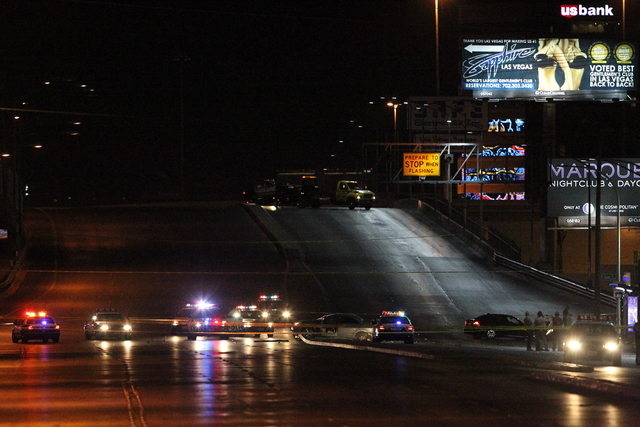 The man shot and killed by Las Vegas police officers after a chase and shootout Friday night was a wanted felon, court records show.
The Clark County coroner's office identified the man as 31-year-old Danny Michael Wadsworth Jr.
Police went after Wadsworth after two women told police their purses were stolen at Town Square Las Vegas just after 8 p.m.
Officers tracked the signal to one of the women's cellphone near Tropicana Avenue and Dean Martin Drive and headed that way.
They pinged the phone a second time on Interstate 15 at West Sahara Avenue.
The vehicle Wadsworth's was driving collided with another during the chase, sending two people to an area hospital. They were later released
Police caught up with Wadsworth about 9 p.m. Police say he started shooting at them on Sahara Avenue near Industrial Road and officers returned fire. Wadsworth was killed in the shootout.
Wadsworth, who has been convicted of several theft and burglary charges dating back to 2006, was wanted on a bench warrant after violating his parole, according to court records.
On Monday, Metro identified the officers involved in Friday night's shooting.
They are Jeffrey Gentry, 45, and Bryce Martines, 27.
Gentry has been with the force since January 1999. Martines has been with police since June 2008. Both have been placed on routine paid administrative leave while the event is under review.
An officer traveling toward the scene of the confrontation and two others were hurt when a patrol car collided with a 2014 Ford Fiesta. The officer was headed north on I-15 with lights and sirens on and lost control of his patrol car when a black car cut him off.
The officer crashed into the left side of the Fiesta, injuring the 55-year old driver and his 59-year old passenger. They were taken to University Medical Center with moderate injuries. The officer was treated and released with minor injuries.
This is the eighth officer-involved shooting and the fifth fatal shooting in Metro's jurisdiction in 2014.
Contact reporter Cassandra Taloma at ctaloma@reviewjournal.com or 702-383-0381. Contact Colton Lochhead at clochhead@reviewjournal.com or 702-383-4638. Find him on Twitter: @clochhead44.