Meyer addresses Hernandez murder charge; Patriots fans dump jerseys of ex-player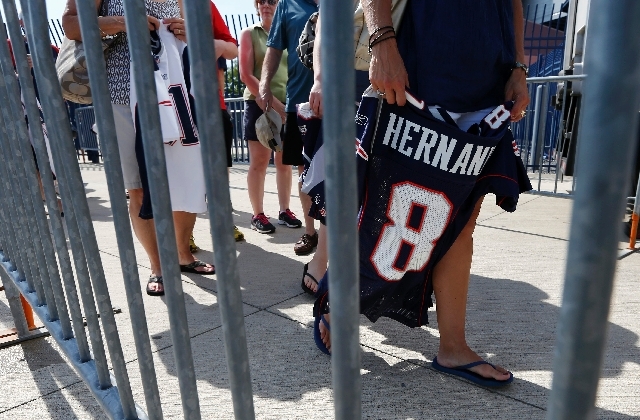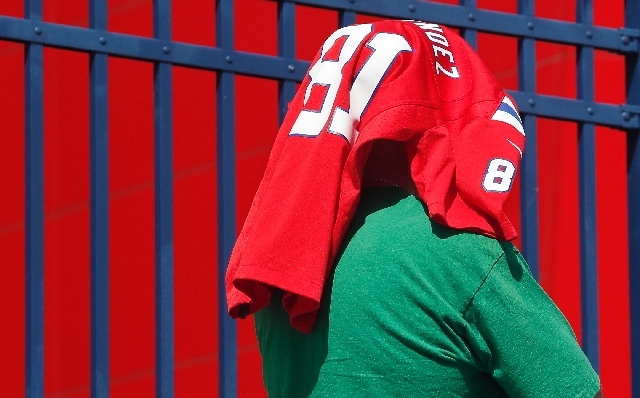 COLUMBUS, Ohio — Ohio State coach Urban Meyer said it is "wrong and irresponsible" to connect him or his former Florida staff to the murder charge facing Aaron Hernandez.
In texts to The Columbus Dispatch and The Gainesville Sun on Saturday, Meyer said there was no cover-up of drug tests during Hernandez's time at Florida. Meyer coached Florida from 2005 to 2010.
These were Meyer's first comments about Hernandez after he declined to comment earlier this week.
The coach said in the texts he "received an email from a friend where there is an accusation of multiple failed drug tests covered up" by the university or the coaching staff. Meyer said that is "absolutely not true" and Hernandez was "held to the same drug testing policy as every other player."
Hernandez played three years under Meyer at Florida. The former New England Patriot is charged in the shooting death of semi-pro football player Odin Lloyd. He has pleaded not guilty.
"Prayers and thoughts are with the family and friends of the victim," Meyer texted. "Relating or blaming these serious charges to the University of Florida, myself or our staff is wrong and irresponsible."
During Meyer's time with the Gators, Florida had at least 31 arrests involving 25 players. Many involved alcohol possession and disorderly conduct, but a dozen involved initial charges of felonies or violent misdemeanors.
Hernandez was never arrested during his three seasons with the Gators. He was, however, suspended for the 2008 season opener and later acknowledged the suspension was punishment for testing positive for marijuana.
In another Hernandez development Saturday, a man charged as an accessory in the murder case is to be arraigned Monday in Attleboro, Mass. Ernest Wallace, of Miramar, Fla., was turned over on Friday to Massachusetts officials.
PATRIOTS FANS LINE UP IN MASSACHUSETTS TO DUMP HERNANDEZ JERSEYS
FOXBOROUGH, Mass. — Hundreds of one-time fans are trading in their Aaron Hernandez jerseys.
The New England Patriots are letting fans trade in their No. 81 jerseys for a different one on Saturday and Sunday.
The ex-Patriots tight end has been charged with the murder in the death of 27-year-old semi-pro football player Odin Lloyd. He has pleaded not guilty.
The Patriots released Hernandez shortly after he was arrested on June 26.
Team spokesman Stacey James says children love wearing Patriots gear but may not understand why their parents don't want them wearing Hernandez's jersey.
The jerseys must have been purchased at the team shop at Gillette Stadium or its online store.