Nevada justices: Citizen Outreach flier's supporters must be reported
February 10, 2015 - 2:29 pm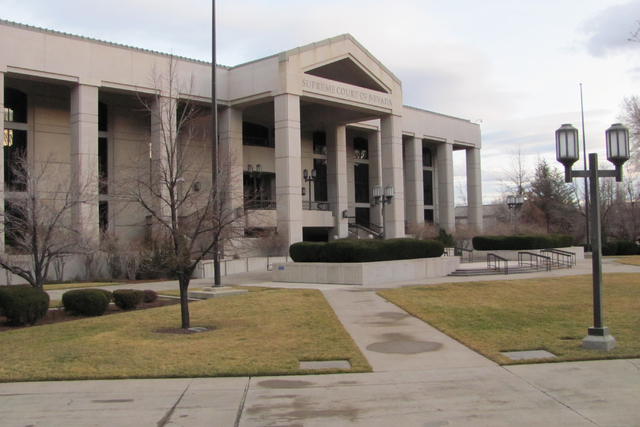 CARSON CITY — The Nevada Supreme Court has upheld a lower court ruling finding that political fliers distributed by the conservative activist group Citizen Outreach in 2010 were "express advocacy" requiring disclosure of who paid for them to the secretary of state.
In a 5-2 decision dated Monday, the court said the fliers aimed at then-Assemblyman John Oceguera during his 2010 re-election campaign expressly advocated the defeat of the lawmaker and so required disclosure.
An attorney for Citizen Outreach told the Nevada Supreme Court in oral arguments last year that since the political fliers distributed by the group criticizing Oceguera did not contain the "magic words" of "vote for" or "vote against," they did not qualify as express advocacy requiring the reporting of who paid for them.
But the court disagreed.
"Contrary to Citizen Outreach's assertions, the First Amendment does not mandate that disclosure requirements be limited to communications using magic words," the court majority said.
In its ruling, the court said the Legislature did not intend to require the use of the "magic words" when it passed legislation mandating the disclosure of those paying for political materials in 1997. Such a requirement would eviscerate Nevada's disclosure requirements because a speaker could easily skirt the requirements by avoiding certain key words, the court said.
"We cannot conclude that the Legislature intended to enact this extensive legislation to achieve such little practical purpose," the court said.
Using the broader interpretation of legislative intent, the court found that the fliers did constitute express advocacy.
In July 2013, the group was fined $10,000, plus attorneys' fees, by Carson City District Judge James Todd Russell for failing to report the source of the donors for the fliers.
The mailers sent out criticizing Oceguera in October 2010 highlighted his record on tax hikes and accused him of being "a double-dipping government employee." Oceguera won re-election in 2010 and was termed out of office in 2012.
Chuck Muth, a conservative activist and president of Citizen Outreach, said in an emailed statement that he continues to disagree that the Legislature intended to adopt a liberal definition of "express advocacy" in 1997 and that the fliers therefore required disclosure.
The group will explore its legal options in an effort to resist turning over its private records in violation of the First Amendment, he said.
"We also continue to dispute the notion that the 'only' recourse citizens have to express dissatisfaction with elected officials is to vote against them," Muth said.
Oceguera said Tuesday the ruling is a win for transparency.
"I think it is the right result," he said. "It's not about me necessarily but about transparency. You just can't skirt the law."