Nevada 'none of the above' ballot option stands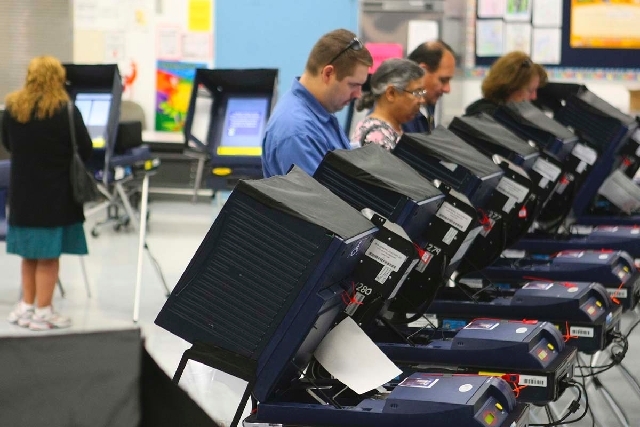 CARSON CITY — Nevada voters will be able to continue to exercise their right to vote for "none of these candidates" in statewide elections after a federal appeals court on Wednesday rejected a challenge to the unique ballot option.
The 9th U.S. Circuit Court of Appeals tossed a Republican challenge to Nevada's ballot option, saying the plaintiffs lacked standing to bring the case.
The lawsuit was financed by the Republican National Committee. It sought an injunction to remove the state's unusual voter option, arguing the law disenfranchised voters by disregarding ballots cast for "none of these candidates" in determining the winner of elections.
But the appeals court ruling in Townley v. Miller said in part that those individuals challenging the ballot option had no standing to bring the case.
Bruce Woodbury, a former Clark County commissioner and potential GOP presidential elector in 2012 who was a plaintiff, said the group made a reasonable argument in its challenge to the voting option.
"I thought it disenfranchised a lot of people who thought they were making a meaningful vote," he said. "But the votes would be discarded even if they were the majority or plurality of the vote."
Woodbury said the group will discuss the ruling but that an appeal is unlikely.
"It's not a hill to die for as far as I'm concerned," he said.
Secretary of State Ross Miller, who was named as the defendant in the challenge, praised the decision.
"The district court's ruling is a triumph for the voters of Nevada," Miller said. "Voters who want to express their dissatisfaction with the federal and statewide candidates on the ballot should have the option and freedom to do it."
The three-judge panel also found that two Republican presidential elector designees and the Nevada Republican Party lack standing because they failed to establish that their alleged injury, that votes for "none of these candidates" would potentially siphon votes from the GOP nominee, was "fairly traceable to the conduct being challenged."
The panel vacated U.S. District Judge Robert C. Jones' ruling issued in August 2012 that the voting option was unconstitutional.
The challenge was based on the argument that unless "none of these candidates" votes are given "legal effect" in some manner, those voters are "disenfranchised" and so the option cannot appear on the ballot.
The court said: "Although the merits of their arguments are questionable, we do not resolve them because we hold that none of these plaintiffs has standing to assert the claims made in this lawsuit."
In Nevada, voters have the option of choosing "none" in all statewide races, including presidential and U.S. Senate races.
Contact Capital Bureau reporter Sean Whaley at swhaley@reviewjournal.com or 775-687-3900.