New day dawns for graduates of Las Vegas youth court program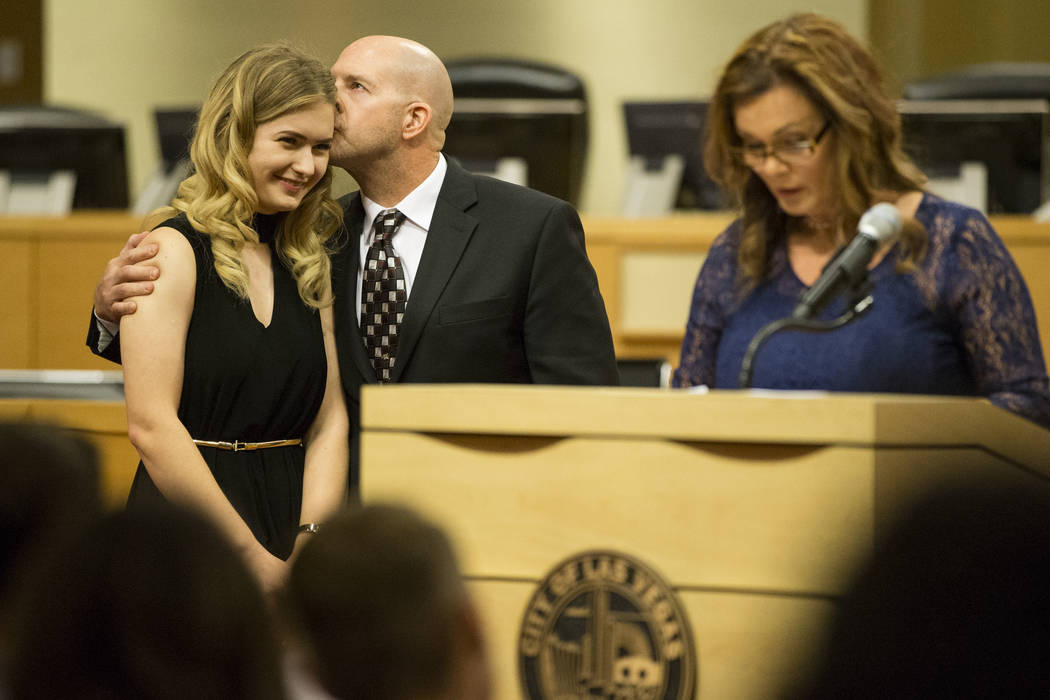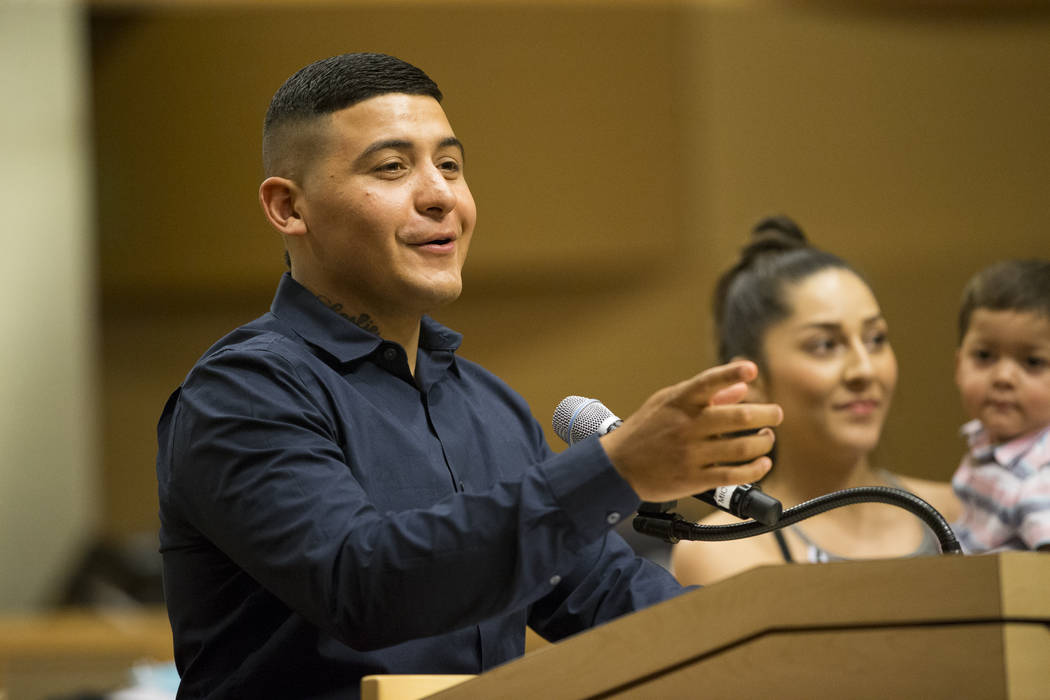 Corey McArdle's three-year battle with addiction has taken him places he never wants to experience again. A couple of overdoses. Time on the streets. Jail.
Each time he got out of jail, he thought he'd get sober. But in 2015, he wound up back in trouble.
"But this time I was before Judge Kerns," he said Thursday in front of more than 100 people at Las Vegas City Hall. That day, he saw his mom's eyes for the first time in years. And he agreed to attend Las Vegas Municipal Court's Youth Offender Court — a two-year drug court program focused on family treatment, court status checks, substance abuse classes, community service and life skills.
McArdle was one of seven in the program who graduated Thursday. Ages 18 to 24, the participants completed the program within 18 months. They have secured employment, obtained their high school diploma or GED certificate, completed drug counseling, and reunited with estranged families.
On Thursday, McArdle addressed Judge Cedric Kerns himself. He told Kerns he had traded drugs for sobriety, calling it the "trade that changed my life."
"I would be dead if I hadn't been in your courtroom," McArdle said.
At the beginning of the ceremony, a video played with all seven mugshots. They included shaved heads, smeared makeup and frowns. But then the song changed. The graduates were smiling, arm wrestling and playing the guitar. Professional head shots showed them wearing business suits, button-down shirts and other professional attire.
"Seventy-seven percent of our graduates are clean and sober today," said Kerns, who started the program in July 2010. "That's not enough."
Forty-eight have graduated from the court program, which is funded by a memorial justice grant and other grants from the state and federal courts.
Kerns started the program after realizing the only way he was going to help the youth, who keep returning to court, is if he got their families involved in their recovery.
"These guys, they got it together," he said.
Among the group of graduates was Lenin Castellon, a father to 18-month-old Zaiden. As he spoke at the lectern, his son reached out to him.
"This program didn't just help me stay clean. It taught me structure," he said.
Castellon said the program helped him overcome his post-traumatic stress disorder. He'd lost his brother in a gang incident. But it still didn't stop him.
"Now, I don't have any urges to use because I know what it leads to," he said. "Jail, institution, death."
Sarah Hawk's addiction sucked her in during the seventh grade. It started with pot, she said. Then the pills, then the heroin, the crack. Her mom put smiley faces on the calendar for the days she was clean.
"After a while, they turned to frowny faces," she said. Now Hawk is 619 days clean. "Today, I live my life," she said.
Contact Briana Erickson at berickson@reviewjournal.com or 702-387-5244. Follow @brianarerick on Twitter.