Newton, developer claim threats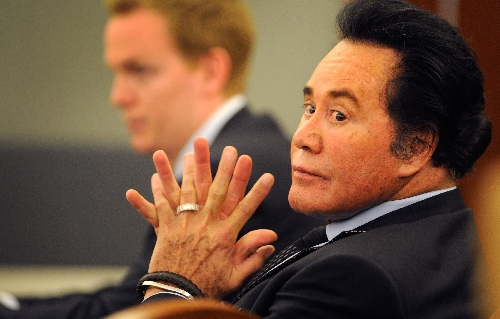 A weeklong hearing in Clark County District Court over a stalled effort to turn entertainer Wayne Newton's Las Vegas estate into a theme park launched Monday with claims of death threats flying in all directions.
Newton attorney J. Stephen Peek requested extra security in the Clark District Court courtroom because two people familiar with the development told Wayne and Kathleen Newton that Steven Kennedy wanted to kill them. The people also said that Peek, Newton ally Geneva Clark and Kathleen Newton's mother could also be in the crosshairs.
Kennedy is managing member of CSD LLC, the entity that bought Newton's Casa de Shenandoah ranch in 2010 and has been constructing a tourist attraction – likened to a Graceland in the desert – based on Wayne Newton's career.
"Mr. Kennedy's death threats are particularly alarming and disturbing since he has access to loaded weapons," Peek wrote in one court document.
CSD attorney Charles McCrea Jr. countered that there was "no credible evidence that Mr. Kennedy is a threat to anybody" and said that the alleged informants have made similar allegations about Newton threatening Kennedy.
In court papers, he added, "It is Mr. Kennedy who has been in fear of his safety based on all the things he has heard about Mr. Newton's involvement with the mob and his alleged 'connections.' "
Clark County District Court Judge Elizabeth Gonzalez rejected the bid for more than the usual single marshal to provide courtroom security.
While saying she "certainly understood the concern of the parties over the verbal statements that are the basis for requesting increased security," Gonzalez said she was "satisfied" all parties would behave.
Talk of death threats is just the latest twist in a legal battle fraught with claims and counterclaims of breach of contract, fraud, mismanagement, animal abuse and sexual harassment.
The back-and-forth about security underscored the acrimony that has developed in recent months over the stalled plan to develop Newton's 40-acre estate into a venue commemorating the life and career of the 70-year-old "Mr. Las Vegas."
The hearing will likely continue for the rest of the week, as both sides blame each other for numerous problems the project has encountered. CSD has so far spent about $50 million to purchase the property and on renovations. Wayne and Kathleen Newton hold a 20 percent interest in CSD but have been outvoted on key issues.
The sole witness on Monday, former operations manager Peter Stapp, detailed how relations between Kennedy and the Newtons spiraled downward earlier this year. Stapp, an Orlando-based theme park consultant, was hired in early March but let go after little more than two months on the job.
One point of friction, for example, was a Ferrari sportscar that was supposed to go on display. Kennedy wanted it painted red; Newton preferred it black.
Then numerous other flashpoints emerged, such as the timing of equestrian shows or a biographical video produced by CSD.
Kennedy has said the Newtons have refused to move out of their mansion, part of the overall deal, and have not turned over memorabilia for exhibits, obstructing progress. The Newtons have countered that Kennedy is taking the project in a much different direction than an attraction based on Wayne Newton's career as a singer, actor and Las Vegas headliner.
Stapp testified that Newton's potential to personally greet visitors gave it one advantage over Graceland, Elvis Presley's estate.
Contact reporter Tim O'Reiley at toreiley@reviewjournal.com or 702-387-5290.