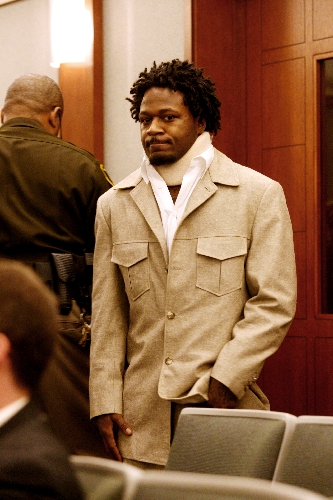 Clark County prosecutors agreed Tuesday not to revoke the probation of troubled NFL football player Adam "Pacman" Jones over allegations of involvement in a July bar scuffle in Cincinnati.
In exchange, Jones, 28, a cornerback for the Cincinnati Bengals, has agreed to perform an extra 75 hours of community service as part of his probation for his involvement in a February 2007 Las Vegas strip club shooting.
District Attorney David Roger said, "We felt it was unlikely we would convince the court to revoke his probation, but we felt additional sanctions were necessary because of his alleged misconduct in Cincinnati."
Roger said the decision was made after speaking with Cincinnati prosecutors and reviewing reports of the incident.
Jones' probation is set to end Feb. 23, defense attorney Robert Langford said.
Jones was arrested in July on charges of disorderly conduct while intoxicated and resisting arrest after repeatedly being asked to leave a Cincinnati bar. Jones has pleaded not guilty to those charges.
News reports in Cincinnati said that Jones was yelling profanities and that two police officers were forced to physically restrain him as they put him in handcuffs.
In February, Jones was sentenced to a year of probation for his role in a February 2007 melee at the Minxx strip club that ended with three people being shot. His sentence included 200 hours of community service.
He pleaded no contest in December 2007 to conspiracy to commit disorderly conduct, a misdemeanor, after agreeing to testify against Arvin Edwards, alleged to be the shooter in the incident.
Edwards took a plea deal before trial and was sentenced to four-to-10 years in prison for one count of attempted murder with use of a deadly weapon.
Authorities said the Minxx strip club fracas, which occurred during the NBA All-Star Weekend, was triggered by Jones, who showered strippers with hundreds of dollar bills as they danced. The act, known as "making it rain," was intended as a visual effect. The fight erupted when strippers began picking up the cash.
Jones and his entourage were kicked out of the club, and the shootings occurred minutes later.
Three people were wounded, including bouncer Tommy Urbanski, who was paralyzed from the waist down.
Authorities said Edwards later tried to extort money from Jones for "services rendered." But Jones said he never ordered the shooting and refused to pay.
Jones and Robert "Big Rob" Reid pleaded no contest in December 2007 to charges of conspiracy to commit disorderly conduct in connection with the Minxx brawl.
After the shooting, Jones was suspended from the National Football League for a year and traded by the Tennessee Titans to the Dallas Cowboys before signing with the Bengals.
Contact reporter Francis McCabe at fmccabe@reviewjournal.com or 702-380-1039.