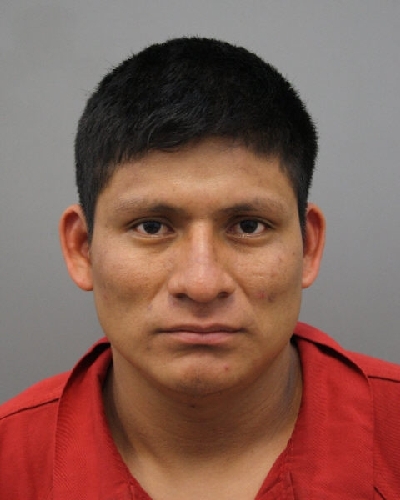 Less than 24 hours after she was kidnapped and held for ransom, SWAT officers rescued a Henderson teen a few hours before dawn Saturday.
They found her bound and blindfolded on the floor of a Las Vegas apartment, but she otherwise was unharmed, Henderson police said.
Two men were taken into custody at 4:20 a.m. in connection with the kidnapping of Melissa Duran, a 17-year-old Green Valley High School student who reportedly tried to put up a fight before she was forcibly pulled from her family home on Valle Verde Drive near Warm Springs Road at 7:30 a.m. Friday, setting off a multistate search, police said.
The suspects weren't armed and didn't fight the officers who found them at an apartment complex on Flowers Avenue, near Stewart and Eastern avenues, Henderson Police Chief Patrick Moers said at a news conference Saturday afternoon.
The suspects were identified as Alejandro Manuel Sanchez-Sanchez, 25, and Cesar Sanchez, 30, both of Las Vegas.
Police say both use multiple aliases and their true identities were hard to pinpoint at first.
They also might have had ties to the landscaping company owned by Melissa Duran's father, but the police chief did not elaborate because the case is still under investigation.
Moers did say that the teen did not know the suspects.
Soon after their arrest, both men were booked into the Henderson Detention Center on kidnapping, extortion and conspiracy charges. They are being held without bail.
The police chief said the suspects set the getaway car on fire near Sunrise Mountain, about an hour after they knocked on the Durans' door and pulled a fighting Melissa from the house. The suspects sped away in a late-model red Saturn, then called the family's mother, demanding ransom, police said.
Police were able to trace the car's owners back to the Flowers Avenue apartment complex, Moers said, adding that the Metropolitan Police Department helped in the arrests.
"This was a parent's worst nightmare," Moers said. "We are thankful that the quick and effective actions of the Henderson Police Department were able to reunite Melissa safely with her family."
It's also the first time that Henderson police have handled a kidnapping involving a ransom demand, Moers said.
Moers declined to specify how much the ransom was. A friend of the Duran family told the Las Vegas Review-Journal that it was $150,000.
At the news conference, there were more questions than answers.
Moers said police aren't entirely sure whether the teen was the original target of the kidnapping.
However, several leads in the case developed quickly, thanks to the assistance of Duran's family members, none of whom was present at the news conference.
Moers said the father, Alex Duran, was too shaken up to attend.
As for Melissa Duran, after she was found on the bathroom floor, she was taken to a hospital and then released.
Moers said she was fully clothed in the bathroom, dressed in the same clothes she was wearing at the time of her abduction: white pants with black stripes and a yellow blouse.
Contact reporter Tom Ragan at tragan @reviewjournal.com or 702-224-5512.