Prosecutors claim Hells Angels plan to retaliate against witnesses
Updated October 6, 2022 - 4:26 pm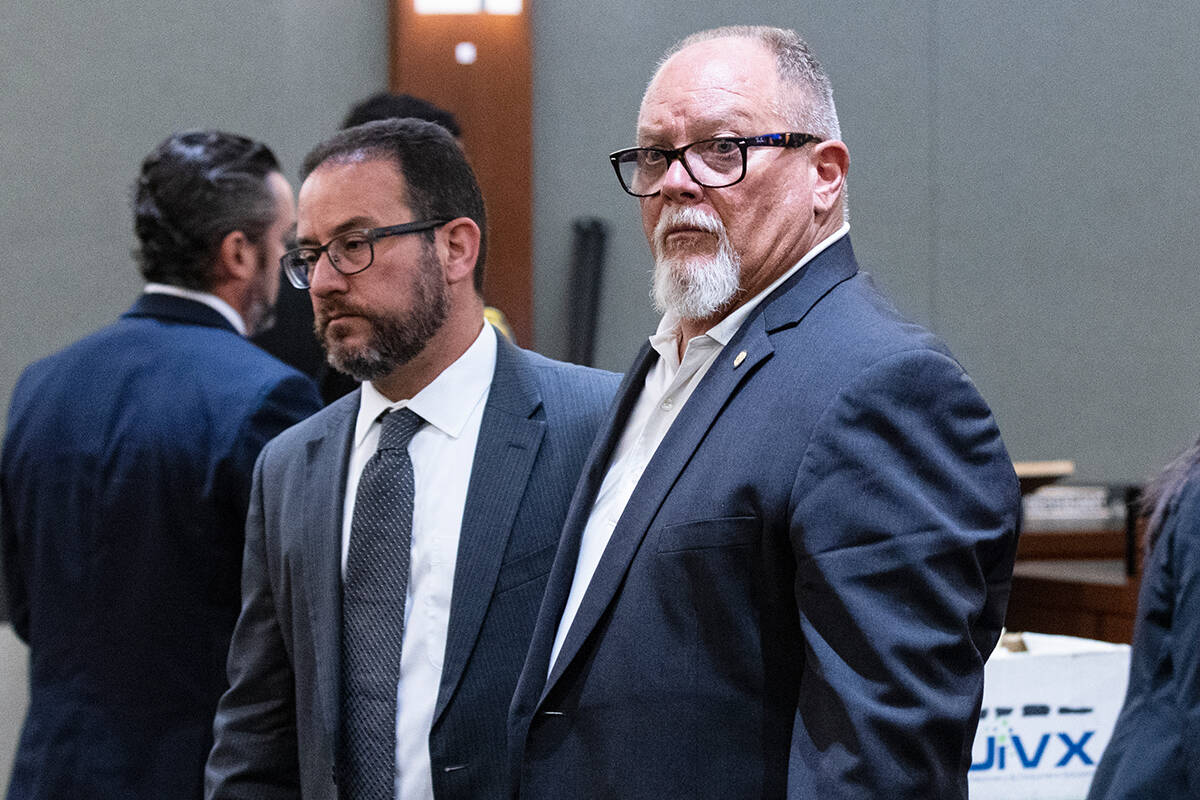 Prosecutors filed court documents Thursday alleging that Hells Angels members are threatening to retaliate against witnesses in a racketeering case involving a highway shooting that injured members of the rival Vagos Motorcycle Club.
"Just last week, the Federal Bureau of Investigation received credible (information) that Hells Angels members from multiple states will be traveling to Las Vegas to 'take care of witnesses' in this very case," Chief Deputy District Attorney Michael Dickerson wrote in the documents.
However, District Judge Tierra Jones said the allegations were not enough to prevent her from lowing bail for seven co-defendants during a court hearing Thursday.
"I have not seen any evidence here today that anything has happened to a witness in regards to this case, or that there's been anything that happened to a witness in regards to a Hells Angels case in the last seven years," Jones said.
Eight men were recently indicted on racketeering charges, and all but one of the suspects have been arrested, according to court and jail records. Three of the men — local Hells Angels President Richard Devries, 67; Stephen Alo, 46; and Russell Smith, 27 — were arrested shortly after the shooting and were previously released on bail.
Alo did not appear in court on Thursday because he is being held at the Henderson Detention Center in connection with a domestic battery charge.
The six men who did appear at the hearing all pleaded not guilty. If they post bail, the co-defendants were all ordered not to contact each other outside of meetings with their attorneys present.
Alo, Smith and 32-year-old Aaron Chun have been described as "prospects" for the motorcycle organization, according to a grand jury indictment unsealed this week. Cameron Treich, 34, and Taylor Rodriguez, 29, are full-patch members of the group, while Rayann Mollasgo, age unknown, and Roneric Padilla, 39, are associates of the organization, also called "hangarounds," according to the indictment.
Rodriguez became the seventh motorcyclist arrested when he was booked into the Clark County Detention Center on Monday, jail records show. Officials are still searching for Mollasgo, Dickerson said Thursday.
Bail reduced
During Thursday's hearing, Jones reduced bail for the seven co-defendants who were arrested. Bail for Devries, Smith, Chun, Treich and Rodriguez was reduced from $250,000 to $100,000. Alo's bail, originally $250,000, was reduced to $125,000 due to the domestic battery count he was charged with after his initial arrest.
Devries and Smith will need to pay $25,000 to be released again, since they had previously paid a $75,000 bail. Alo will need to pay $50,000 due to the prior bail amount.
Padilla, who prosecutors said was not present during the shooting and has only been charged with racketeering and accessory to a felony, had his bail reduced from $100,000 to $25,000.
The other seven men face 38 total counts of racketeering, conspiracy to commit murder, attempted murder, battery, discharging a firearm at or into an occupied structure, and assault with a deadly weapon. The recent indictment added an enhancement of promoting or assisting a criminal gang to 36 of the counts.
Prosecutors have accused Hells Angels members of opening fire and injuring six Vagos motorcyclists on May 29 on U.S. Highway 95, west of Wagon Wheel Drive in Henderson.
Mollasgo was injured during the shooting from "friendly fire" and was hospitalized afterward, Dickerson said Thursday. Prosecutors said Devries opened fire during the altercation, but have not indicated if any of the other co-defendants shot at the Vagos.
Dickerson said Thursday that the evidence shows "there was more than one firearm, and so as a result we know that there was more than one shooter."
Defense attorneys alleged that Vagos members were also armed during the shooting.
The shooting happened after a Memorial Day weekend ride from Hoover Dam to the Southern Nevada Veterans Memorial Cemetery in Boulder City, police have said.
Dickerson argued Thursday that the co-defendants' bail should not be lowered because of violence surrounding the Hells Angels and allegations that witnesses were being threatened. He said that some of the co-defendants had been involved in altercations with other motorcycle groups in the past and that Devries has a tattoo memorializing a fatal brawl between the Hells Angels and Mongols at the 2002 Laughlin River Run motorcycle festival.
Violent history
Prosecutors have said the May highway shooting may have been in retaliation for a San Bernardino, California, shooting that left a Hells Angels motorcyclist dead, although a Vagos member challenged the claim during a grand jury hearing in June, according to court transcripts.
"This hasn't stopped; it's going to continue," Dickerson said Thursday. "The violence in this case is just one piece of an overall violent history between the Hells Angels and the Vagos."
A Metropolitan Police Department one-page report included as an exhibit in the prosecution's filing on Thursday indicated that a "source" told police that Hells Angels members would be "traveling from California and Colorado as well" in order to "take care of witnesses."
Devries' defense attorney, Richard Schonfeld, argued that the police report lacked details and contained allegations about out-of-state Hells Angels members. He said the report should not be taken into consideration for Devries' bail because it is not illegal to be associated with the Hells Angels.
"Just because you are a member of an organization does not charge you with the conduct of the other members," he said.
Contact Katelyn Newberg at knewberg@reviewjournal.com or 702-383-0240. Follow @k_newberg on Twitter.