Purported 'sovereign citizen' in Las Vegas pleads guilty to 2 felonies
Updated January 8, 2018 - 6:56 pm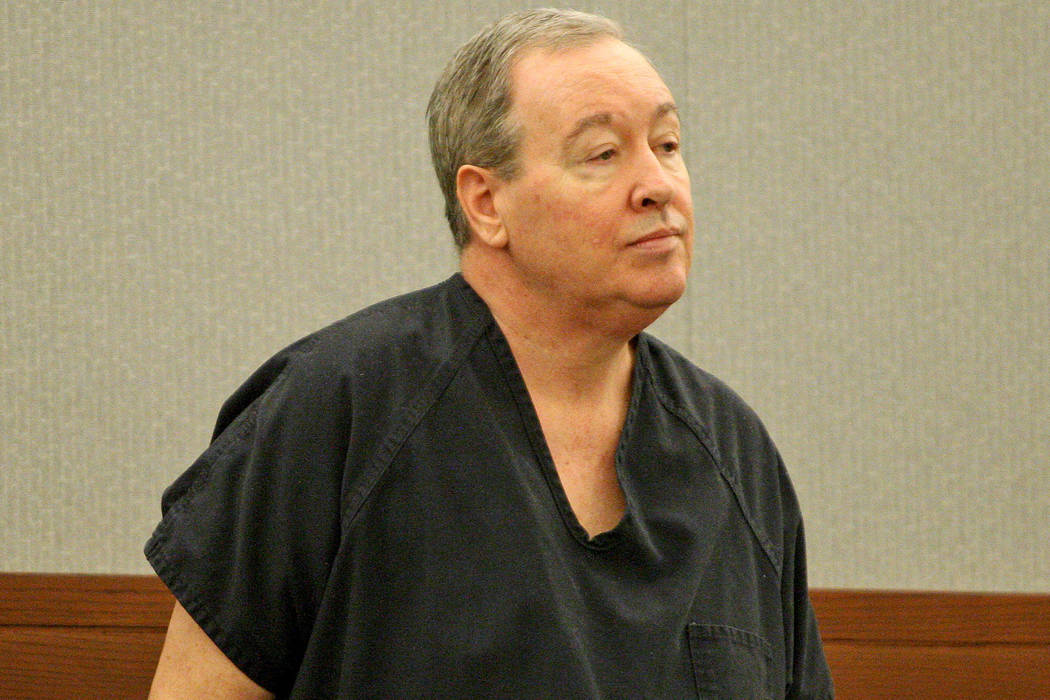 Thomas Benson, who authorities say follows anti-government "sovereign citizen" ideology, pleaded guilty Monday to filing bogus real estate paperwork in Las Vegas.
Benson, 56, pleaded guilty to two felonies, each from separate cases against him. With one plea, he admitting to offering a false instrument for filing or recording – specifically, filing a fake residential lease with the Clark County recorder's office.
With the other, he pleaded guilty to false representation concerning title – namely, filing a "lis pendens" with the county, or notice of legal action, against a foreclosed home he was accused of trying to take over.
Benson is scheduled to be sentenced May 7. The prosecution and defense are recommending a suspended sentence of 24 to 60 months in prison.
The hearing Monday, before District Judge Kathleen Delaney, briefly did not go as expected. Delaney had said that Benson reached a deal with state prosecutors, but when she asked him for his plea in the first case, he said: "I would like to invoke the Alfors (sic) plea of no contest."
The judge responded that in making an Alford plea – Benson mispronounced it – defendants recognize there is evidence against them and they plead guilty but are not necessarily saying they committed the alleged crimes.
Delaney also noted that typically such pleas are available only if they are negotiated, and she did not have documents indicating he had done that.
Senior Deputy Attorney General Jason Gunnell objected to a new plea, saying the "biggest issue in this case is for Mr. Benson to actually accept some responsibility."
"We negotiated this, he signed it, and then we get in here and then he's saying something else," Gunnell said.
Benson was arrested last year on charges stemming from an alleged takeover of a 2-acre foreclosed home on La Mancha Avenue, off Ann Road and the 215 Beltway. He sued for the custom-built property and filed a lease for it on the same day in 2016.
His associate Nana I Am, a mysterious figure who apparently lives in the Los Angeles area, was named as the landlord in the lease. The tenant was listed as The Batangyagit Foundation.
In their lawsuit for the home, Benson and Nana sought $15 million and said Nana was suing on behalf of former owner Myles Catania, who told the Las Vegas Review-Journal in 2016 that he had never heard of Benson, Nana or the lawsuit.
The Catanias were evicted from the home months after losing it to foreclosure. The family told the Review-Journal that a man named Tom called to say they could come back for their stuff, but when they arrived, strangers were tossing the place.
Prosecutors alleged the group included Benson. He was indicted last March on charges including theft, burglary and offering a false instrument for filing or recording.
On Monday, Benson told the court no similar cases involving him would come up again.
"I certainly don't intend on continuing any other – how would you say this. Any other type of activity that led to this, I'm done with that," he said.
As for the notion of being a possible flight risk, he said: "That would be stupid. These guys can track you down; good luck with that."
Two weeks after he was indicted last March, an FBI agent and St. George, Utah, police arrested Benson at the Coronada Inn & Suites in St. George, court records show.
Police and prosecutors have said that Benson follows "sovereign citizen" ideology, a movement whose adherents are known for financial scams, nonsensical court filings and occasional violence.
Benson has said in court papers that he's "not a person" and showed his "proof of life" with blue footprints. He also issued orders from a nonexistent court.
The RJ reported in November 2016 on Benson's history of unusual court filings, as well as some of his associates and homes linked to him. He sued the paper, this reporter and several others in U.S. District Court in Las Vegas in February 2017. The case remains open.
Contact Eli Segall at esegall@reviewjournal.com or 702-383-0342. Follow @eli_segall on Twitter.