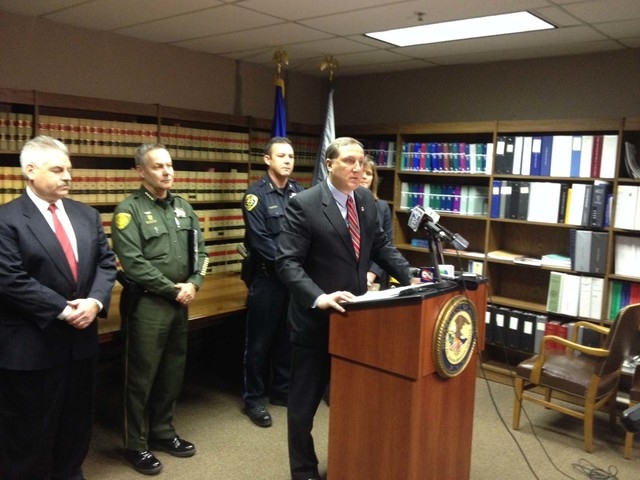 RENO – A Reno man was sentenced Tuesday to 15 years in federal prison for his role in a terrorism conspiracy that targeted India.
Balwinder Singh, 42, of Reno pleaded guilty in November to conspiracy to provide material support and resources to terrorists knowing and intending for the support to be used to commit terrorist attacks abroad.
Singh has been in U.S. custody since he was charged in December 2013. A citizen of India, Singh became a permanent U.S. resident after claiming asylum in 1997.
Singh will face lifetime supervision after his release, though his attorney sought a three-year term of supervision.
Defense attorney Michael Kennedy argued in court filings submitted before sentencing that Singh had never been a threat to the U.S. and that his criminal conviction is tied to India, "his homeland where he has been the victim of torture by government officials."
Assistant U.S. Attorney Brian Sullivan countered that the crime was serious and that Singh has a 20-year history of being involved in terror groups, in contrast to young people who are recruited online.
"It kind of runs to the core of who he is," Sullivan said. "We think he needs to be watched. We think he needs to be looked at not just for three or five years, but for the rest of his life."
U.S. District Judge Larry Hicks agreed when sentencing him to lifetime supervision, noting the seriousness of the crime and the rise of terrorism in recent years.
One of Singh's co-conspirators was stopped by law enforcement on Dec. 9, 2013, at San Francisco International Airport while trying to board a flight to Bangkok, thwarting plans for the individual to travel to India to carry out the attack.
Prosecutors have said the planned attack likely was aimed at an Indian government official. Singh had purchased two sets of night vision goggles at Cabela's, an outdoor gear retailer in Reno, and provided them to the individual. Singh had lived in Reno since 2013.
The planned attacks were part of an effort to create an independent Sikh state called Khalistan in the Punjab region of India.
During that time, Singh was a member of two terrorist groups, Babbar Khalsa International, which has members of the Sikh religion, and Khalistan Zindabad Force, court records show. The leader of Babbar Khalsa recognized Singh as the group's U.S. leader in 2012.
Singh also admitted to speaking with two others about creating a terrorism organization devoted to founding an independent Sikh state, according to the plea agreement he signed.
The conspiracy unfolded between September 2013 and December 2013, and included telephone conversations and plans.
In the original indictment filed in 2013, federal prosecutors also alleged that Singh used false identification documents when traveling to India and wired money to associates in India from Las Vegas, Reno, Sparks and California.
Daniel Bogden, the U.S. attorney for Nevada, and Aaron Rouse, special agent in charge of the FBI's Las Vegas division, held a press conference in Reno after the sentencing. Bogden thanked law enforcement agencies for their work, and Rouse said community vigilance is key to preventing terrorism.
Singh could be deported after finishing his prison sentence, and charges are possible in India.
Contact Ben Botkin at bbotkin@reviewjournal.com or 775-461-0661. Follow @BenBotkin1 on Twitter.