RJ seeks sanctions after police search of slain reporter's phone
Updated January 24, 2023 - 8:33 pm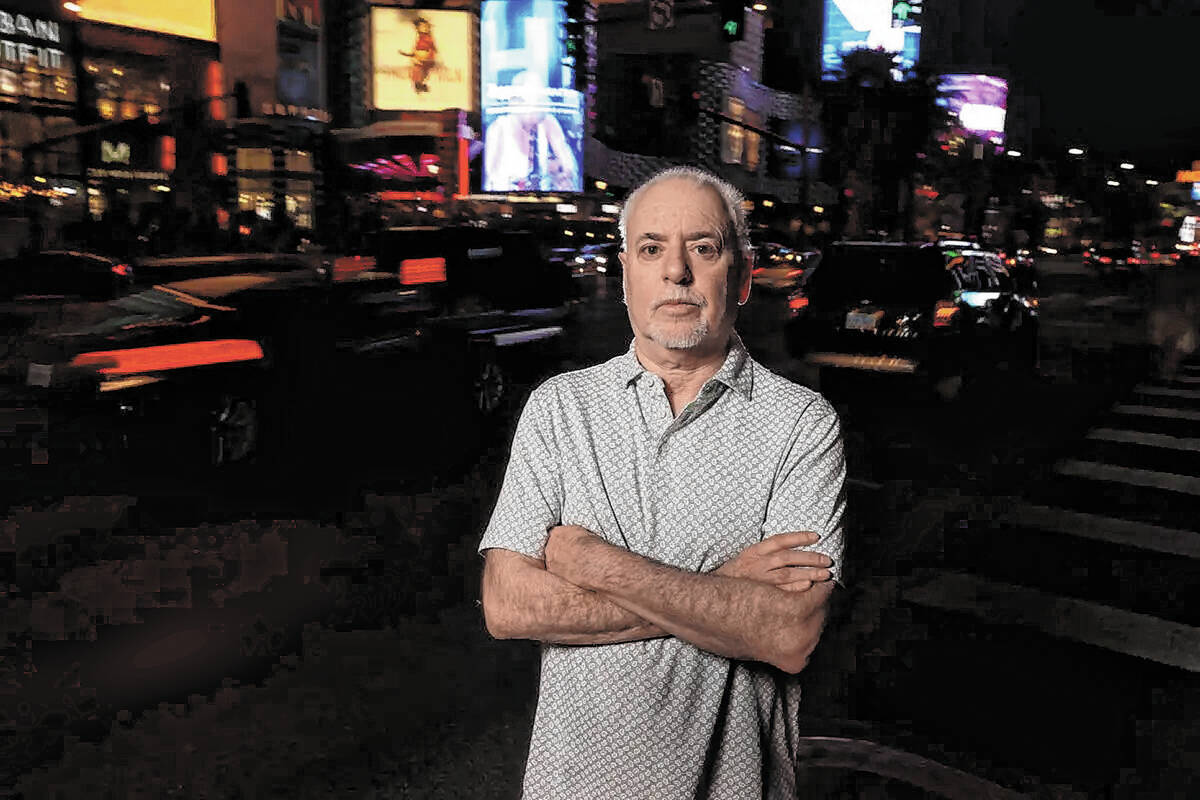 The Las Vegas Review-Journal is asking a judge to impose sanctions on the Metropolitan Police Department for not informing the newspaper that investigators have searched the cellphone of slain reporter Jeff German.
District Judge Michelle Leavitt is scheduled to hear the newspaper's motion during a court hearing on Wednesday. The Review-Journal has been locked in a legal battle to prevent officials from searching German's personal devices, including his cellphone and computers, which could contain information about his confidential sources.
The newspaper has argued that Nevada's shield law, the First Amendment and the state constitution protect information on German's devices from being disclosed.
"Confidential sources are critical to journalism in the public interest," Review-Journal Executive Editor Glenn Cook said. "It would be a travesty if Jeff German's murder resulted in authorities learning the identities of his sources. It could literally cost them their careers. A reporter's murder shouldn't end the reporter's shield law and First Amendment protections."
Former Clark County Public Administrator Robert Telles is accused of killing German outside the investigative reporter's Las Vegas home on Sept. 2. German, 69, had reported on Telles' conduct as an elected official and allegations that he created a toxic work environment.
German was found dead outside his home on Sept. 3, and police seized his cellphone from his body, court records show. Police seized German's personal computers during a search of his home, but they have not seized his work-issued computer, which was at the Review-Journal office.
Telles was arrested Sept. 7, the same day police executed search warrants at his home.
Unredacted copies of police search warrants were released to the Review-Journal in November. One of the warrants, granted the day Telles was arrested, stated that police identified Telles as a person of interest "utilizing LVMPD records, video surveillance, and legally obtained data from German's phone."
Attorneys for Metro did not confirm that the phone had been searched until Dec. 1, according to court documents.
The newspaper filed a motion for sanctions against the Police Department on Dec. 16, arguing that officials misled the Review-Journal and the courts about whether any of German's devices had been searched.
"Metro has claimed since before these proceedings ever began that it never searched the devices," the motion stated. "However, it is now known that Metro's representations were false."
Metro has claimed that investigators want access to German's devices to search for information that would be useful to both the prosecution and Telles' defense. The department also has argued that not searching the devices would violate Telles' constitutional rights.
Call for sanctions
In the days after Telles' arrest, police reached out to the newspaper to ask for permission to search any of German's devices that contained his newsgathering materials. On Sept. 16, Metro attorney Matthew Christian wrote in an email to the newspaper's counsel that "no search has commenced" of the materials, according to the motion for sanctions.
The Review-Journal first filed court documents to prevent a search of the devices on Sept. 26. The newspaper has argued that following the initial court filing, Metro attorneys should have corrected the record in court to reflect that German's phone had been searched.
"In sum, since the inception of the parties' dispute, Metro has obfuscated (at best) and withheld key information from Plaintiffs and the Court," according to the Review-Journal's filing.
Metro's opposition to the request for sanctions said that Christian's email on Sept. 16 "mistakenly" stated that no search had occurred. The department argued that the Review-Journal had no right to demand information from the police.
"But there is no evidence whatsoever that Mr. Christian's email was caused by anything other than an internal miscommunication," according to the opposition, which was written by Christian.
The motion for sanctions calls for a judge to order Metro to pay the newspaper's attorney fees, strike the department's pleadings from the case, and disclose the details of the search of German's phone and any other devices that may have been searched.
If the judge does not grant the sanctions, the newspaper is asking the court to impose a previously requested plan to have a special hearing master from outside Las Vegas' state and federal judicial systems determine what information on German's devices could be turned over to officials.
Metro argued in its opposition that the newspaper cannot request sanctions because it lacks standing to interfere in the search of German's devices.
"LVRJ's motion presumes that LVRJ has some legal right to demand and obtain information from the Department about the investigation," Metro wrote in the opposition. "But it never did, and it does not now."
In October, District judge Susan Johnson granted a preliminary injunction preventing a search of the devices, which Metro has appealed to the Nevada Supreme Court. This month, the Supreme Court remanded the case to District Court for a judge to rule on the merits of a separate preliminary injunction meant to prevent officials from searching through any car owned by German that contains data related to his newsgathering, court records show.
'Uncharted waters'
Instances of journalists killed in relation to their work are few and far between in the United States. More than 10 years ago, Oakland Post editor Chauncey Bailey was shot and killed over a story he was writing about a local bakery's financial problems.
Police investigating Bailey's killing quickly tied it to other killings related to the bakery, said Thomas Peele, an investigative reporter and lecturer at the University of California, Berkeley Graduate School of Journalism, who helped start the Chauncey Bailey Project to finish the reporter's work after his death.
Officers did not focus on Bailey's reporting during their investigation, Peele said.
Smartphones were not prevalent with reporters when Bailey was killed, and police never searched his flip phone or laptop.
Peele studied the killings of other journalists for a book he wrote on Bailey's killing. But German's killing is unique, he said, because he is not aware of courts debating how laws meant to protect journalists from revealing their sources can apply after a reporter's death.
"I do think you're in uncharted waters about the posthumous extension of shield law rights," he said.
Contact Katelyn Newberg at knewberg@reviewjournal.com or 702-383-0240. Follow @k_newberg on Twitter.