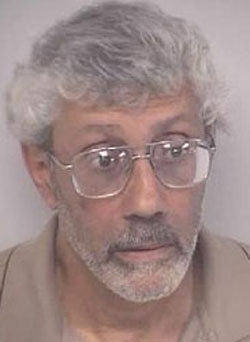 North Las Vegas police arrested a man Tuesday on suspicion of coercing a woman into committing sex acts at the local nonprofit Safe Nest.
Police said the victim had to work off her court-appointed community service hours over a traffic violation at Safe Nest's donation center, at 4208 Arcata Way, near Craig and Losee roads.
When the 24-year-old woman reported to the facility, she spoke with its director, Benedetto Vitale, 59, who police said tried to coerce the woman into committing sex acts in exchange for signing off on her work hours.
Safe Nest is a nonprofit agency dedicated to helping women who are victims of domestic violence.
Police arrested Vitale on one count each of open and gross lewdness, forgery and sexually motivated coercion.
Safe Nest spokeswoman Lisa Lynn Chapman said that Vitale has been suspended and that the organization is cooperating with police and doing an internal investigation to see whether there are other victims.
Vitale's job did not bring him in contact with victims of domestic violence, Chapman said, but he did have contact with other people who provided court-appointed community service hours at the donation center.
She did not know how many people have performed those hours at the center.
"Right now we are doing everything that we can to kind of get this resolved," Chapman said. "This is very serious. This is absolutely against everything we stand for."
Vitale has been an employee with Safe Nest for eight years. Efforts to reach him for comment Wednesday were unsuccessful.
Contact reporter Lawrence Mower at lmower@reviewjournal.com or 702-383-0440.
North Las Vegas probe
North Las Vegas police are investigating whether there might be other victims and ask anyone with information to call them at 633-9111 or Crime Stoppers anonymously at 385-5555.