Sheriff Gillespie won't seek re-election
August 29, 2013 - 2:42 pm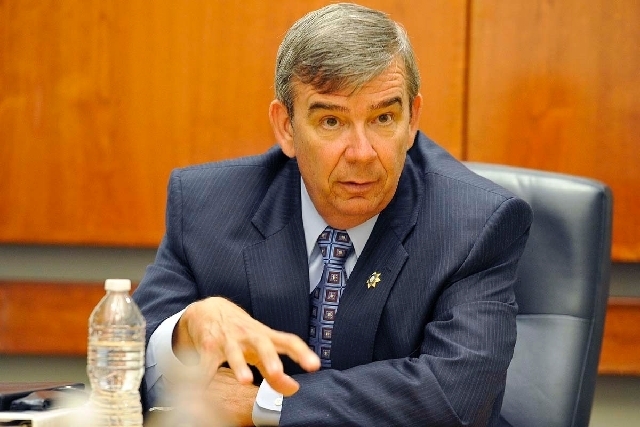 Clark County Sheriff Doug Gillespie will not seek a third term.
Gillespie, who turned 55 this month, surprised officers and local officials with his decision. The sheriff told the Review-Journal in April that he would seek a third term in 2014.
He will instead focus efforts on ensuring the passage of the More Cops tax, which would raise the sales tax from 8.1 percent to 8.25 percent to patch the department's $30 million budget deficit.
"Without the obligation that comes from campaigning and fundraising I can focus on completing some of my major objectives like the More Cops initiative and putting more officers out on the streets. There is nothing more important to me and nothing I am more committed to seeing through," Gillespie said in a written statement Monday.
The Nevada Legislature approved More Cops earlier this year, but Clark County commissioners recently delayed their vote.
Gillespie also told lawmakers while lobbying in Carson City that he'd be around to oversee the department's finances if they supported the tax increase.
County Commission Chairman Steve Sisolak said Gillespie told him during a lunch on Aug. 9 that he planned to run. Gillespie didn't indicate a change of heart during Monday's Fiscal Affairs Committee, just hours before his announcement, he said.
"He didn't lead any of us to believe this was coming," Sisolak said. "I'm a little surprised, but obviously, I wish him the best… Doug's always been very accommodating. He's been very accessible. I've found him to be a man of great integrity."
Sisolak said he didn't know what Gillespie's lame-duck status could mean for the More Cops proposal.
"That's a tough call. Everybody will have to make their own call," he said.
Gillespie did not return a phone call seeking comment.
In addition to Gillespie's battle with the county, department insiders said he recently had a health scare.
No candidate immediately announced an intention to run in the hours after Gillespie's announcement but it is widely thought that Ted Moody, the recently retired assistant sheriff, is eyeing a run.
Moody oversaw changes to the department's Use of Force Review Board after a federal review of use-of-force policies and publication of a Review-Journal series, "Deadly Force," a yearlong investigation of police shootings. Both the Justice Department and the newspaper found the board lacked transparency and didn't hold officers accountable.
The changes were aimed at examining the totality of the officer's actions rather than simply issuing a blanket approval or rare disapproval. Before the board changes, no officer in an on-duty shooting was ever recommended for firing. Since the changes, there have been two: Jacquar Roston and Jesus Arevalo, who shot and killed mentally ill Gulf War veteran Stanley Gibson in December 2011.
Moody retired after Gillespie saved Roston's job, saying Gillespie undermined the credibility of the board. He has not said whether he will run for sheriff.
Another potential candidate is Deputy Chief Gary Schofield, known for the Safe Village community policing partnership to reduce gun crimes in West Las Vegas.
Schofield said the sheriff's position is a "serious consideration" but a decision could take weeks.
Assistant Sheriff Joseph Lombardo is another likely candidate, according to several officials, and a former sheriff is considering a return to the job.
Former Sheriff Bill Young, currently vice president of security for Station Casinos, said he "isn't in" but "definitely isn't out" of the race.
Young, elected in 2002, was a popular sheriff in his one term.
"I had the job, I did the job, I know what it is, and I think I did a pretty good job," Young said. "It's something for me to consider, but I haven't put a lot of thought into it."
He said Gillespie was frustrated by the county's delay on More Cops.
"If I was in his shoes, it would have been a factor in my decision on whether to run again," Young said. "It's easy to say you want to be sheriff. It's a whole different thing to run for the job, then get the job, and do the job."
Clark County Commissioner Chris Giunchigliani said Gillespie's decision won't change how she votes on More Cops, although she said she hasn't yet made a decision.
The proposal was never about who is in office and has always been about how the money will be used, she said.
Commissioner Tom Collins said he will support the More Cops proposal regardless of Gillespie's presence.
"Hopefully, we'll still get the More Cops even with him not seeking reelection," Collins said. "It's a sad day for Clark County because he's always been a cop's cop," Tom Collins said.
Yet Gillespie's final years in office include widespread criticism of his department's use-of-force policies.
The U.S. Department of Justice review came in the wake of the Review-Journal series analyzing police shootings and the controversial shooting deaths of Trevon Cole, Erik Scott and Stanley Gibson.
Cole and Gibson were both unarmed when they were shot by officers using AR-15 rifles; Scott was shot by officers outside the busy Summerlin Costco after brandishing a gun.
The shootings and subsequent investigations prompted sweeping changes in the department's use-of-force policies, many of which are still being implemented and refined.
In addition to the police shooting controversy, Gillespie also faced the death of search and rescue officer David Vanbuskirk and other problems within the department's aviation unit. Earlier this month the unit was scrutinized for giving a private helicopter tour to Guns 'N Roses guitarist DJ Ashba.
On Friday, the Review-Journal obtained an email from an officer who had conducted a seven-month internal review of the troubled unit only to see the audit abruptly ended before it was completed.
"Our agency has been incredibly lucky thus far, in terms of not losing a single life to an aviation accident. That luck may not continue," Lt. Gawain Guedry wrote just hours before Vanbuskirk was killed in a fall from a helicopter during the rescue of a stranded hiker.
Gillespie faced challenges earlier in his tenure.
Vanbuskirk was the fifth officer to die while on-duty. Four officers died in 2009, including three in crashes while driving department vehicles. The fatal crashes prompted headlines, a public outcry and a revamp of the agency's driving policies.
The criticism overshadowed a reduction in crime since Gillespie took over, including vehicle thefts and most violent crimes. Homicides have been nearly halved since 2006. The crime reduction in Las Vegas follows national trends.
Chris Collins, executive director of the Las Vegas Police Protective Association, said the community will lose a sheriff with great institutional knowledge of the Metropolitan Police Department.
But Collins, whose union represents rank-and-file officers, said change can also be positive.
"If he felt it was his time to leave, maybe he's felt he's gone as far as he can go," Chris Collins said. "Whoever takes this job will have a different vision."
Gillespie, a native of Upstate New York, has been a Las Vegas cop since 1980. He worked in a variety of roles, including SWAT commander and undersheriff before becoming sheriff. He won each of his elections in landslides and faced no credible opponent — a common theme in the sheriff's race.
An outsider has never been elected sheriff, and the exiting sheriff has typically hand-picked his successor with little or no challenge. The Clark County sheriff is the top police job in Nevada. The department has a $489 million budget and about 2,500 officers.
Gillespie, who has been in charge since 2007, said he will leave the department with 34 years experience, but doesn't plan to leave the community.
"Although my role is changing, I will continue to be of service in other ways. One of the things I have learned over the years is that we have an exceptional department and an extraordinary community," he stated.
Reporter Ben Botkin contributed to this report. Contact reporter Mike Blasky at mblasky@reviewjournal.com or 702-383-0283. Follow @blasky on Twitter.