Suspect named in fatal Las Vegas Strip shooting
February 24, 2013 - 2:20 am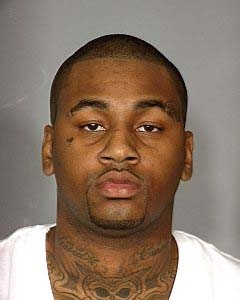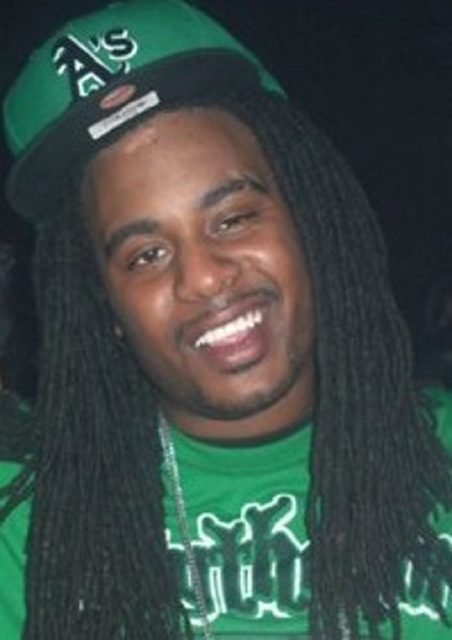 A manhunt intensified Saturday after police identified a suspect in Thursday's shooting on the Strip that led to the deaths of three people and drew attention to hip-hop culture once again in Las Vegas.
Homicide detectives with the Metropolitan Police Department were working late into the evening searching for Ammar Harris, 26, whose extensive criminal history includes arrests on charges of sexual assault, robbery, kidnapping, coercion with a deadly weapon and pandering with force, a charge often associated with prostitution, according to Clark County court documents.
His black Range Rover, which police had been searching for since early Thursday morning, was found no more than a mile east of Flamingo Road and Las Vegas Boulevard, where police suspect Harris shot Kenneth Cherry Jr., an aspiring rapper, from inside his SUV.
After Cherry was shot in the chest, he lost control of a Maserati, then crashed into a taxicab, which burst into flames.
Killed and burned beyond recognition were taxicab driver Michael Boldon, 62, a Detroit native, and his passenger, Sandra Sutton-Wasmund, 48, of Maple Valley, Wash. She was in town for a convention. She was returning to the Flamingo at the time of the 4:20 a.m. incident.
RANGE ROVER FOUND
Detectives found the Range Rover Saturday parked inside Harris' parking space at the Meridian Apartments. The gated complex is one of the higher end rental communities in the city, popular because of its proximity to the Strip.
Harris, who also goes by the name Ammar Asim Faruq Harris, is considered to be armed and dangerous, police said.
He has several tattoos, including one that's shaped like a heart below his right eye and another of a large owl on his neck.
Police believe Harris and Cherry, whose amateur videos have grown in popularity since his death, got into a fight in the valet waiting area at the Aria as they all were leaving an after-hours party there.
A car chase ensued through the streets of Las Vegas, ending in chaos that shut down the Strip for 15 hours.
It put some of the city's residents on edge, leading them to question the safety of the city in the face of recent random violent acts on the Strip — from a stabbing in a Mandalay Bay casino elevator to a murder-suicide inside the Excalibur to an 18-year-old unleashing gunfire on three teenagers in a Strip movie theater's parking garage.
The rapper's death was just the latest.
Not since Tupac Shakur was shot on Sept. 7, 1996 — just blocks from last week's carnage, dying six days later at University Medical Center — has Las Vegas found itself in the cross hairs of a national debate over hip-hop culture.
It was something Cherry's father sought to dispel at a news conference earlier in the day.
FATHER SAYS SON WAS A GOOD GUY
Upset by many of the accusations being leveled at his son through social media, Kenneth Cherry Sr., 52, said his son was a good kid who was only playing a tough-guy role in his YouTube videos. He reminded everybody that his son was "the victim," not the bad guy.
He made the comments after flying into Las Vegas to claim his son's body and meet with Las Vegas police and the Clark County coroner's office Friday.
"It's like somebody took my heart and snatched it out of my chest," said the tearful father, flanked by his sister, Becky, and one of his son's former girlfriends, May, who bore one of Cherry Jr.'s three children. "This has touched home in a way I wouldn't wish on nobody."
The father called on the public to look at the greater issues — the excess of guns in America and the pervasive violence. He asked everybody to refrain from casting stereotypes on his son.
Just because his son, who went by the nickname "Kenny Clutch," was black and posted a few musical videos of the hip-hop genre does not make him culpable, he said.
And yet something happened at the valet waiting area, and only Cherry Jr's passenger, who was grazed by a bullet, has the answers along with police, who have withheld his identity and the reason behind the attack.
The father said he did not know the passenger. But one thing he did know, he said, is this: "If Kenny were here, he'd feel as guilty as anybody, because that's the way he was."
In an earlier interview, the father said he didn't want his son to be some sort of "martyr" associated with the hip-hop culture.
"I want him to be known for who he is," he said. "Somebody who loved his children, a great father, a kindhearted person."
And yet it was his pursuit of a musical career that might have somehow figured in his demise.
HIP-HOP CULTURE
Bob Beckett, an attorney representing the Cherry family, noted at the news conference that the musical industry is a competitive one, and that passions flare, and jealousy among musicians isn't uncommon. That's just the nature of the competition.
That doesn't mean Cherry Jr. should be shot over it, if that ends up being the case, Beckett said.
He cited Hollywood figures such as Clint Eastwood who play bad characters and live to see another day.
Conversely, Cherry was merely "play acting," Beckett said, referring to his videos in which he's driving around Las Vegas and having fun.
And yet the history of violence associated with hip-hop persists, writes Kevin Powell, in "HIP HOP: Beyond Beats and Rhymes."
"We live in a society where manhood is all about conquering and violence all the time," he writes. "What we don't realize, that kind of definition of manhood ultimately destroys you."
Even Cherry Jr.'s cousin, in a letter read at the news conference, noted that being tough was part of the Oakland culture growing up, and that her cousin, now dead, was no doubt "a byproduct of that environment."
That doesn't make him a bad person, the cousin said.
As Vicki Greco, Cherry Jr.'s longtime attorney, noted: He had no convictions or any sort of criminal past in Nevada other than speeding tickets. And when he had trouble with a rental car venture he was trying to get off the ground, he didn't handle the situation like some sort of "thug." He filed a civil lawsuit instead, she said.
His father said he'll always remember his son's inquisitive mind, like that of an attorney.
Mostly, however, he'll remember his son's gesture when he was but an infant and the father was having a hard time financially.
He crawled into his father's bed and touched his face, saying everything was going to be all right.
"This has humbled me in a way that I know now that there has to be a change," he said. "Because if it don't, it could affect you one day. It hurts. It cuts deep."
As for the suspect and his followers, Cherry Sr. said they can't run for long. They'll eventually be caught.
"There's only so many places that a rat can run," he said.
Review-Journal writer Mike Blasky contributed to this report. Contact reporter Tom Ragan at tragan@reviewjournal.com or 702-224-5512.