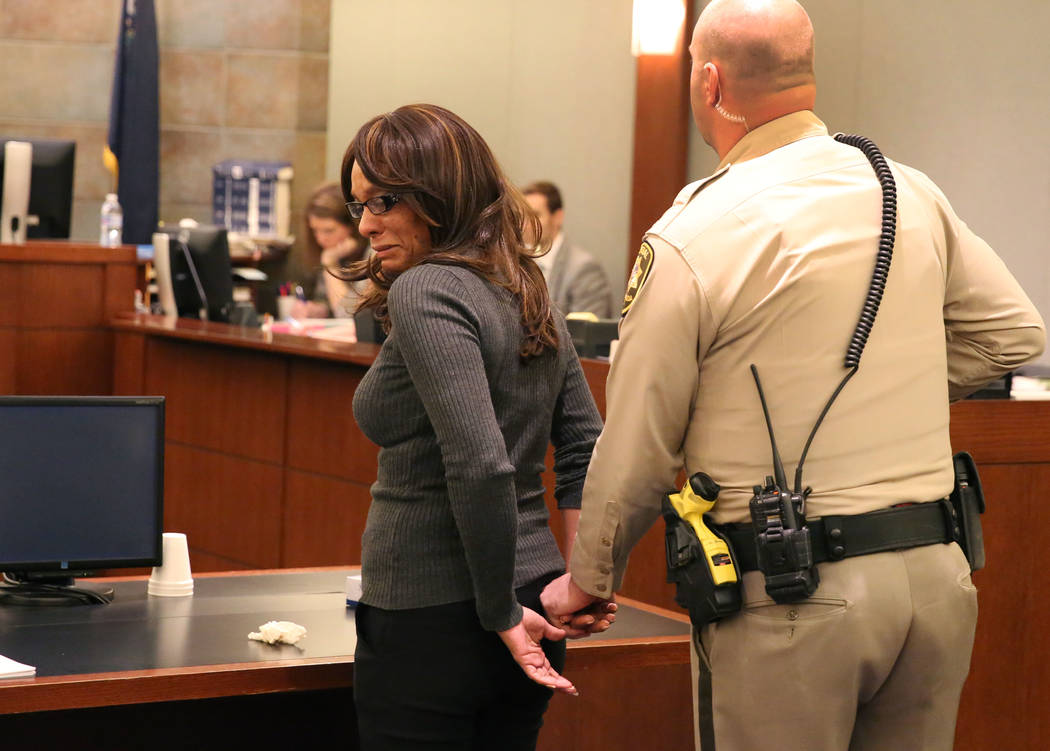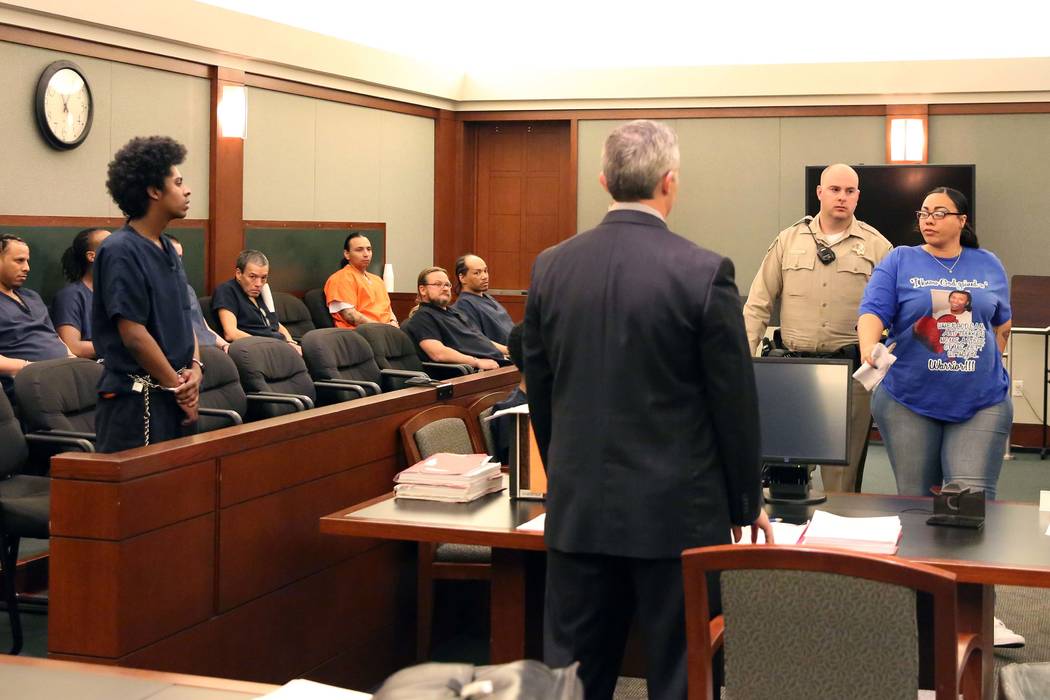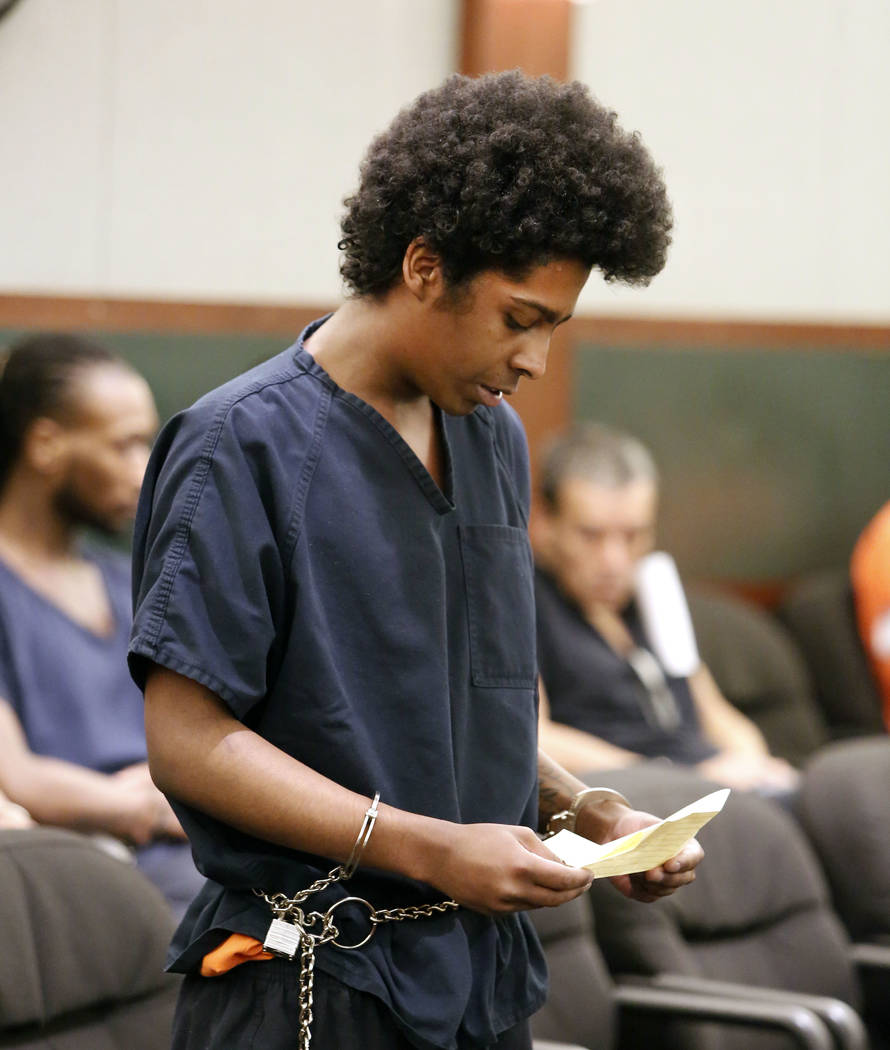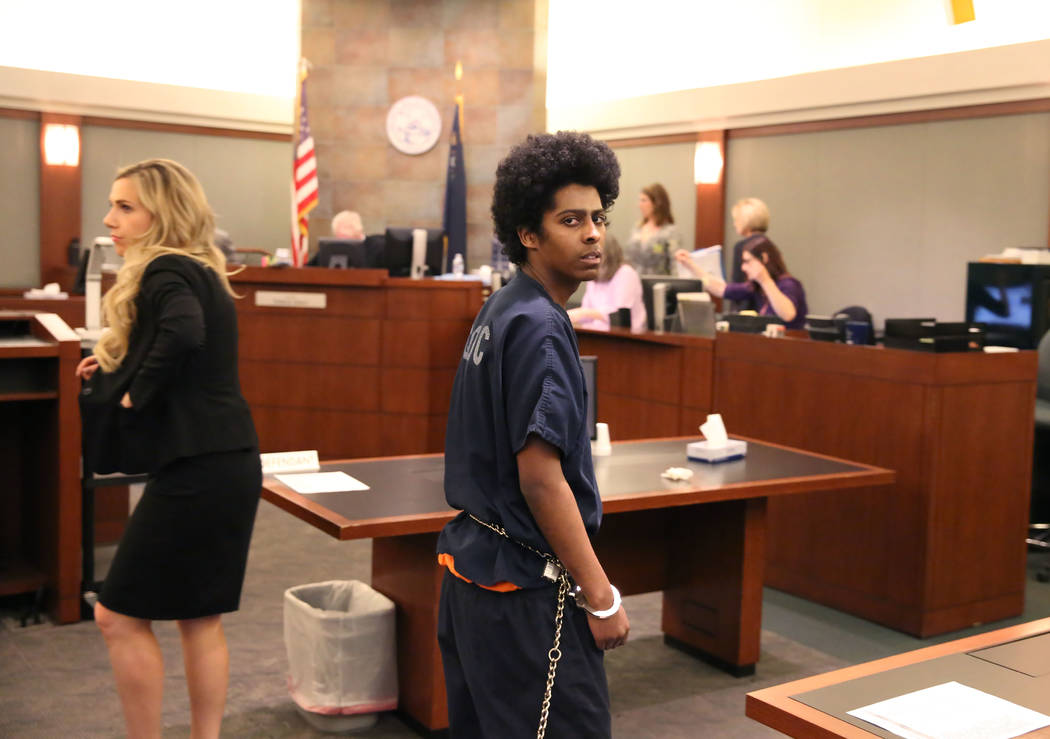 A teen and his mother must spend time behind bars for their roles in the fatal shooting of former Chaparral High School football player Richard Nelson, a judge ruled Thursday.
Gunman Richard Newsome was ordered to serve 18 years to life in prison for the murder, while his mother, Tianna Douglas, was sentenced to a year in jail for accessory to murder.
Newsome, 18, pleaded guilty in December to second-degree murder with a deadly weapon.
The 18-year-old victim was fatally shot in January 2017 after intervening in a fight between his sister and several other people outside a home on the 4800 block of Sacks Drive, near Nellis Boulevard and Tropicana Avenue.
Prosecutors said that before Nelson was killed, witnesses saw Newsome point a handgun at another person while his 37-year-old mother stood by his side.
At sentencing before District Judge Valerie Adair, Nelson's mother, Roxanne Bruce, wore a blue T-shirt emblazoned with her son's photograph and the words "I know God gained a warrior."
Since Nelson was gunned down, Bruce said, Chaparral High School has retired his football jersey number — 20, created a scholarship in his honor and renamed a courage award for him.
"He was a scholar, ambitious, bright, intelligent, encouraging, charming, beautiful inside and out," she said. "He was a great young man who deserves justice."
Sometime before the fight that resulted in Nelson's death, an initial argument broke out between Nelson's sister and her girlfriend while they talked on the phone, authorities said at the time. Nelson was not involved in the argument.
Police said Nelson — a Missouri State University freshman and football player who was home on winter break — ran outside to help his older sister, Oniesha Coleman, before Newsome pulled out a gun and shot him several times. Newsome, his mother and brothers then climbed into a car and drove away.
In court on Thursday, Newsome and Douglas apologized to Nelson's family.
Newsome called the shooting "a split-second stupid mistake."
As Bruce stepped down from the witness stand, she turned to Newsome, who was shackled and wearing blue jail clothing, and told him she forgave him. She said she did not find sincerity in his mother's apology.
Contact David Ferrara at dferrara@reviewjournal.com or 702-380-1039. Find @randompoker on Twitter.