Victims unsatisfied with developer's plea deal in alleged Ponzi scheme
October 1, 2013 - 3:40 pm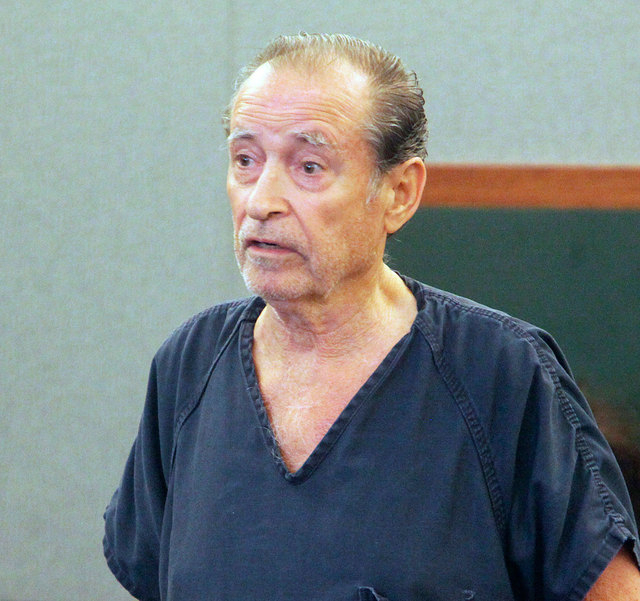 Hans Seibt, a Pahrump developer accused of bilking hundreds of aging investors of their life savings in a Ponzi scheme, has pleaded guilty to a single felony theft charge.
Several of Seibt's victims said Tuesday they weren't happy about the plea agreement he struck with the Nevada Attorney General's Office.
Seibt, 71, entered an Alford plea Sept. 11 in District Court to the theft count in an amended indictment that led to the dismissal of 26 other theft and securities fraud charges. An Alford plea means a defendant does not admit guilt, but acknowledges prosecutors could prove their case at trial.
The deal follows roughly two years of little action in the case.
Seibt was indicted in 2011 following a three-year securities fraud investigation that began after he filed for bankruptcy in September 2008 in the middle of the real estate downturn, reporting more than $70 million in debt.
According to his plea agreement, Seibt faces one to 10 years in prison, but both sides will not make any arguments at sentencing, which means District Judge Kathleen Delaney has the option of handing out a sentence of probation.
The seven-page agreement says Seibt "may be ordered to pay restitution to the victims," but it doesn't indicate how much.
"I don't think it's right that he's going to get off so light," said Sheri Cole, who lost several hundred thousand dollars in the investment scheme in 2008. "People are irate. I think he should spend the rest of his life in prison. The rest of us are living in poverty."
Jeanne Thielman, 82, who lost more than $77,000 investing with Seibt, added: "If he gets away with a light sentence, it's not fair. There won't be justice for all the wrong he's done to people."
Luis Rojas, 73, who has been unable to recover the $55,000 he gave Seibt, said his lost investment has "created a lot of grief" for him in retirement.
"There's something wrong about this deal," Rojas said. "He should get a least 20 years in prison. He hurt a lot of people."
Ursula Rollins, 77, who lost $345,000 to Seibt, had nothing nice to say about the plea deal.
"I think it stinks," she said. "I just don't like it. He put such a hardship on all of us. It left me humiliated and ashamed of being a victim."
Jennifer Lopez, a spokeswoman for the attorney general's office, said the office won't comment on the case until sentencing.
But Seibt's lawyer, Deputy Public Defender Bryan Cox, described him as a victim, too.
"He went down with the ship," Cox said. "He lost everything. He tried to save it and just wasn't able to do it. If he had held on and the market turned, we wouldn't be having this conversation."
Cox said Seibt now lives in an apartment in Las Vegas and takes the bus to get around town. Gone are the fancy cars he used to drive.
"He's indigent, and he's represented by the public defender," Cox said.
The bankruptcy trustee in Seibt's case reported he was unable to recover any assets from the developer to give back to investors.
Officials described Seibt's dealings as a Ponzi scheme, in which older investors were paid off with money from new investors. Ponzi schemes usually collapse when the new investors dry up.
State prosecutors alleged Seibt used two of his companies, HSLV Development Corp. and Clark and Nye County Development Corp., to solicit investments of $10,000 or more in the land scheme.
He offered trust deeds, joint venture agreements and subscription agreements, all of which were supposed to be secured by parcels of land in Nye County. The value of the land, however, was grossly exaggerated, prosecutors alleged.
Seibt told investors they would receive a return of 10 percent to 12 percent on their investments but, instead of buying the land, Seibt used the cash for personal expenses and to pay off other investors, according to prosecutors.
More than two years ago, the FBI confirmed it was independently investigating Seibt. But this week, FBI spokeswoman Bridget Pappas would not comment on the status of the investigation.
"The FBI does not ordinarily confirm or deny the existence of an ongoing investigation, or comment on its nature or progress, prior to the public filing of a charging document," Pappas said in an email.
In the meantime, Cox said Seibt plans to address the judge and "tell his story" at the sentencing.
His victims are preparing to do the same. Some already have written letters to the judge for prosecutors.
"In the end, I don't think everybody's going to be happy," Cox said.
Contact reporter Jeff German at jgerman@reviewjournal.com or 702-380-8135. Followhim on Twitter @JGermanRJ.