Woman settles lawsuit against Nevada Supreme Court justice's wife
Updated April 8, 2017 - 5:57 pm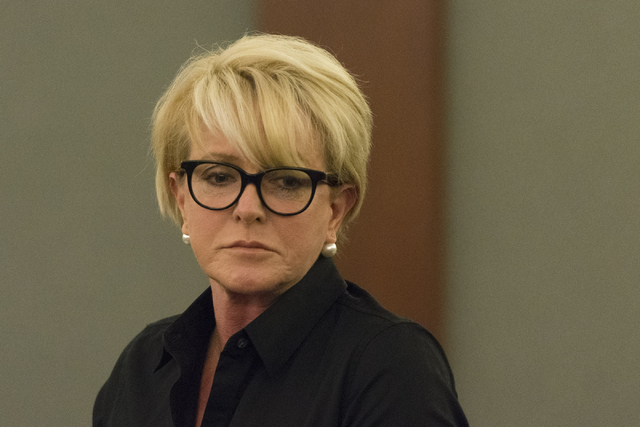 A California woman has settled her federal lawsuit against the wife of Nevada Supreme Court Justice Ron Parraguirre for an undisclosed amount.
The settlement marks the end of a three-year legal battle ignited when a bookkeeper improperly transferred more than $200,000 to Las Vegas interior designer Leslie Parraguirre.
"It's been a rough three years, emotionally," said California resident Tonia Antonacci, who previously lived in Nevada and was friends with Leslie Parraguirre. "I'm glad it's over."
The confidential settlement reached between Antonacci and the defendants in the lawsuit — Leslie Parraguirre and her design firm, Colours Inc. — prohibits either party from discussing details of the agreement.
Roxanne Sparks, the bookkeeper, was sentenced to four to 10 years in prison in the fall after she pleaded guilty to theft and forgery. Between 2010 and 2014, both Antonacci and Leslie Parraguirre were using her as a bookkeeper.
Prosecutors, in bringing criminal charges against the bookkeeper, identified both Antonacci and Leslie Parraguirre as victims of the theft. They accused Sparks of making unauthorized charges of up to $20,000 on Parraguirre's corporate credit card, and of taking $201,096.22 from Antonacci's account to move it to Parraguirre's.
At Sparks' sentencing, Antonacci said: "All I want is my money back. And the Parraguirres have my money."
Leslie Parraguirre, meanwhile, has argued in court that she, too, was financially destroyed by Sparks' theft. In court filings, she has accused Sparks of draining her personal and corporate accounts before abruptly leaving the firm in April 2014, around the same time Antonacci noticed her funds missing.
Sparks initially was ordered to pay roughly $200,000 in restitution to Antonacci, but Antonacci relinquished that claim as part of her settlement with Leslie Parraguirre. At Sparks' sentencing, Antonacci asked the judge to spare her longtime bookkeeper prison time. She said Sparks already paid her roughly $7,500, and she expressed her belief that Sparks would pay her back the full amount if she had the means to do so.
Antonacci filed her federal lawsuit in 2014, accusing Sparks of wrongfully transferring over $180,000 from her bank accounts to Leslie Parraguirre's boutique interior design company. Sparks, Leslie Parraguirre and Colours Inc. all were named as defendants in the suit.
Leslie Parraguirre responded to the suit with a counterclaim that alleges Sparks wrote Antonacci "at least one check" in the amount of $5,000 from a Colours corporate account. Antonacci, however, maintained that she deducted the $5,000 — and an additional $2,500 she assumed came from Colours — when she calculated her total loss amount.
The federal lawsuit was formally dismissed Thursday after the parties reached their settlement.
Contact Jenny Wilson at jenwilson@reviewjournal.com or 702-384-8710. Follow @jennydwilson on Twitter.
Timeline
May 2014: Tonia Antonacci notices funds missing.
November 2014: Antonacci sues Roxanne Sparks, Leslie Parraguirre and Colours Inc.
August 2016: Sparks is arrested on 49 counts of theft and forgery.
August 2016: Sparks pleads guilty to two counts of theft and one count of forgery.
October 2016: Sparks is sentenced to prison.
April 2017: Antonacci's lawsuit is formally dismissed after the parties settle.