Deposition says HOA fraud figure was warned about FBI raids by State Supreme Court Justice Saitta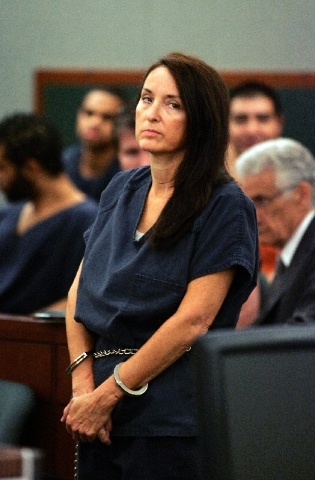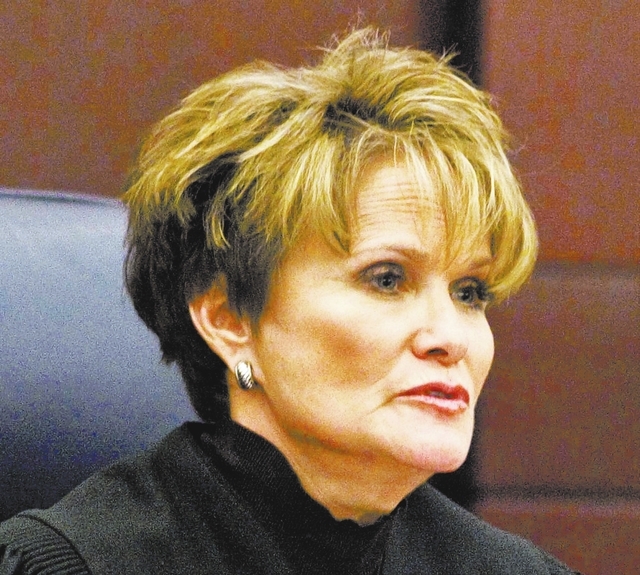 Nevada Supreme Court Justice Nancy Saitta "tipped off" a key government target to FBI-led raids in an investigation of massive homeowners association fraud, according to a sworn deposition obtained by the Las Vegas Review-Journal.
In the deposition, Lisa Kim, who ran a company that managed HOAs linked to the long-running investigation, testified that the FBI's target, the late lawyer Nancy Quon, told her about the tip on Sept. 24, 2008, the first of two days of court-approved law enforcement searches across the valley.
"I was literally sitting at my office in tears … and I received a text message from Nancy Quon that said that she had been tipped off by Justice Saitta that the feds were serving search warrants, " Kim testified. "And I said … 'They are at my office now. And that was it. And that's the last time I got a text or anything from Nancy.'"
The next day investigators searched Quon's office. She did not tell Kim how Saitta — who has denied the allegation — would have learned about the raids, which by then had attracted media attention.
Quon became wealthy as a high-profile construction defect lawyer. But her notoriety also caught the attention of the government, which made her a top target of the HOA investigation. The case focused on a wide-ranging scheme to take over HOA boards through election rigging so that her law firm could land lucrative contracts to sue for construction defects. Work repairing the defects was then steered to a construction company owned by her friend, Leon Benzer. Prosecutors alleged the conspiracy went on from 2003 to 2009.
Quon killed herself in March 2012 under the weight of the investigation and was not charged. Benzer pleaded guilty last year as the mastermind of the scheme and was sentenced to 15 years in federal prison.
Saitta, who was first elected to the Supreme Court in 2006, presided over construction defect cases while she was a Clark County District Court judge. Quon often appeared before her.
A spokeswoman for Saitta said the justice had nothing to add to a previous statement she made about Quon. Last year when testimony surfaced at an HOA trial that an unidentified Supreme Court justice had tipped off Quon to the raids, all of the justices, including Saitta, issued denials.
"I have never spoken to Nancy Quon about this or any other investigation, civil or criminal, and would certainly deny any allegations that there was such a conversation," Saitta said.
Paul Deyhle, executive director of the Nevada Judicial Discipline Commission, said his panel has jurisdiction to investigate allegations of professional misconduct involving the Supreme Court.
The commission could launch action against Saitta if someone files a complaint or if information comes to the commission from the public domain, such as in a news story, Deyhle said.
State law allows for a complaint to move forward if there is "objectively verifiable evidence from which a reasonable inference could be drawn that any misconduct occurred," Deyhle said.
DOCUMENTS SHREDDED
Kim's 101-page deposition, given as part of a civil case stemming from the scheme to take over a dozen valley HOAs, provides new information about leak allegations that have dogged the biggest public corruption investigation in Nevada for years.
The epic federal case wrapped up in January with more than 40 convictions, but the government continues to keep a lid on a super-secret investigation into the leak allegations that did not result in any criminal charges.
Kim, who pleaded guilty and cooperated with prosecutors, said in the June 9 deposition that Quon also told her a member of the U.S. attorney's office had tipped her to the investigation months before the raids. Quon did not identify her source at the office, which then was overseeing the high-profile prosecution.
Kim testified that she was on her way home from an HOA board meeting in February 2008 when she got a call from Quon, who wanted her to stop by her condominium at The District in Green Valley.
Once there, Quon told Kim she was warned by a government source to watch her back.
"She said that someone in the U.S. attorney's office had told her that there's this big HOA thing going on and that things were going to be bad really soon … and that I don't know what you're doing with Benzer, but just be really careful," Kim testified.
Natalie Collins, a spokeswoman for the U.S. attorney's office, declined comment.
Kim also said in the deposition that another cooperating HOA defendant, Dax Louderman, told her "tons of documents" were shredded at Quon's law office two weeks before the FBI search in September 2008.
The shredded documents were being taken out of the law office in "wheelbarrows," Kim said she was told.
Kim, who testified she now goes by the last name Williams, could not be reached to comment on her deposition.
Quon's attorney, Thomas Pitaro, questioned the truthfulness of Kim's allegations.
"It's easy to put words in the mouth of someone who is deceased because they can't set the record straight," Pitaro said. "She had an opportunity to make these claims when they could have been refuted."
Kim suggested in her deposition that her knowledge of possible leaks in the fraud investigation was the reason prosecutors didn't call her as a witness last March in the trial of former Benzer lawyer Keith Gregory and three other defendants charged in the takeover scheme. All four were convicted, and Gregory is serving a 10-year prison term.
Kim said her testimony would have opened a "can of worms" for prosecutors.
The Review-Journal reported in March 2011 that the Justice Department had opened a criminal investigation to determine whether prosecutors in the U.S. attorney's office in Las Vegas had leaked information that allowed Quon to alter or destroy evidence.
Investigators also looked into whether any prominent officials outside the federal government, including judges Quon knew, might have picked up confidential information and passed it to Quon.
But in late August 2011 the Justice Department abruptly announced it had dropped the investigation without filing charges — just as the first of a long line of defendants pleaded guilty in the HOA takeover scheme.
PROTECTING PRIVATE LIVES
The investigation of the scheme — handled by the FBI, Las Vegas police and the Internal Revenue Service — began in November 2007 and remained under the supervision of the U.S. attorney's office until late 2010 when the office removed itself from the case amid word of leaks. The Justice Department's fraud section in Washington took over the case.
Since then fraud prosecutors have opposed Review-Journal efforts to obtain investigative reports of the leak investigation.
In August, Justice Department lawyer Thomas Hall said in court papers that the investigation delved into personal and romantic relationships of public officials who have not been charged criminally or disciplined administratively. The officials included people inside and outside the U.S. attorney's office, he said.
Hall said that since the leak allegations weren't substantiated, making public the names of the officials would embarrass them.
"Their personal lives were dealt with in a very serious way," he said.
A Review-Journal lawyer argued that the public has a right to know who the officials were and why they were investigated.
But U.S. Magistrate Judge George Foley Jr. sided with prosecutors and refused to make public the government's investigative leak file.
Contact reporter Jeff German at jgerman@reviewjournal.com or 702-380-8135. Follow him: @JGermanRJ