Domestic violence cases down in Las Vegas, NLV in 2022
Updated January 16, 2023 - 10:15 am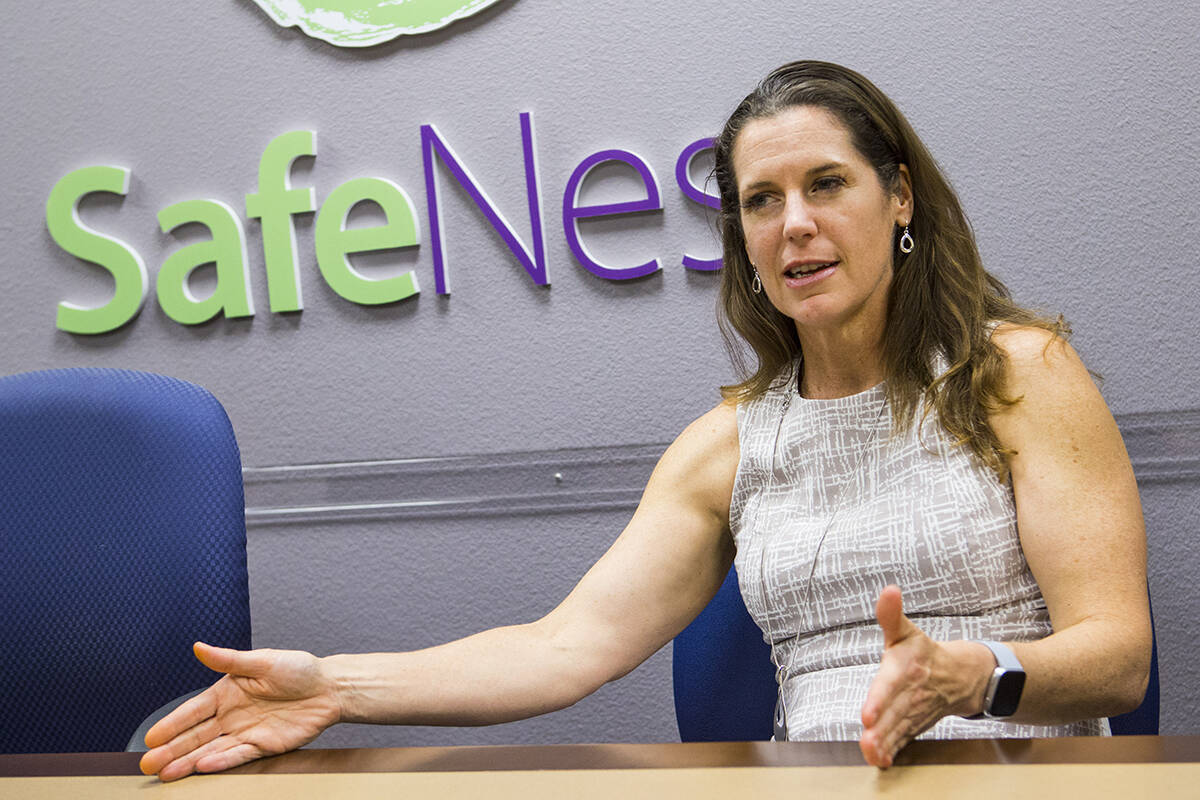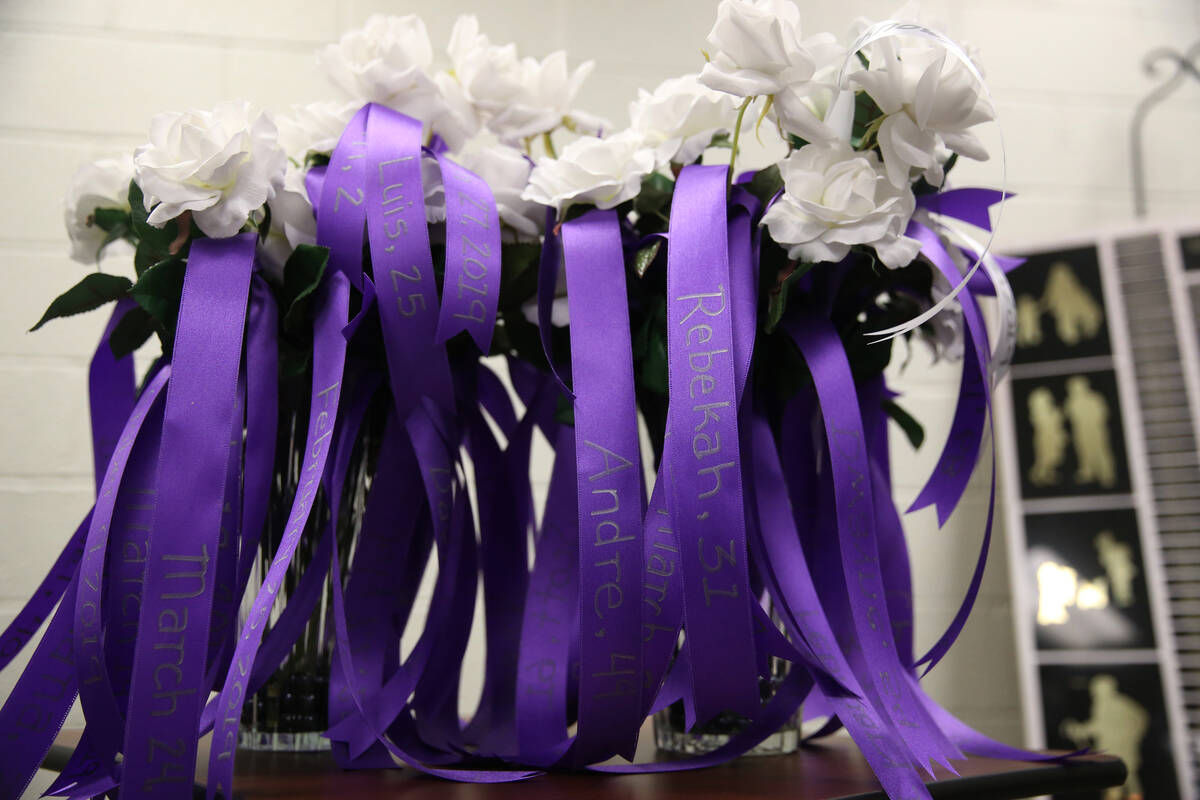 Domestic violence cases were down in Las Vegas and North Las Vegas but up slightly in Henderson in 2022, according to crime data from local law enforcement agencies.
Cases dropped by 5 percent in the Metropolitan Police Department's jurisdiction. Henderson's increase was by 44 calls from January to November compared with call numbers in the same time period in 2021.
In 2022, domestic violence advocates in Southern Nevada noticed that strangulation was a red flag for possible escalation to homicides, mass shootings and violence against police.
The trends related to strangulations were found by looking at data from the nonprofit organization SafeNest, as well as working with outside agencies, according to Liz Ortenburger, the CEO of SafeNest, a nonprofit that works with survivors and perpetrators of domestic violence locally. The organization works with about 30,000 clients annually.
"We started to realize we have a massive gap in Nevada for survivors to be getting strangulation exams and those exams to be used in court and for us to actually be prosecuting offenders who are perpetrating strangulation," she said.
Women who are strangled as part of domestic violence they've endured have a 750 percent higher likelihood on the first strangulation of being murdered, Ortenburger said. In addition, women survivors generally do not call 911 until they've been strangled at least five times, she said.
'We are a violent community'
Domestic violence 911 calls were down in 2022, returning closer to prepandemic levels, Ortenburger said. During the pandemic, SafeNest saw about a 20 percent increase in call volume. She said the stress that comes from mass community events such as a pandemic, natural disaster or mass shooting can trigger people with "the propensity to be violent" to perpetrate domestic violence.
From 2011 to 2020, Nevada averaged seventh highest in the country in terms of men killing women, according to data from the Violence Policy Center. In the most recent report from 2020, Nevada ranked 18th among states.
"We are a violent community," Ortenburger said. "We have got a lot of domestic violence."
Eighty percent of domestic violence statewide happens in Clark County.
Strong commitment needed to make difference
If the community committed to funding the right programs, it could make a significant difference in domestic violence cases in Southern Nevada, Ortenburger said.
That effort, she said, would need to include "massive prevention funding" in the Clark County School District so that kids who come out of the public school system know what a healthy relationship looks like — and not just in a romantic context.
Ortenburger said more needs to be done to hold perpetrators responsible.
"Until we as a community get absolutely serious about treating offenders, we are never going to end this thing," she said.
Ortenburger urged people to call out the behavior of friends and family — behaviors that include dressing someone down, complaining constantly about a spouse or loved one, or demeaning someone in front of a group of people.
"Just don't condone the behavior unwittingly in your own social circles because what doesn't get corrected gets condoned and that gives a batterer another green flag to say, 'I'm in the right here because everyone's agreeing with me or laughing at my jokes about her,'" Ortenburger said.
Local law enforcement agencies in Southern Nevada provided domestic violence data for 2022.
Metropolitan Police Department
As of Dec. 31, there were 19,186 cases compared with 20,187 during the same time period in 2021, according to Las Vegas police crime data.
Numbers were down in all area commands except for in the northeast, northwest and Spring Valley. Northeast command cases increased by 0.1 percent, northwest command saw a 13.2 percent increase in calls and Spring Valley command a 1.4 percent increase.
Sgt. James Johnson works at the Southern Nevada Family Justice Center, 861 N. Mojave Road. The center points victims of domestic violence, sexual assault, and human trafficking to the resources they need.
Johnson supervises the Family Justice Center detectives who respond to felony domestic violence calls.
He called domestic violence cases one of the most dangerous type of call that an officer can respond to.
"Because everybody's kind of amped up. The victims, the suspects," Johnson said. "It's a very volatile situation when you're going into somebody's home and they're already fighting."
People can come to the Family Justice Center to file a police report, get legal help or obtain a temporary protective order or temporary housing.
"It's widespread. Anyone can be the victim of domestic violence," Johnson said.
He said Las Vegas police are continuously trained on how to deal with domestic violence calls. This includes online training refreshers and Family Justice Center detectives going out to area commands to talk about trends and changes in the law.
"Every domestic violence incident is different. You have to treat each one individually," Johnson said. "You can't put it in a box and say this is how we're going to handle it because you just never know."
Johnson said the challenge with responding to domestic violence is that it's hard to predict if violence will escalate or if the first incident could result in a homicide.
"There's always a concern about unreported domestic violence because we know it happens every day," Johnson said. "What we try to do is push the Family Justice Center and the resources and we're here when they want to report it.
North Las Vegas Police Department
Family disturbance/violent family disturbance calls were down by 714 calls as of Nov. 15, 2022 compared to the same time period in 2021, according to the North Las Vegas Police Department.
The top three ZIP codes in terms of family disturbance calls in 2022 were 89030 (2,334), 89031 (1,483), and 89032 (1,366).
The department did not make anyone available for comment.
Henderson Police Department
Between January and November in 2022, there were a total of 2,237 calls as of November in 2022 and 2,193 in that time in 2021.
Henderson police divides its jurisdiction into east, west and north. Domestic violence calls were up in the east and west and down in the north.
The Henderson department did not make anyone available for comment.
Contact David Wilson at dwilson@reviewjournal.com. Follow @davidwilson_RJ on Twitter.
How to get help
The Southern Nevada Family Justice Center, 861 N. Mojave Road, is open Monday through Friday. Anyone can call 702-828-7714 for assistance or email fjc@lvmpd.com.
SafeNest's hotline is available at any time and can be reached at 702-646-4981. You can also visit safenest.org.