Feds will take some of disgraced Clark County Judge Steven Jones' pension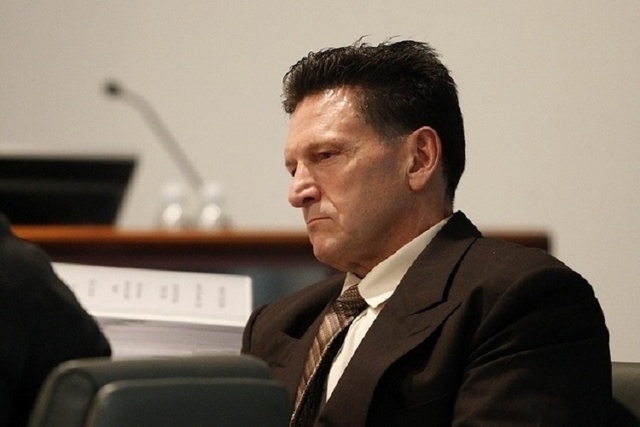 A federal judge Monday gave the government permission to commandeer the public pension of former Family Court Judge Steven Jones to help pay $2.9 million in restitution owed victims of his investment scheme.
The Public Employees Retirement System of Nevada — which says Jones is eligible for roughly $10,000 per month for life under early retirement — fought the effort in the interest of preserving the integrity of the system for its 155,000 members.
In a ruling from the bench, U.S. District Judge Jennifer Dorsey said the government has a right to step into Jones' shoes and apply a portion of the early retirement benefit to the owed restitution.
Dorsey said federal prosecutors could garnish 25 percent of the $10,000 each month and put the rest of the money in the former judge's federal prison account. Prosecutors plan to seek the rest of the money at a later date.
PERS General Counsel Christopher Nielsen told Dorsey he would work with prosecutors on a written order setting parameters of the pension grab.
Jones, 58, is serving a 26-month prison term at a federal facility near Bakersfield, Calif. as a result of his conviction for participating in the decade-long investment scheme. His projected release date is April 12, 2017.
He pleaded guilty in September 2014 to one count of conspiracy to commit wire fraud and resigned after 20 years on the bench. The Nevada Commission on Judicial Discipline last month banned Jones from the bench for life.
An October 2012 indictment alleged that Jones and five others persuaded people to lend them money for investment projects under the guise of quick repayment with high interest. Jones later admitted that he used his judicial office to further the fraud. At least 22 victims were swindled out of the $2.9 million.
Contact Jeff German at jgerman@reviewjournal.com or 702-380-8135. Find him on Twitter: @JGermanRJ
RELATED
Another complaint against Judge Steven Jones moving forward